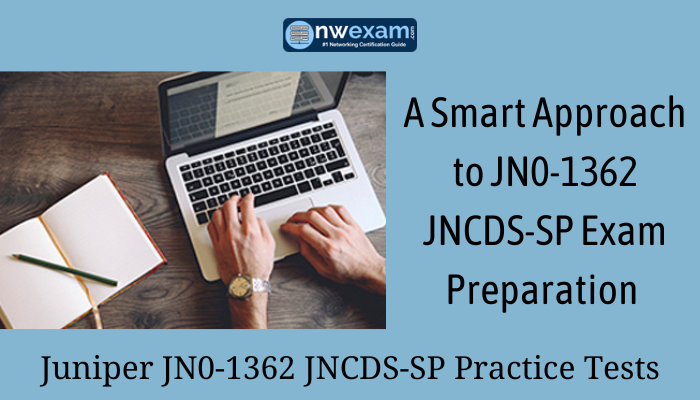 Juniper certification is a worthy investment for network engineers aspiring to broaden their skill set besides those expected to support market leader Cisco. This article gives you valuable information about the Juniper JN0-1362 JNCDS-SP certification.
Overview of Juniper JN0-1362 JNCDS-SP Certification
While numerous network engineers work merely on the operational side of networking, design engineers are immersed in creating and building networks from the very start. It demands a different perspective, one that checks out a future of possibilities instead of the past history of existing network architecture.
The JNCDS-SP JN0-1362 certification is intended for IT professionals with intermediate-level knowledge of network design corresponding to service provider implementations with Juniper platforms. The JNCDS-SP confirms an applicant's understanding of the following topics.
JNCDS-SP JN0-1362 Exam Objectives
WAN Connectivity

Network Availability and Traffic Prioritization

Service Provider Core WAN Design

Service Provider Edge WAN Design

Enterprise WAN

Data Center WAN

WAN Security

WAN Management

SDN in the WAN
Juniper JN0-1362 JNCDS-SP Exam Information
Exam Time: 90 minutes

Number of Questions: 65 multiple-choice questions

Pass/fail status is available immediately

Administered by Pearson VUE

Prerequisites: Prior to attempting this certification, candidates must earn the Juniper Networks Certified Design Associate certification.
Preparation for Juniper JN0-1362 JNCDS-SP Exam
There are not so many study resources available for this exam preparation. But there is no need to worry because Juniper is here to alleviate your worries. If you are aspiring to take the JN0-1362 exam, all you need to do is explore the official Juniper website so that you can gain access to whatever the vendor provides the applicants on its website. This can be of great help in your preparation journey. There are several learning resources for the Juniper JNCDS Service Provider exam on the official webpage. There are also training courses and Virtual Lab to get hands-on experience.
After learning from the official training resources from the Juniper website, the individuals should gauge their knowledge with practice tests provided by the nwexam website. There are very useful, verified, and comprehensive study tools. The results of the practice test will reveal your preparation level. You can easily define the topics that you require to work on before taking the actual exam.
Having all these study materials and the essential information about the certification exam suggests that you are on the right track to clearing the Juniper JN0-1362 JNCDS-SP exam on your first try. But you need to study smartly. You must create a practical and accomplishable study plan to follow during your preparation days. Create a study plan and incorporate the resources you have in it. It will help you steer through everything you have. But don't strain yourself; leave some time to relax and take breaks amidst your preparation. In spite of everything, you will not be able to study everything in one sitting or learn new concepts without some rest. Your brain cannot work night and day. Choose a learning style that will be convenient for you and give it an attempt.
Some Study Tips for Juniper JN0-1362 JNCDS-SP Exam Preparation
Go through the Juniper website to comprehend everything about the exam.

Understand the JNCDS-SP syllabus topics in detail

Take the official training course.

Develop hands-on experience through virtual labs

Take JN0-1362 JNCDS-SP practice tests for your effective preparation.

Give yourself some time to rest between your studies and relax the day before the exam.

Skip the exam questions that you cannot answer immediately
Perks of Passing Juniper JN0-1362 JNCDS-SP Exam
Keep in mind that the IT world is looking not only to accept you but also to reward you with appropriate knowledge, skills, and relevant certifications. Here are some of the perks you will relish after earning the Juniper JNCDS Service Provider certification that should motivate you to pass the Juniper JN0-1362 exam.
It Demonstrates Your Accomplishment
By passing the JNCDS-SP exam comes the Juniper Certified Badge, which proves your accomplishment. Based on research, the IT professionals with the certification usually get amazing job opportunities that are relevant to their skills and certification achieved.
It Boosts Your Salary
With distinct skills comes a notable hike in salary. Organizations across the world are ready to compensate the employees who invest in their careers and cultivate additional skills with big paycheques.
Build Your Professional Network
Networking is a significant aspect of career advancement presently. Pursuing the Juniper certification presents you with an elite group of industry experts. You and your organization can avail yourself of such networks occasionally. Moreover, the Juniper certification makes you more trustworthy among your colleagues. Thus, whoever you bring to your network gets the same respect as you do.
Conclusion
With the proper study resources and commitment to learning, you can pass the JN0-1362 JNCDS-SP exam. While preparing for this certification exam, it is recommended that you opt for the official training course and acquire practical experience. You should also attempt as many practice tests as possible on nwexam before your scheduled exam date.