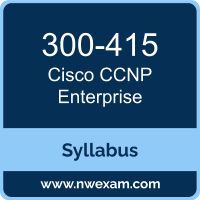 A great way to start the Cisco Certified Network Professional Enterprise (ENSDWI) preparation is to begin by properly appreciating the role that syllabus and study guide play in the Cisco 300-415 certification exam. This study guide is an instrument to get you on the same page with Cisco and understand the nature of the Cisco CCNP Enterprise exam.
Our team of experts has composed this Cisco 300-415 exam preparation guide to provide the overview about Implementing Cisco SD-WAN Solutions exam, study material, sample questions, practice exam and ways to interpret the exam objectives to help you assess your readiness for the Cisco ENSDWI exam by identifying prerequisite areas of knowledge. We recommend you to refer the simulation questions and practice test listed in this guide to determine what type of questions will be asked and the level of difficulty that could be tested in the Cisco CCNP Enterprise certification exam.
Cisco 300-415 Exam Overview:
Cisco 300-415 Exam Topics:
Section

Weight

Objectives

Architecture

20%

- Describe Cisco SD-WAN Architecture and Components

Orchestration plane (vBond, NAT)

Management plane (vManage)

Control plane (vSmart, OMP)
- TLOC
- vRoute
Data plane (WAN Edge)
- IPsec and GRE
- BFD

Multi-Region Fabric

- Describe Cisco SD-WAN Edge platforms and capabilities
- Describe Cisco SD-WAN Cloud OnRamp

SaaS

IaaS

Colocation

Multicloud (Cloud and Interconnect)

Controller Deployment

15%

- Describe controller cloud deployment




- Describe controller on-premises deployment

Hosting platforms (Public and Private)

Installing controllers

Scalability and redundancy

- Configure certificates and device lists
- Troubleshoot control plane connectivity

Router Deployment

20%

- Describe WAN Edge deployment

On-boarding (ZTP and Bootstrap)

Data center and regional hub deployments

- Configure Cisco SD-WAN data plane

Circuit termination and TLOC-extension

Dynamic tunnels

Underlay-overlay connectivity

- Configure OMP
- Configure TLOCs
- Configure CLI and vManage feature configuration templates

- Describe multicast support in Cisco SD-WAN
- Describe configuration groups, feature profiles, and workflows

Policies

20%

- Configure control policies
- Configure data policies
- Configure end-to-end segmentation

VPN segmentation

To

pologies

- Configure Cisco SD-WAN application-aware routing
- Configure direct Internet access

Security and Quality of Service

15%

- Configure service insertion
- Describe Cisco SD-WAN security features

Application-aware enterprise firewall

IPS

URL filtering

AMP

SSL and TLS proxy

TrustSec

- Describe Cloud security integration

DNS security

Secure Internet Gateway (SIG)

- Configure QoS treatment on WAN Edge routers

Scheduling

Queuing

Shaping

Policing

Marking

Per-tunnel and adaptive QoS

- Describe Application Quality of Experience (App-QoE)

TCP optimization

Data Redundancy elimination (DRE)

Packet duplication

Forward error correction (FEC)

AppNav

Management and Operations

10%

- Describe authentication, monitoring, and reporting from vManage
- Configure authentication, monitoring, and reporting
- Describe REST API monitoring
- Describe software image management from vManage
Cisco ENSDWI Exam Description:
Implementing Cisco SD-WAN Solutions v1.2 (ENSDWI 300-415) is a 90-minute exam associated with the CCNP Enterprise Certification. This exam tests a candidate's knowledge of Cisco's SD-WAN solution, including SD-WAN architecture, controller deployment, WAN Edge router deployment, policies, security, quality of service, multicast, and management and operations. The course Implementing Cisco SD-WAN Solutions helps candidates prepare for this exam.