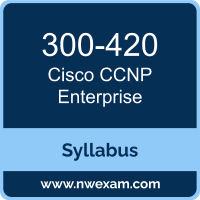 A great way to start the Cisco Certified Network Professional Enterprise (ENSLD) preparation is to begin by properly appreciating the role that syllabus and study guide play in the Cisco 300-420 certification exam. This study guide is an instrument to get you on the same page with Cisco and understand the nature of the Cisco CCNP Enterprise exam.
Our team of experts has composed this Cisco 300-420 exam preparation guide to provide the overview about Cisco Designing Cisco Enterprise Networks exam, study material, sample questions, practice exam and ways to interpret the exam objectives to help you assess your readiness for the Cisco ENSLD exam by identifying prerequisite areas of knowledge. We recommend you to refer the simulation questions and practice test listed in this guide to determine what type of questions will be asked and the level of difficulty that could be tested in the Cisco CCNP Enterprise certification exam.
Cisco 300-420 Exam Overview:
Cisco 300-420 Exam Topics:
Section

Weight

Objectives

Advanced Addressing and Routing Solutions

25%

- Create structured addressing plans for IPv4 and IPv6
- Create stable, secure, and scalable routing designs for IS-IS
- Create stable, secure, and scalable routing designs for EIGRP
- Create stable, secure, and scalable routing designs for OSPF
- Create stable, secure, and scalable routing designs for BGP

Address families

Basic route filtering

Attributes for path preference

Route reflectors

Load sharing

- Determine IPv6 migration strategies

Overlay (tunneling)

Native (dual-stacking)

Boundaries (IPv4/IPv6 translations)

Advanced Enterprise Campus Networks

25%

- Design campus networks for high availability (FHRP)

First Hop Redundancy Protocols

Platform abstraction techniques

Graceful restart

BFD

- Design campus Layer 2 infrastructures

STP scalability

Fast convergence

Loop-free technologies

PoE and WoL

Layer 2 security techniques such as STP security, port security, VACL

- Design multicampus Layer 3 infrastructures

Convergence

Load sharing

Route summarization

Route filtering

VRFs

Optimal topologies

Redistribution

- Describe SD-Access Architecture (underlay, overlay, control and data plane, automation, wireless, and security)
- Describe SD-Access fabric design considerations for wired and wireless access (overlay, fabric design, control plan design, border design, segmentation, virtual networks, scalability, over the top and fabric for wireless, multicast)

WAN for Enterprise Networks

20%

- Describe WAN connectivity options for on-premises, hybrid, and cloud solutions

Layer 2 VPN

MPLS Layer 3 VPN

Metro Ethernet

DWDM

4G/5G

SD-WAN customer edge

- Design site-to-site VPN for on-premises, hybrid, and cloud solutions

Dynamic Multipoint VPN (DMVPN)

Layer 2 VPN

MPLS Layer 3 VPN

IPsec

Generic Routing Encapsulation (GRE)

Group Encrypted Transport VPN (GET VPN)

- Design high availability for enterprise WAN for on-premises, hybrid, and cloud solutions

Single-homed

Multihomed

Backup connectivity

Failover

- Describe Cisco SD-WAN architecture (orchestration plane, management plane, control plane, data plane, on-boarding and provisioning, security)
- Describe Cisco SD-WAN design considerations (control plane design, overlay design, LAN design, high availability, redundancy, scalability, security design, QoS and multicast over SD-WAN fabric)

Network Services

20%

- Select QoS strategies to meet customer requirements (DiffServ, IntServ)
- Design end-to-end QoS policies

Classification and marking

Shaping

Policing

Queuing

- Design network management techniques

In-band vs. out-of-band

Segmented management networks

Prioritizing network management traffic

- Describe multicast routing concepts (source trees, shared trees, RPF, rendezvous points)
- Design multicast services (SSM, PIM bidirectional, MSDP)

Automation

10%

- Differentiate between IETF, OpenConfig, and Cisco YANG models
- Differentiate between NETCONF and RESTCONF
- Describe the impact of model-driven telemetry on the network

Periodic publication

On-change publication

- Describe GRPC and GNMI
- Describe cloud connectivity options such as direct connect, cloud on ramp, MPLS direct connect, and WAN integration
- Describe cloud-based services model in private, public, and hybrid deployments (Saas, PaaS, IaaS)
Cisco ENSLD Exam Description:
Designing Cisco Enterprise Networks v1.1 (ENSLD 300-420) is a 90-minute exam associated with the CCNP Enterprise Certification. This exam certifies a candidate's knowledge of enterprise design including advanced addressing and routing solutions, advanced enterprise campus networks, WAN, security services, network services, and SDA. The course, Designing Cisco Enterprise Networks, helps candidates to prepare for this exam.