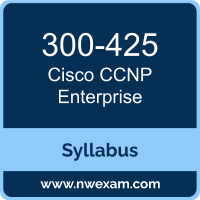 A great way to start the Cisco Certified Network Professional Enterprise (ENWLSD) preparation is to begin by properly appreciating the role that syllabus and study guide play in the Cisco 300-425 certification exam. This study guide is an instrument to get you on the same page with Cisco and understand the nature of the Cisco CCNP Enterprise exam.
Our team of experts has composed this Cisco 300-425 exam preparation guide to provide the overview about Cisco Designing Cisco Enterprise Wireless Networks exam, study material, sample questions, practice exam and ways to interpret the exam objectives to help you assess your readiness for the Cisco ENWLSD exam by identifying prerequisite areas of knowledge. We recommend you to refer the simulation questions and practice test listed in this guide to determine what type of questions will be asked and the level of difficulty that could be tested in the Cisco CCNP Enterprise certification exam.
Cisco 300-425 Exam Overview:
Cisco 300-425 Exam Topics:
Section

Weight

Objectives

Wireless Site Survey

25%

- Collect design requirements and evaluate constraints

Client density

Real time applications

AP type

Deployment type (data, location, voice, video)

Security

- Describe material attenuation and its effect on wireless design
- Perform and analyze a Layer 1 site survey
- Perform a pre-deployment site survey
- Perform a post deployment site survey
- Perform a predictive site survey
- Utilize planning tools and evaluate key network metrics (Ekahau, AirMagnet, PI, Chanalyzer, Spectrum Analyzer)

Wired and Wireless Infrastructure

30%

- Determine physical infrastructure requirements such as AP power, cabling, switch port capacity, mounting, and grounding
- Determine logical infrastructure requirements such as WLC/AP licensing requirements based on the type of wireless architecture
- Design radio management

- Apply design requirements for these types of wireless networks

Data

Voice and video

Location

- Design high-density wireless networks and their associated components
- Design wireless bridging (mesh)

Modes of operation

Ethernet bridging

WGB and roaming

Mobility

25%

- Design mobility groups based on mobility roles
- Optimize client roaming
- Validate mobility tunneling for data and control path

WLAN High Availability

20%

- Design high availability for controllers

Network availability through LAG

Stateful Switchover (SSO)

Anchor controller priority and redundancy

- Design high availability for APs

AP prioritization

Fall-back (assigning primary, secondary, and tertiary)

Embedded Wireless Controller (EWC)
Cisco ENWLSD Exam Description:
Designing Cisco Enterprise Wireless Networks v1.1 (ENWLSD 300-425) is a 90- minute exam associated with the CCNP Enterprise Certification. This exam certifies a candidate's knowledge of wireless network design including site surveys, wired and wireless infrastructure, mobility and WLAN high availability. The course, Designing Cisco Enterprise Wireless Networks, helps candidates to prepare for this exam.