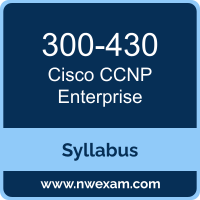 A great way to start the Cisco Certified Network Professional Enterprise (ENWLSI) preparation is to begin by properly appreciating the role that syllabus and study guide play in the Cisco 300-430 certification exam. This study guide is an instrument to get you on the same page with Cisco and understand the nature of the Cisco CCNP Enterprise exam.
Our team of experts has composed this Cisco 300-430 exam preparation guide to provide the overview about Cisco Implementing Cisco Enterprise Wireless Networks exam, study material, sample questions, practice exam and ways to interpret the exam objectives to help you assess your readiness for the Cisco ENWLSI exam by identifying prerequisite areas of knowledge. We recommend you to refer the simulation questions and practice test listed in this guide to determine what type of questions will be asked and the level of difficulty that could be tested in the Cisco CCNP Enterprise certification exam.
Cisco 300-430 Exam Overview:
Cisco 300-430 Exam Topics:
Section

Weight

Objectives

FlexConnect

15%

- Deploy FlexConnect components such as switching and operating modes
- Deploy FlexConnect capabilities

FlexConnect groups and roaming

Split tunneling and fault tolerance

VLAN-based central switching and Flex ACL

Smart AP image upgrade

- Implement Office Extend

QoS on a Wireless Network

10%

- Implement QoS schemes based on requirements including wired to wireless mapping
- Implement QoS for wireless clients
- Implement AVC including Fastlane (only on WLC)

Multicast

10%

- Implement multicast components
- Describe how multicast can affect wireless networks
- Implement multicast on a WLAN
- Implement mDNS
- Implement Multicast Direct

Location Services

10%

- Deploy CMX and Cisco Spaces on a wireless network
- Implement location services

client tracking

RFID tags (tracking only)

Interferers

Rogue APs

Clients

Advanced Location Services

10%

- Implement CMX and Cisco Spaces components

Detect and locate

Analytics

Presence services

Captive portals

Connectors

- Implement location-aware guest services using custom portal and Facebook Wi-Fi
- Troubleshoot location accuracy using Cisco Hyperlocation
- Troubleshoot CMX high availability
- Implement wIPS using Cisco DNA Center

Security for Wireless Client Connectivity

20%

- Configure client profiling on WLC and ISE
- Implement BYOD and guest

CWA using ISE (including self-registration portal)

LWA using ISE or WLC

Native supplicant provisioning using ISE

Certificate provisioning on the controller

- Implement 802.1X and AAA on different wireless architectures and ISE
- Implement Identity-Based Networking on different wireless architectures (VLANs, QoS, ACLs)

Monitoring

15%

- Utilize reports on PI and Cisco DNA center
- Manage alarms and rogues (APs and clients)

- Manage RF interferers

- Troubleshoot client connectivity

WLC

ISE

PI

Cisco DNA center

Device Hardening

10%

- Implement device access controls (including RADIUS and TACACS+)
- Implement access point authentication (including 802.1X)
- Implement control plane ACLs on the controller
Cisco ENWLSI Exam Description:
Implementing Cisco Enterprise Wireless Networks v1.1 (ENWLSI 300-430) is a 90- minute exam associated with the CCNP Enterprise Certification. This exam certifies a candidate's knowledge of wireless network implementation including Cisco FlexConnect, QoS, Multicast, advanced location services, security for client connectivity, monitoring and device hardening. The course, Implementing Cisco Enterprise Wireless Networks, helps candidates to prepare for this exam.