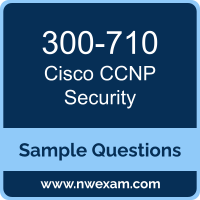 Before you write the Cisco CCNP Security (300-710) certification exam, you may have certain doubts in your mind regarding the pattern of the test, the types of questions asked in it, the difficulty level of the questions and time required to complete the questions. These Cisco Certified Network Professional Security (SNCF) sample questions and demo exam help you in removing these doubts and prepare you to take the test.
The best approach to pass your Cisco 300-710 exam is to challenge and improve your knowledge. To test your learning and identify improvement areas with actual exam format, we suggest you practice with Premium Cisco 300-710 Certification Practice Exam. The practice test is one of the most important elements of your Securing Networks with Cisco Firepower (SNCF) exam study strategy to discover your strengths and weaknesses, to improve your time management skills and to get an idea of the score you can expect.
Cisco 300-710 (SNCF) Sample Questions:
01. After deploying a network-monitoring tool to manage and monitor networking devices in your organization, you realize that you need to manually upload an MIB for the Cisco FMC. In which folder should you upload the MIB file?
a) /etc/sf/DCMIB.ALERT
b) /sf/etc/DCEALERT.MIB
c) /etc/sf/DCEALERT.MIB
d) system/etc/DCEALERT.MIB
02. With Cisco Firepower Threat Defense software, which interface mode must be configured to passively receive traffic that passes through the appliance?
a) inline set
b) passive
c) routed
d) inline tap
03. How many report templates does the Cisco Firepower Management Center support?
a) 20
b) 10
c) 5
d) unlimited
04. Which Cisco Advanced Malware Protection for Endpoints policy is used only for monitoring endpoint actively?
a) Windows domain controller
b) audit
c) triage
d) protection
05. What is the maximum SHA level of filtering that Threat Intelligence Director supports?
a) SHA-1024
b) SHA-4096
c) SHA-512
d) SHA-256
06. In a Cisco AMP for Networks deployment, which disposition is returned if the cloud cannot be reached?
a) unavailable
b) unknown
c) clean
d) disconnected
07. On the advanced tab under inline set properties, which allows interfaces to emulate a passive interface?
a) transparent inline mode
b) TAP mode
c) strict TCP enforcement
d) propagate link state
08. Which action should you take when Cisco Threat Response notifies you that AMP has identified a file as malware?
a) Add the malicious file to the block list
b) Send a snapshot to Cisco for technical support
c) Forward the result of the investigation to an external threat-analysis engine
d) Wait for Cisco Threat Response to automatically block the malware
09. What are the minimum requirements to deploy a managed device inline?
a) inline interfaces, security zones, MTU, and mode
b) passive interface, MTU, and mode
c) inline interfaces, MTU, and mode
d) passive interface, security zone, MTU, and mode
10. When do you need the file-size command option during troubleshooting with packet capture?
a) when capture packets are less than 16 MB
b) when capture packets are restricted from the secondary memory
c) when capture packets exceed 10 GB
d) when capture packets exceed 32 MB
Solutions:
Question: 01

Answer: c

Question: 02

Answer: b

Question: 03

Answer: d

Question: 04

Answer: b

Question: 05

Answer: d

Question: 06

Answer: a

Question: 07

Answer: d

Question: 08

Answer: a

Question: 09

Answer: c

Question: 10

Answer: d
Note: If you find any error in these Securing Networks with Cisco Firepower (SNCF) sample questions, you can update us by write an email on feedback@nwexam.com.