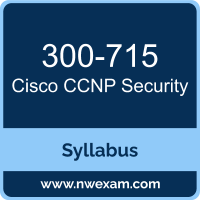 A great way to start the Cisco Certified Network Professional Security (SISE) preparation is to begin by properly appreciating the role that syllabus and study guide play in the Cisco 300-715 certification exam. This study guide is an instrument to get you on the same page with Cisco and understand the nature of the Cisco CCNP Security exam.
Our team of experts has composed this Cisco 300-715 exam preparation guide to provide the overview about Implementing and Configuring Cisco Identity Services Engine exam, study material, sample questions, practice exam and ways to interpret the exam objectives to help you assess your readiness for the Cisco SISE exam by identifying prerequisite areas of knowledge. We recommend you to refer the simulation questions and practice test listed in this guide to determine what type of questions will be asked and the level of difficulty that could be tested in the Cisco CCNP Security certification exam.
Cisco 300-715 Exam Overview:
Cisco 300-715 Exam Topics:
Section

Weight

Objectives

Architecture and Deployment

10%

- Configure personas
- Describe deployment options

Policy Enforcement

25%

- Configure native AD and LDAP
- Describe identity store options

LDAP

AD

PKI

OTP

Smart Card

Local

- Configure wired/wireless 802.1X network access
- Configure 802.1X phasing deployment

Monitor mode

Low impact

Closed mode

- Configure network access devices
- Implement MAB
- Configure Cisco TrustSec
- Configure policies including authentication and authorization profiles

Web Auth and Guest Services

15%

- Configure web authentication
- Configure guest access services
- Configure sponsor and guest portals

Profiler

15%

- Implement profiler services
- Implement probes
- Implement CoA
- Configure endpoint identity management

BYOD

15%

- Describe Cisco BYOD functionality

Use cases and requirements

Solution components

BYOD flow

- Configure BYOD device on-boarding using internal CA with Cisco switches and Cisco wireless LAN controllers

- Configure certificates for BYOD
- Configure blacklist/whitelist

Endpoint Compliance

10%

- Describe endpoint compliance, posture services, and client provisioning
- Configure posture conditions and policy, and client provisioning
- Configure the compliance module
- Configure Cisco ISE posture agents and operational modes
- Describe supplicant, supplicant options, authenticator, and server

Network Access Device Administration

10%

- Compare AAA protocols
- Configure TACACS+ device administration and command authorization
Cisco SISE Exam Description:
The Implementing and Configuring Cisco Identity Services Engine v1.0 (SISE 300-715) exam is a 90-minute exam associated with the CCNP Security, and Cisco Certified Specialist - Security Identity Management Implementation certifications. This exam tests a candidate's knowledge of Cisco Identify Services Engine, including architecture and deployment, policy enforcement, Web Auth and guest services, profiler, BYOD, endpoint compliance, and network access device administration. The course, Implementing and Configuring Cisco Identity Services Engine, helps candidates to prepare for this exam.