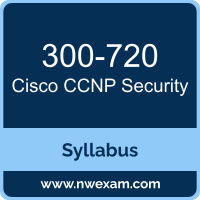 A great way to start the Cisco Certified Specialist Email Content Security (SESA) preparation is to begin by properly appreciating the role that syllabus and study guide play in the Cisco 300-720 certification exam. This study guide is an instrument to get you on the same page with Cisco and understand the nature of the Cisco CCNP Security exam.
Our team of experts has composed this Cisco 300-720 exam preparation guide to provide the overview about Securing Email with Cisco Email Security Appliance exam, study material, sample questions, practice exam and ways to interpret the exam objectives to help you assess your readiness for the Cisco SESA exam by identifying prerequisite areas of knowledge. We recommend you to refer the simulation questions and practice test listed in this guide to determine what type of questions will be asked and the level of difficulty that could be tested in the Cisco CCNP Security certification exam.
Cisco 300-720 Exam Overview:
Cisco 300-720 Exam Topics:
Section

Weight

Objectives

Administration

15%

- Configure Cisco Secure Email Gateway features

Hardware and virtual machine performance specifications

Initial configuration process

Routing and delivery features

GUI

Manage certificate authorities

Logging

- Describe centralized services on a Cisco Secure Email and Web Manager
- Configure mail policies

Incoming and outgoing messages

User matching

Message splintering

- Integrate Cisco Secure Email Gateway with SecureX
- Configure Cisco Secure Email Threat Defense

Spam Control with Talos SenderBase and Antispam

15%

- Control spam with Talos SenderBase and Antispam
- Describe graymail management solution
- Configure file reputation filtering and file analysis features
- Implement malicious or undesirable URLs protection
- Describe the bounce verification feature

Content and Message filters

20%

- Describe the functions and capabilities of content filters
- Create text resources such as content dictionaries, disclaimers, and templates

Dictionary filter rules

Text resources management

- Configure message filters components, rules, processing order, and attachment scanning
- Configure scan behavior
- Configure the Cisco Secure Email Gateway to scan for viruses using Sophos and McAfee scanning engines
- Configure outbreak filters
- Configure Data Loss Prevention (DLP)

LDAP and SMTP Sessions

15%

- Configure and verify LDAP servers and queries (Queries and Directory Harvest Attack)
- Understand spam quarantine functions

Authentication for end users of spam quarantine

Use spam quarantine alias to consolidate queries

- Understand SMTP functionality

Email pipeline

Sender and recipient domains

SMTP session authentication using client certificates

SMTP TLS authentication

TLS email encryption

Email Authentication and Encryption

20%

- Configure Domain Keys and DKIM signing
- Configure SPF and SIDF
- Configure DMARC verification
- Configure forged email detection
- Configure email encryption
- Describe S/MIME security services and communication encryption with other MTAs
- Configure Cisco Secure Email

System Quarantines and Delivery Methods

15%

- Configure quarantine (spam, policy, virus, and outbreak)
- Use safelists and blocklists to control email delivery
- Manage messages in local or external spam quarantines
- Configure virtual gateways
Cisco SESA Exam Description:
Securing Email with Cisco Secure Email Gateway v1.1 (SESA 300-720) is a 90-minute exam associated with the CCNP Security Certification. This exam certifies a candidate's knowledge of Cisco Secure Email Gateway (formerly Cisco Email Security Appliance), including administration, spam control and antispam, message filters, data loss prevention, LDAP, email authentication and encryption, and system quarantines and delivery methods.