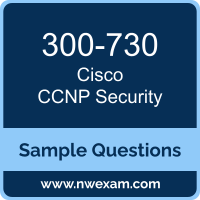 Before you write the Cisco CCNP Security (300-730) certification exam, you may have certain doubts in your mind regarding the pattern of the test, the types of questions asked in it, the difficulty level of the questions and time required to complete the questions. These Cisco Certified Specialist Network Security VPN Implementation (SVPN) sample questions and demo exam help you in removing these doubts and prepare you to take the test.
The best approach to pass your Cisco 300-730 exam is to challenge and improve your knowledge. To test your learning and identify improvement areas with actual exam format, we suggest you practice with Premium Cisco 300-730 Certification Practice Exam. The practice test is one of the most important elements of your Cisco Implementing Secure Solutions with Virtual Private Networks (SVPN) exam study strategy to discover your strengths and weaknesses, to improve your time management skills and to get an idea of the score you can expect.
Cisco 300-730 (SVPN) Sample Questions:
01. Which VPN solution uses TBAR?
a) GETVPN
b) VTI
c) DMVPN
d) Cisco AnyConnect
02. Cisco AnyConnect clients need to transfer large files over the VPN sessions. Which protocol provides the best throughput?
a) SSL/TLS
b) L2TP
c) DTLS
d) IPsec IKEv1
03. Which feature allows the ASA to handle nonstandard applications and web resources so that they display correctly over
a clientless SSL VPN connection?
a) single sign-on
b) Smart Tunnel
c) WebType ACL
d) plug-ins
04. What uses an Elliptic Curve key exchange algorithm?
c) AES-GCM
05. An engineer is troubleshooting a new DMVPN setup on a Cisco IOS router. After the show crypto isakmp sa command
is issued, a response is returned of "MM_NO_STATE."
Why does this failure occur?
a) The ISAKMP policy priority values are invalid.
b) ESP traffic is being dropped.
c) The Phase 1 policy does not match on both devices.
d) Tunnel protection is not applied to the DMVPN tunnel.
06. An administrator is designing a VPN with a partner's non-Cisco VPN solution. The partner's VPN device will negotiate
an IKEv2 tunnel that will only encrypt subnets 192.168.0.0/24 going to 10.0.0.0/24.
Which technology must be used to meet
these requirements?
a) VTI
b) crypto map
c) GETVPN
d) DMVPN
07. Under which section must a bookmark or URL list be configured on a Cisco ASA to be available for clientless SSLVPN users?
a) tunnel-group (general-attributes)
b) tunnel-group (webvpn-attributes)
c) webvpn (group-policy)
d) webvpn (global configuration)
08. Which parameter must match on all routers in a DMVPN Phase 3 cloud?
a) GRE tunnel key
b) NHRP network ID
c) tunnel VRF
d) EIGRP split-horizon setting
09. A network engineer has been tasked with configuring SSL VPN to provide remote users with access to the corporate network.
Traffic destined to the enterprise IP range should go through the tunnel, and all other traffic should go directly to the
Internet.
Which feature should be configured to achieve this?
a) U-turning
b) hairpinning
c) split-tunnel
d) dual-homing
10. Which command automatically initiates a smart tunnel when a user logs in to the WebVPN portal page?
a) auto-upgrade.
b) auto-connect
c) auto-start
d) auto-run
Solutions:
Question: 01

Answer: a

Question: 02

Answer: c

Question: 03

Answer: b

Question: 04

Answer: d

Question: 05

Answer: b

Question: 06

Answer: b

Question: 07

Answer: d

Question: 08

Answer: a

Question: 09

Answer: c

Question: 10

Answer: c
Note: If you find any error in these Cisco Implementing Secure Solutions with Virtual Private Networks (SVPN) sample questions, you can update us by write an email on feedback@nwexam.com.