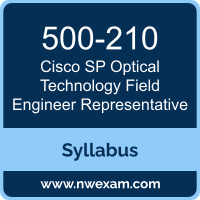 A great way to start the Cisco Service Provider Optical Technology Specialization (CSPOFE) preparation is to begin by properly appreciating the role that syllabus and study guide play in the Cisco 500-210 certification exam. This study guide is an instrument to get you on the same page with Cisco and understand the nature of the Cisco SP Optical Technology Field Engineer Representative exam.
Our team of experts has composed this Cisco 500-210 exam preparation guide to provide the overview about Cisco SP Optical Technology Field Engineer Representative exam, study material, sample questions, practice exam and ways to interpret the exam objectives to help you assess your readiness for the Cisco CSPOFE exam by identifying prerequisite areas of knowledge. We recommend you to refer the simulation questions and practice test listed in this guide to determine what type of questions will be asked and the level of difficulty that could be tested in the Cisco SP Optical Technology Field Engineer Representative certification exam.
Cisco 500-210 Exam Overview:
Cisco 500-210 Exam Topics:
Section

Weight

Objectives

Fundamentals

10%

- Product fundamentals
- DWDM fundamentals
- Optical networking safety
- Optical fiber
- Shelf layout and software
- Documentation

Basic Operation, Installation, and Turn-Up

30%

- Cisco Transport Controller
- Cisco Transport Planner
- NCS 2002 and 2006 installation
- Multi-shelf fundamentals
- Node turn-up

Transponder, Muxponder, and Circuit Provisioning

30%

- Optical channel network connections
- Transponder and optical channel client connections
- 10G muxponder and transponder
- Wire speed encryption
- 100G transponder and muxponders

nLight ROADM Configuration

30%

- ROADM introduction and hardware
- Two-degree ROADM
- Colorless ports
- Mesh nodes
- Omni-directional Add/Drop
- Supported ROADM configurations
Cisco CSPOFE Exam Description:
This exam tests a candidate's knowledge and skills needed to configure, provision, and troubleshoot Cisco NCS 2000 product solutions.