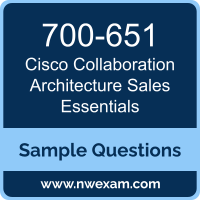 Before you write the Cisco Collaboration Architecture Sales Essentials (700-651) certification exam, you may have certain doubts in your mind regarding the pattern of the test, the types of questions asked in it, the difficulty level of the questions and time required to complete the questions. These Cisco Collaboration Architecture (CASE) sample questions and demo exam help you in removing these doubts and prepare you to take the test.
The best approach to pass your Cisco 700-651 exam is to challenge and improve your knowledge. To test your learning and identify improvement areas with actual exam format, we suggest you practice with Premium Cisco 700-651 Certification Practice Exam. The practice test is one of the most important elements of your Cisco Collaboration Architecture Sales Essentials (CASE) exam study strategy to discover your strengths and weaknesses, to improve your time management skills and to get an idea of the score you can expect.
Cisco 700-651 (CASE) Sample Questions:
01. Which expense is typically the highest for almost all companies?
a) travel
b) facilities
c) human resources
d) entertainment
02. For which purpose was the Cisco Spark Flex Plan designed?
a) to simplify the transition to cloud-based collaboration solutions
b) to simplify the transition to hybrid-based collaboration solutions
c) to simplify the transition to all collaboration solutions
d) to simplify the transition to premises-based collaboration solutions
03. How is recurring revenue procured?
a) through a time-building model
b) through a one-time transaction
c) through a subscription-based model
d) through massive marketing campaigns
04. How can you drive modernization within your customer's existing environment?
a) Hire an external consultant to convince the customer to modernize.
b) Provide support to end of sale products.
c) Remind customers that their competitors are modernizing.
d) Remind customers that they reduce operational risk by keeping current products with current support
05. Which Cisco collaboration product is promoted as an agile teaming application?
a) Cisco Meeting Server
b) Cisco WebEx Event Center
c) Cisco Spark
d) Cisco Immersive Endpoints
06. Why does the millennial generation have a different perspective and expectation on how work is approached?
a) They can relate better to people that other generations
b) They grew up with the Internet and technology
c) They have always worked in team environments
d) They know more about the global economy
07. Which feature of SWSS eliminates the need to repurchase software licenses?
a) software updates
b) expert support
c) license portability
d) license updates
08. Which sales step identifies products that you think benefit the customer needs the most?
a) education
b) qualification
c) introduction
d) rapport
09. Which action can increase the bottom line and add value to the customer?
a) Offer 24 hour TAC support free of charge
b) Offer a Cisco Software Services contract.
c) Offer unlimited warranties on all equipment.
d) Offer a discount for referrals.
10. Which options are the Cisco user-based license models?
a) Cisco UWL and Cisco UCL
b) Cisco WUL and Cisco CUL
c) Cisco Flex Plans
d) Cisco User Integration and Adoption Plans
Solutions:
Question: 01

Answer: c

Question: 02

Answer: a

Question: 03

Answer: c

Question: 04

Answer: d

Question: 05

Answer: c

Question: 06

Answer: b

Question: 07

Answer: c

Question: 08

Answer: a

Question: 09

Answer: b

Question: 10

Answer: a
Note: If you find any error in these Cisco Collaboration Architecture Sales Essentials (CASE) sample questions, you can update us by write an email on feedback@nwexam.com.