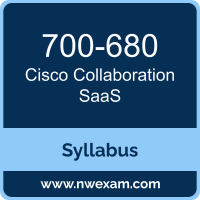 A great way to start the Cisco Collaboration SaaS (CSaaS) preparation is to begin by properly appreciating the role that syllabus and study guide play in the Cisco 700-680 certification exam. This study guide is an instrument to get you on the same page with Cisco and understand the nature of the Cisco Collaboration SaaS exam.
Our team of experts has composed this Cisco 700-680 exam preparation guide to provide the overview about Cisco Collaboration SaaS exam, study material, sample questions, practice exam and ways to interpret the exam objectives to help you assess your readiness for the Cisco CSaaS exam by identifying prerequisite areas of knowledge. We recommend you to refer the simulation questions and practice test listed in this guide to determine what type of questions will be asked and the level of difficulty that could be tested in the Cisco Collaboration SaaS certification exam.
Cisco 700-680 Exam Overview:
Cisco 700-680 Exam Topics:
Section

Weight

Objectives

Webex Market Overview

5%

- Understand the market opportunity for Webex
- Overview of Webex portfolio

Webex Meetings, Webex Teams, Webex Devices, and Webex Edge

30%

- Understand the key sales and technical aspects of Webex meetings
- Key elements of Webex Teams and organizational uses
- Portfolio of Webex Cloud connected devices and key features
- Webex edge solutions connecting On Prem capability to Webex Cloud

Webex Calling

5%

- Overview of Webex Calling
- Key technical and customer features
- Worldwide availability for partners

Webex Control Hub, Webex security, compliance and Webex for developers

30%

- Understand the partner and customer capabilities of Control Hub
- Key capabilities of Webex security – apt to Cloud service
- Webex compliance – what it means and how customers manage compliance
- Webex for developers – partner opportunity, processes for developing integrations with Webex

Collaboration Flex Plan

20%

- Overview of Collaboration Flex Plan
- Specific features and customer positioning scenarios
- Resources and Tools to support partners

Overview of Ordering, Smartaccounts and Webex Try and Buy

10%

- Subscription billing platform as part of CCW
- SmartAccounts – Value to Customers and Partners
- Webex Try and Buy -Program Overview and Tools for Partners
Cisco CSaaS Exam Description:
This exam will test the knowledge of Account Manager/Presales engineers on the foundations of Cisco's Collaboration SaaS solutions in order for them to effectively sell these cloud-based services. This exam is a requirement for the Cisco Collaboration SaaS Authorization Program.