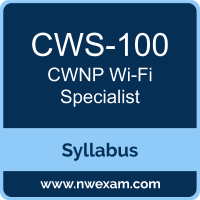 A great way to start the CWNP Certified Wireless Specialist (CWS) preparation is to begin by properly appreciating the role that syllabus and study guide play in the CWNP CWS-100 certification exam. This study guide is an instrument to get you on the same page with CWNP and understand the nature of the CWNP Wi-Fi Specialist exam.
Our team of experts has composed this CWNP CWS-100 exam preparation guide to provide the overview about CWNP Wireless Specialist exam, study material, sample questions, practice exam and ways to interpret the exam objectives to help you assess your readiness for the CWNP CWS exam by identifying prerequisite areas of knowledge. We recommend you to refer the simulation questions and practice test listed in this guide to determine what type of questions will be asked and the level of difficulty that could be tested in the CWNP Wi-Fi Specialist certification exam.
CWNP CWS-100 Exam Overview:
CWNP CWS-100 Exam Topics:
Section

Objectives

Understand Basic RF Hardware and Functions (15%)

Identify RF characteristics

- RF waves
- Amplitude
- Frequency
- Wavelength

Explain basic RF behaviors

- Reflection
- Absorption
- Signal strength

Understand antenna types

- Omnidirectional
- Semi-directional
- Highly directional
- Internal vs. external

Identify 802.11 Features and Functions (30%)

Know the frequency bands used

- 2.4 GHz – 802.11b/g/n
- 5 GHz – 802.11a/n/ac
- Sub-1 GHz – 802.11ah
- 60 GHz – 802.11ad

Identify Physical Layer (PHY) characteristics

- Data rates
- Bands used
- Supported technologies (laptops, tablets, video devices, Internet of Things (IoT))

Select appropriate channels

- Channel selection best practices
- Common channel selection mistakes

Identify factors impacting wireless LAN (WLAN) performance

- Coverage requirements
- Capacity requirements
- Required features
- Poor configuration and implementation

Explain the basic differences between WPA and WPA2 security

- Authentication and key management
- Encryption
- Personal vs. Enterprise

Describe features of enhanced 802.11 functions

- Mesh
- Quality of Services (QoS)
- SISO vs. MIMO
- Dynamic Rate Switching (DRS)
- Backwards compatibility

Identify Wireless LAN Hardware and Software (30%)

Identify AP features and capabilities

- PHY support
- Single-band vs. dual-band
- Output power control
- Operational modes
- Multiple-SSID support
- Guest access
- Security features
- Management interfaces
- Internal and external antennas
- PoE support

Describe AP management systems

- Autonomous
- Controller
- Cloud
- Management systems

Determine capabilities of client devices

- PHY support
- Single-band vs. multi-band
- Support for MIMO
- Supported channels in 5 GHz
- Supported security options

Identify when Power over Ethernet (PoE) should be used

Explain the requirements of fast and secure roaming for non-technical professionals

- Latency requirements for streaming communications
- Pre-authentication
- Key caching methods

Understand the basic requirements for voice over WLAN (VoWLAN)

- Latency
- Jitter
- Signal strength

Determine the best solution for BYOD and guest access

- User provisioning
- Captive portals
- Device and software control solutions

Understand Organizational Goals (25%)

Understand issues in common vertical markets

- Standard Enterprise Offices
- Healthcare
- Hospitality
- Conference Centers
- Education
- Government
- Retail
- Industrial
- Emergency Response
- Temporary Deployments
- Small Office/Home Office (SOHO)
- Public Wi-Fi

Gather information about existing networks

- Network diagrams
- Wi-Fi implementations
- Neighbor networks
- Available network services
- PoE availability

Discover coverage and capacity needs

- Define coverage areas
- Define capacity zones

Discover client devices and applications in use

- Laptops, tablets, mobile phones, desktops, and specialty devices
- Real-time applications
- Standard applications (e-mail, web browsing, database access, etc.)
- Data-intensive applications (file downloads/uploads, cloud storage, cloud backup, etc.)

Determine the need for outdoor coverage networks and bridge links

- Bridge link distance and required throughput
- Outdoor areas requiring coverage
- Use cases for outdoor access

Define security constraints

- Regulatory
- Industry standards and guidelines
- Organizational policies

Discover use cases and access types

- Authorized users
- Onboarded guest access
- Public Wi-Fi

Match organizational goals to WLAN features and functions
CWNP CWS Exam Description:
The CWS certification is an entry-level WLAN certification from the vendor-neutral CWNP organization that brought you CWNA and other advanced certifications. To earn the CWS certification, you must pass an online exam with a score of 70% or higher. Those desiring to work as instructors teaching CWS classes must pass with a score of 80% or higher. Regardless of the way you choose to prepare for the CWS exam, you should start with the exam objectives, which cover the full list of knowledge tested on the exam. The CWS is a three-year certification, and it is renewed by passing the most recent version of the CWS exam again.