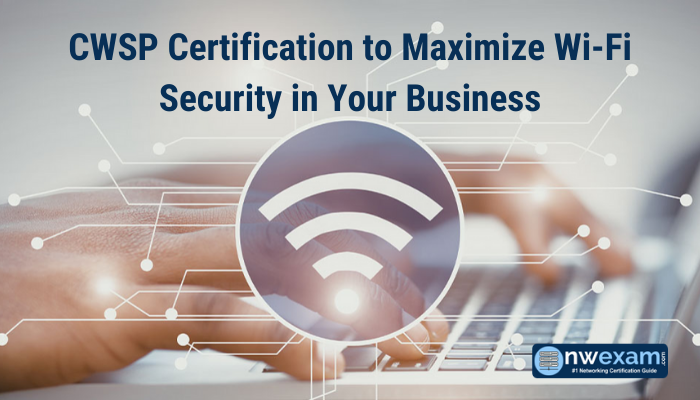 With the increase of internet users in both corporate and individual settings, the requirement for network security is at peak level. Surely, hackers are exploiting vulnerabilities in your Wi-Fi network to obtain sensitive data. From transaction records to client information (such as names and addresses), undergoing unauthorized access to your organizations' information could produce substantial damages.
The Certified Wireless Security Professional (CWSP) is a certification process that assures network professionals have the knowledge and skills to retain your business secure. This certification is principally designed for wireless systems, and it measures an employee's skill to reveal and counter-attacks before they occur.
CWSP certification equips applicants with skills to averting data security threats and how to reduce operational costs. CWSP certified professionals are an asset for the companies they work for.
What is CWSP Certification?
The CWNP CWSP-206 certification is intended to prove one's skills in securing enterprise Wi-Fi networks. CWSP-certified professionals can secure wireless networks from hackers, regardless of which brand of device is utilized in the organization.
One can only achieve CWSP after passing the CWSP-206 (CWNP Wireless Security Professional) exam. CWNA works as the foundation level certification process for Wi-Fi networks. It measures one's skill to install, identify, and manage enterprise Wi-Fi connections.
CWSP is a step up from CWNA because it confirms your ability to protect Wi-Fi connections at the corporate level. The CWNP CWSP-206 is a 60 multiple-choice question exam that's about 90 minutes long.
CWSP certification is helpful for more than just network security. It also assures that your IT personnel can make objective, focused, and secure networks to carry out your daily operations. Secure Wi-Fi connections are necessary for the business is in manufacturing, retail, or finance.
The CWNP CWSP certificate is evidence that an individual has the expertise to manage network security, handling enterprise networks and equipment, and how to work collaboratively with other industry professionals.
CWSP certification measures many diverse aspects of wireless and network security. For instance, an individual can expect to be tested on architectural and design elements, compliance, infrastructure installation and security, and application data security beyond wireless channels. This thorough examination assures that all CWSP certified professionals are experienced and knowledgeable of several aspects of internet security.
Benefits of the CWNP CWSP Certification
According to a recent study, a hacking attempt is reported every 39 seconds. Having secure wireless connections is no longer just an extravagance that larger companies relish. Most hacking attempts are tailored to startups and small businesses. Hackers know that these targets are less likely to spend enough resources on security, making them more exposed to data breaches.
The CWSP certification is an important step that can help you identify and combat incoming attacks to your wireless networks. There are various benefits to assuring that your team is CWSP certified; these include:
1) Protect Sensitive Company Data
Regardless of the nature of your operations, you'll most likely manage sensitive data regularly. This data may comprise client information (names and addresses), investor records, credit card numbers (and other payment data), and corporate financial information. Such data could result in significant damages (and losses) if it were to end up in the wrong hands.
2) Narrow down Operational Costs
CWSP–certified professionals are also qualified in administering wireless systems. This suggests that they can inspect your current infrastructure and make appropriate changes that will help you save on costs.
The experience and expertise of CWSP certified professionals can be used to assure that all your wireless tools and applications are contemporary, secure, and working according to industry standards.
3) Boost the ROI of Your Network Communication Investments
Wireless networks allow businesses to communicate quicker and more efficiently. Whether you're working with suppliers or adding client services that can be accessed remotely, you'll need a persistent and secure wireless environment to streamline communication activities across the company.
This CWNP certification guarantees that your employees have the right combination of written, listening, and oral skills to increase the ROI of your network investments.
4) Enhance Customer and Supplier Confidence
Furthermore, CWSP increases the trust that customers and suppliers have in your wireless networks. Because company data can be hacked by utilizing a third party business that doesn't adhere to high-security standards, many clients are now vigilant with who they work with (or who they provide network access). CWSP serves as a badge of approval that you can use to boost client confidence in your wireless networks.
Wireless network security has become an important aspect of your organization's everyday operations. CWSP certification assures that an individual is qualified to address the emergent threats of organizations' wireless systems.