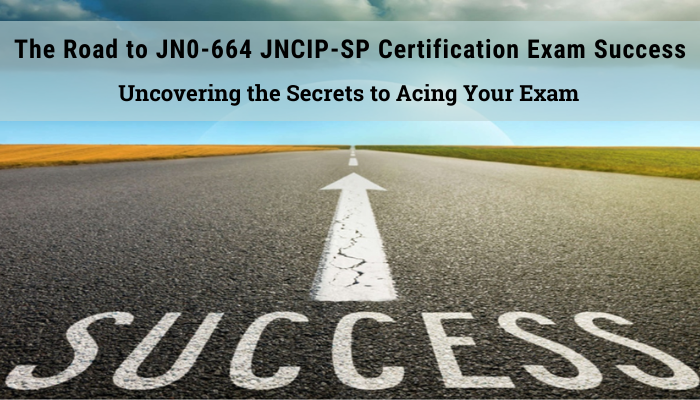 The Juniper technology company is expanding rapidly and has gained widespread use in networking. Due to its advantageous features, there has been a recent increase in demand for Juniper certification, particularly for the Juniper JN0-664 JNCIP-SP certification. This article will concentrate on this specific certification.
Overview of JN0-664 JNCIP-SP Certification
The Service Provider Routing and Switching track provide an opportunity to showcase your extensive knowledge of networking technology and Juniper Networks' service provider routing and switching solutions. The professional-level JNCIP-SP JN0-664 certification in this track is intended for networking specialists who deeply understand routing and switching implementations using Junos. The written examination assesses your fundamental knowledge of advanced routing technologies and your ability to configure and resolve issues related to the platform.
JN0-664 JNCIP-SP Exam Details
This exam focuses on a basic understanding of advanced routing technologies and related platform configuration and troubleshooting skills. It will assess your skills mainly in the following areas though not limited to them:
OSPF

IS-IS

BGP

Class of Service (CoS)

IP Multicast

Layer 3 VPNs

Layer 2 VPNs
The Juniper JN0-664 exam consists of 65 questions that must be answered within 90 minutes. The questions may be presented in a multiple-choice format, so it is essential to have a thorough understanding of the relevant topics to effectively handle any question, regardless of its structure.
How to Prepare for Juniper JNCIP-SP JN0-664 Certification Exam?
To enhance your study process, it is necessary to implement methods to improve your preparation. The following are some valuable tricks to utilize for exam preparation:
1. Make an Efficient Study Schedule
A well-defined study schedule will help you maintain a focused approach to your preparation. Create a comprehensive plan or timetable that outlines your preparation's start and end dates. The study schedule should also include the following:
The JN0-664 exam syllabus topics you will be studying.

The order in which you will learn them.

The desired completion date for each topic.
With a clear plan, you can minimize distractions and stay on track. Additionally, ensure the schedule includes achievable goals you hope to reach by the end of your studies.
2. Follow the JNCIP-SP JN0-664 Exam Objectives as a Roadmap
Every Juniper exam has specific goals that all candidates must meet to pass. The JN0-664 exam objectives serve as a helpful guide, outlining the concepts you need to understand to answer questions related to specific topics correctly. The JNCIP-SP certification exam objectives also serve as a roadmap, as some topics can be too vast to cover fully. Using the exam objectives as a guide, you can ensure that you clearly understand the material you need to know for the exam.
3. Make the Most Out of Available Resources
You can utilize the Juniper Learning Portal and Juniper TechLibrary as resources for preparing for the Juniper certification exam. If you are still trying to figure out where to begin, check out the official website, where you will find links to various preparation options. The official website offers online training, video tutorials, instructor-led courses, and study guides, making it a one-stop shop for all your exam preparation needs.
4. Conduct Practical Lab Sessions
To truly grasp the key ideas, it's best to apply them in a practical setting. Simply watching instructor-led video courses without putting them into practice is not a very effective method. As a motivated learner, you should grab your computer and start coding immediately. By implementing new concepts, you'll learn how to fix any mistakes during the development process.
5. Take JN0-664 JNCIP-SP Practice Test
The information you obtained while studying should suffice to allow you to pass, but it's crucial to evaluate your understanding before the exam date. This entails taking a JNCIP-SP practice test on the nwexam website to determine your level of readiness. You may discover that some questions require a more profound comprehension, and some subjects may be more challenging, and you may need to enhance your knowledge. Practicing with exams will aid you in identifying which topics require additional focus.
Why Earn JN0-664 JNCIP-SP Certification?
Let's break down the perks of passing this test one by one:
JNCIP-SP Certification is prestigious and affordable to obtain.

By accomplishing one of your professional objectives, you will experience a boost in confidence and a sense of personal fulfillment.

You acquire abilities that set you apart from others in your peer group.

Passing the JN0-664 JNCIP-SP certification exam opens up additional avenues for career advancement and professional growth.

The journey of preparing for and passing the exam is demanding and challenging. Nevertheless, successfully navigating it showcases your resilience, effectiveness, and ability competence. This demonstrates your approach to facing difficulties head-on and your capability to deliver concrete solutions to businesses.

More opportunities mean competitive salaries and other perks.
Conclusion
By utilizing these proven exam preparation strategies, you'll optimize your chances of success in the Juniper Service Provider Routing and Switching Professional exam. Enhance your understanding of the exam concepts by utilizing official Juniper resources, such as JNCIP-SP practice tests and hands-on labs. A well-structured study plan that covers all exam objectives with these resources will make the preparation process more straightforward. Obtaining your JNCIP-SP certification requires a disciplined approach throughout the study process, so best of luck on your certification journey!