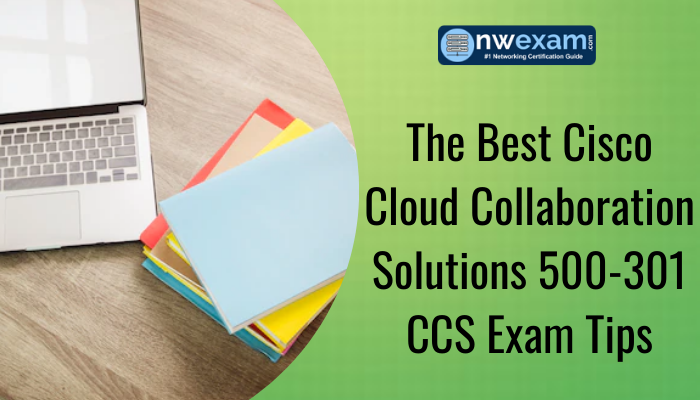 As a major component of the Cisco Channel Partner Program, certification recognizes your organization's Cisco technical knowledge and skill to deliver superior client service. Cisco partner certification acknowledges your technology expertise, specializations, and individual career certifications. This article will discuss Cisco Cloud Collaboration Solutions - 500-301 CCS exam.
About Cisco Cloud Collaboration Solutions - 500-301 CCS Exam
The Cisco Cloud Collaboration Solutions - 500-301 CCS exam is a 60-minute, comprising 45–55 questions that measure an applicant's knowledge of the technical skills required by a sales engineer to design and sell Cisco cloud collaboration solutions.
Cisco 500-301 CCS Exam Objectives
WebEx, Spark, and Web Interface (20%)

Cisco Spark Teams, Calls, and Meetings (13%)

Cisco Spark Flex Offers (13%)

Hybrid Deployment Model (8%)

Cloud Collaboration Integration with Third-Party Devices (8%)
How To Prepare For Cisco 500-301 CCS Exam? | Ultimate Tips
To prepare adequately for the Cisco 500-301 CCS exam, you should study for at least two to three months for this exam. You have to give reasonable effort to receive a good score. So you have to prepare thoroughly for the Cisco 500-301 exam to relish the amazing perks from it.
1. Get Familiar with Cisco 500-301 CCS Exam Pattern and Syllabus
If you want to prepare for the Cisco Cloud Collaboration Solutions exam, you should know the Cisco 500-301 exam structure and the syllabus. Knowing all the essential details about the exam will aid in charting out the study plan.
2. Create a Study Plan
To pass the Cisco Cloud Collaboration Solutions exam, it is integral that one must have a practical study plan. Practical study plans help you organize the time you have on your hands to prepare for your exam.
3. Obtain Appropriate Study Resources
It is vital for the exam takers to select appropriate study resources. If you want to go for the self-study prep option, then you might want to consider some study guides. Go through the certification page to get the details about recommended training. Taking recommended training will help you learn the concepts in detail and skills you need to master.
4. Make Notes
While preparing for the Cisco 500-301 CCS exam, make short notes of essential information. This will help in remembering the topics and ease your revision. Keep a notebook with you while learning a new concept.
5. Take Up Cisco 500-301 CCS Practice Test
Practice tests are a must for any Cisco exam preparation. Cisco 500-301 CCS practice tests help you get familiar with an examination environment. The evaluation of exam patterns, difficulty level, and questioning types while preparing helps maintain a positive attitude during the examination and improves time management skills in a better way.
6. Be Confident
Insufficiency of confidence can lead to failure in the exam. Stay confident throughout the exam preparation and acing the Cisco 500-301 exam.
Benefits of Passing Cisco Cloud Collaboration Solutions 500-301 CCS Exam
Passing Cisco 500-301 exam proves your commitment to your profession and demonstrates that you are skilled to accomplish your tasks competently. The commitment needed to pass the Cisco CCS exam can reveal that you are sincere about your field, and you could acquire acknowledgment for your dedication to constant self-improvement.
Other benefits of passing the Cisco 500-301 CCS certification exam involve:
1. Cisco 500-301 CCS Certification Provides Credibility
Cisco 500-301 certification is valuable in today's job market, so many need relevant certificates to be employed as an employee or consultant. They reveal your proficiency and commitment to the highest standards in your field. Above all, they demonstrate your enthusiasm to keep learning. These certifications can enhance your credibility in your professional network, with clients, and in your industry.
2. Higher Salary
Passing Cisco 500-301 CCS exam and earning the certification could increase your salary. It's apparent that Cisco certified professionals receive higher salaries than non-certified counterparts.
3. Stand Out Among the Crowd
Cisco CCS 500-301 certification can give you an edge over the competition in other applicants in a crowded job market. They can make you stand out among other applicants and could even be a deciding factor for getting employed or promoted over another person. The job market gets more and more competitive as time passes, so it's crucial to keep up with the latest developments in your profession to stay competitive.
4. Distinct Knowledge and Skills
Staying updated with the latest advancements in your field can help you integrate new processes in your job role and potentially qualify others in your team. Constantly developing your knowledge and skills will allow you to stay Continually growing your knowledge and skill set will enable you to excel from others in your field and also make you a valuable professional.
Conclusion
It is quite a challenge for the applicants to get through the Cisco 500-301 CCS exam. However, the tips described above will allow you to prepare competently for the Cisco 500-301 CCS certification exam and ultimately pass it with ease. Wish you the best!!