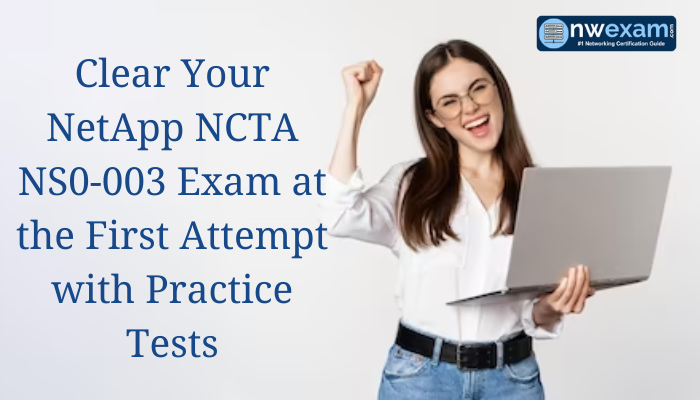 NetApp certifications confirm that you have the skills to operate and deploy NetApp technologies to accomplish your company's requirements best. This article will focus on NetApp NCTA (NetApp Certified Technology Associate) certification and its associated NetApp NS0-003 exam.
What is NetApp NCTA Certification?
NetApp NCTA is an associate-level certification offered by NetApp. This certification confirms the general and NetApp-specific skills entry-level IT professionals will learn in their first year on the job.
NetApp has three specialization paths: Data, Hybrid Cloud, and Converged Infrastructure. The NetApp Certified Technology Associate (NCTA) is viewed as an entry-level exam for all three tracks — although it is not particularly stated as a prerequisite for higher-level exams. To obtain NetApp NCTA certification, you need to pass the NetApp NS0-003 exam.
The NetApp Certified Technology Associate certification is intended for IT professionals who want an introduction to the NetApp platform and related technologies. The NCTA NS0-003 exam is the lowest level in the NetApp certification path.
NetApp NCTA NS0-003 Exam Information
The NetApp Certified Technology Associate exam validates an applicant's understanding of general and NetApp-specific storage topics, including:
Cloud Computing

ONTAP Fundamentals

Cloud Data Services Fundamentals

OnCommand Insight Fundamentals

SaaS Backup for MS Office365

Insight Sessions
The NetApp NCTA NS0-003 exam comprises 60 questions. Secondly, you have to score 68% or more points in a time duration of 90 mins. Further, the exam costs $150 with additional taxes.
Most vendors recommend hands-on experience with technology prior to attempting an exam — NetApp is no different.
Tips to Pass NetApp NCTA NS0-003 Exam ON the First Attempt
Here are a few simple yet efficient suggestions that can assist you in successfully clearing your NetApp NCTA NS0-003 examination:
Make certain that you study the NetApp Certified Technology Associate exam (NS0-003) exam topics meticulously to grasp each of them completely.

Make sure to register for the exam as soon as possible to confine how much time you have left for exam preparation.

To grasp the exam concepts in detail, you should utilize several study materials for each subject and review them more than once. Repeating this process can enhance the retention of the material you have studied.

Make a realistic study plan and allow it to guide you through your preparation journey.

Fix study targets and goals. With an explicit target, you will always know what you are heading towards every time you are studying for the NetApp NCTA NS0-003 exam, and you will try hard to reach it.

Master all the exam topics and finish your preparation before the scheduled exam.

Gauge your preparation with practice tests from the NWExam website. Take them as your primary tool for NetApp Certified Technology Associate (NS0-003) exam preparation.

Expand your knowledge base by joining a study group where useful ideas are shared. You can also get insights from professionals on the most effective ways to prepare for the certification exam and receive valuable pointers on how to excel in the assessment.

To maintain a clear mind and high motivation for studying, it's important to consistently consume nutritious meals, obtain sufficient sleep, and remain physically active.

During the NetApp NS0-003 exam, stay focused and carefully read each NS0-003 exam question to comprehend what's required before attempting to answer. Avoid letting your thoughts drift and concentrate solely on the task.

Bear in mind that you have 90 minutes to finish the test, so manage your time accordingly to avoid leaving some questions unanswered because of time.
How Can NetApp NS0-003 NCTA Practice Exam from NWExam Ease Your Preparation?
Most professionals recommend taking practice tests. It is one of the best ways to figure out your strengths and weaknesses in addition to simulating the exam day experience. There are a few reasons to take practice tests on NWExam while you're preparing for the NetApp NCTA NS0-003 exam:
Makes You Familiar with NetApp NCTA NS0-003 Exam Structure
Practice tests offered by the nwexam website are exams similar to the actual exam. Solving the NetApp NCTA practice exam will give you an idea of the questions that can be expected on the exam day.
Practice tests will make you familiar with the exam structure, type of NetApp NS0-003 exam questions, and difficulty level of the actual exam.
Reduce Anxiety
As exam dates approach, it's typical for candidates to feel nervous and overwhelmed, often due to uncertainty about the exam's content and their level of preparedness. Performing the NetApp NCTA practice exam on nwexam can alleviate this uncertainty and assist candidates in managing their anxiety.
Boost Confidence
Getting good scores on practice exams can have a significant impact on a candidate's self-assurance and subsequently enhance their performance. Studies indicate that a self-assured candidate is more likely to achieve a better score on the actual exam.
NetApp NS0-003 NCTA Practice Exam Can Assist With Revision
Often, exam-takers aren't sure how to do their revision. After spending months studying in NetApp Certified Technology Associate (NS0-003) exam preparation, they often feel like they've forgotten everything and need to revise everything from the start. However, that isn't right. According to psychologists, everything we read or learn is stored in our implicit memory, and we recall it as soon as something related to it stimulates our brain.
Track Progress
By regularly taking NS0-003 NCTA practice exams, you can monitor your progress and determine your current standing after a few weeks or months. For instance, you may spend a week enhancing your skills and then take a practice test over the weekend to compare your results with previous exams.
Conclusion
Bearing in mind that NetApp Certified Technology Associate (NS0-003 NCTA) is a popular and highly-valued certification test, you must prepare adequately in order to get a good score. You can easily ace it using the resources available on the official website and practice tests. NWExam offers reliable and updated practice tests for all NetApp certification exams, So take advantage of the opportunity to utilize them.