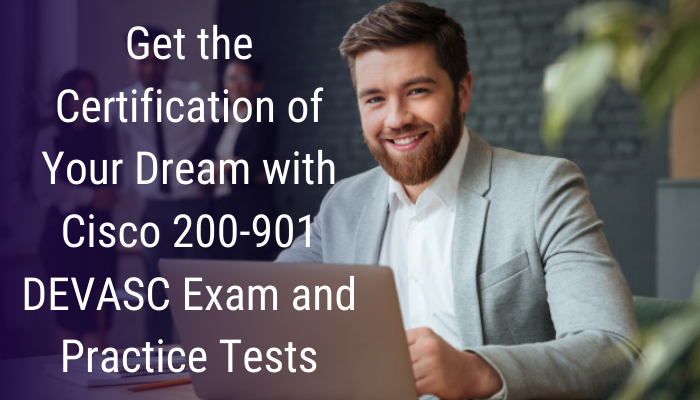 Owing to these challenges and the strong wish to align its certifications with the latest IT market requirements, Cisco has unleashed a new certification program. DevNet certifications are part of this path. Now, the latest technology has contributed to the field of development. IT professionals are all set to benefit from the current networks and establish a rewarding career by incorporating their technical expertise with the available tools. Looking at the broader perspective, the Cisco Certified DevNet Associate 200-901 DEVASC certification involves DevOps engineers, software developers, and automation professionals who can create software applications running on programmable networks in the future.
Overview of Cisco Certified DevNet Associate 200-901 DEVASC Certification
It's helpful to understand that the Cisco Certified DevNet Associate certification is designed for IT developers who honor themselves on having successfully executed a developer role and own a minimum of one year of hands-on experience in Python programming.
Details of Cisco 200-901 DEVASC Exam
Well, the Cisco 200-901 DEVASC exam is a 120-minute exam that evaluates your understanding of software development concepts like comprehension of APIs and their utilization, security and application development, Cisco development and platforms, completed with expertise in infrastructure and automation.
Passing this exam not only confirms your advanced knowledge of software design but also qualifies you for the prestigious Cisco Certified DevNet Associate certification.
Cisco 200-901 DEVASC Exam Objectives
Going ahead, Cisco 200-901 DEVASC includes six significant objectives concerning the DevNet Associate certification. It's worth mentioning that each concept imparts a definite percentage of the total exam content.
Software Development and Design (15%)

Understanding and Using APIs (20%)

Cisco Platforms and Development (15%)

Application Deployment and Security (15%)

Infrastructure and Automation (20%)

Network Fundamentals (15%)
Best Resources to Prepare for Your Cisco 200-901 DEVASC Exam
Hence, intending to advance your career by earning this rewarding DevNet Associate certification, you must visit the Cisco official website, which is an excellent alternative to boost your 200-901 exam preparation journey. Better not waste your time to reveal all the dependable study options developed by the vendor explicitly to give your exam preparation a huge boost.
1. Online Training and Study Groups
Professionals aspiring to pass the exam know that Cisco collaborates with trustworthy training partners that conduct its certification courses to help exam-takers throughout the world.
For example, for its 200-901 DEVASC exam, Cisco suggests that all applicants should take up the Developing Applications and Automating Workflows using Cisco Platforms (DEVASC) course to increase their odds of obtaining a high score in the exam.
Or, are you intending to work together with like-minded people when studying for your Cisco 200-901 DEVASC exam? If yes, then the Cisco DevNet study group is the best place for you. Unite with fellow exam applicants, share the essential ideas and knowledge, and pass your exam excellently.
2. Additional DevNet Learning Resources
For your exam excellence, Cisco provides various educational offerings focused on the DevNet program. You can broaden your DevNet knowledge and expertise using one of the following options and take your certification objectives to attainment with Code Exchange, Sandbox, API Documentation, Learning Path, and Learning Labs.
3. Take 200-901 DEVASC Practice Tests
Make sure you give your time to take up 200-901 DEVASC practice tests. They will help you make out your weak and strong areas. You will also be able to perceive how far you have gone and how much you have absorbed in the process. Thus, you will know what areas should be worked on and which ones are already understood by you. Moreover, these exams will help you know what to expect from the real one. But be sure to get your practice tests only from reliable websites. If you do not verify your sources, some can do you more bad than good.
At the End
So, have you ever desired to work on a particular network that needs new software? If the response is yes, this is the apt time to obtain the Cisco DevNet Associate certification. The eternal goal of this great Cisco certification in DevNet is to bring network developers and network operation engineers together within the same platform.
Just remember that practice tests are here to help you smoothly walk throughout your Cisco 200-901 DEVASC journey and help you accomplish all your career goals!