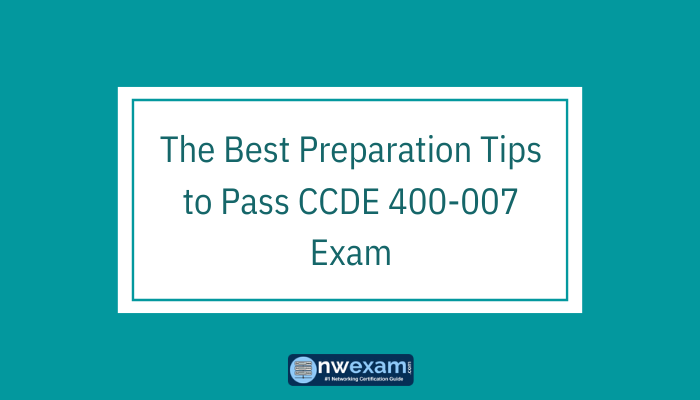 The Cisco Certified Design Expert (CCDE) certification recognizes networking professionals with expert-level knowledge and network design skills. CCDE certification highlights network design elements and theory at the infrastructure level. This renowned Cisco certification acknowledges the skill of network designers who can promote the increasingly intricate networks of international organizations by efficiently translating business strategies into technical evolutionary processes. Here we will talk about the Written exam - 400-007 Cisco Certified Design Expert v3.0.
Overview of Cisco 400-007 CCDE v3.0 Exam
Cisco 400-007 concentrates on your understanding and skills within network design, technologies, translation of business and technical needs into functional specifications, and business policies. The qualifying exam gets you a Cisco Specialist certification so that you can get acknowledged for your achievements during the journey.
The exam comprises approximately 90-110 questions. A total of 120 minutes is given for completing this certification exam. The fee is $450, and registration is done through Pearson VUE. To pass the CCDE 400-007 test, the students must score around 750 to 850 out of 1000. The topics covered within the exam content include:
Business Strategy Design (15%)

Control, data, management plane, and operational design (25%)

Network Design (30%)

Service Design (15%)

Security Design (15%)
So, how can you explore all these objectives?
Most Reliable Ways to Explore CCDE 400-007 Exam Objectives
1. Explore the Cisco Official Website
Cisco official webpage is the first platform to begin your exam preparation. You'll come across all the important information about this exam, including its prerequisites, syllabus, training materials, and so on. The link to the exam registration process is also available on this page, which suggests there's no way you won't have to browse this site. So, make the most out of the information available on the site and use all the available resources to prepare for your Cisco 400-007 exam.
2. Cisco Training Library
A Cisco technical training library that provides full-length, interactive courses emphasized on associate and professional certifications, product and technology training with labs, and loads of reference materials. You can also take three day free trial.
3. Use CCDE 400-007 Practice Test
This is a vital part of your preparation journey. Take practice tests to assess your preparation level. There are numerous practice questions with answers that you can take up to develop your mastery of the exam content. When choosing a resource platform for this prep tool, make sure you use a reliable and reputable site like nwexam.
Tips to Get Flying Score in CCDE 400-007 Exam
Everyone requires some assistance to pass the exams. So, here are some important tips that will help you pass the CCDE 400-007 exam with a flying score.

Go over the syllabus comprehensively. This is your blueprint to success and learning all the topics. Also, understand the CCDE v3.0 exam structure and the kind of questions being asked in the exam. Also, make sure you study each topic according to its weight on the syllabus.

Practice tests are an integral part of any exam preparation, and one cannot emphasize enough that this will lead you to a good score. Hence attempt practice tests until you get a score of 95% or more.

Try to learn from multiple resources. Go through the articles and blogs, or watch relevant online videos to stay updated with the latest information.
Amazing Benefits of Earning CCDE Certification
The CCDE certification can help take your career to new levels. This exam is created for network designers and engineers who wish to certify their knowledge and skills in deploying, designing, and troubleshooting Cisco networks.
So, let's take a look at some of the major benefits of 400-007 CCDE v3.0 certification:
The CCDE certification is acknowledged as one of the most difficult exams in the industry. This Cisco certification will help you poke out from the competition and prove to potential employers that you have what it requires to design intricate networks.

The CCDE 400-007 exam comprises many topics, from network theory to practical design principles. This makes it an ideal choice for those who want to make a concrete foundation in network design.

The Cisco certifications are continuously updated with the most advanced industry trends and technologies. This assures that you'll be able to keep up with the rapidly developing networking landscape.

The CCDE certification is offered by Cisco, one of the prestigious and leading networking vendors in the world. This gives you entry to Cisco's vast resources and support network.

Spending time and money to pass the 400-007 CCDE v3.0 exam is a great investment in your future. Passing this exam and earning the associated certification can lead to a higher-paying job.

The CCDE course is an excellent investment in your future. With adequate preparation, this credential can help you land a high-paying job in networking. The average CCDE certification salary varies from $70k to $110k.
Conclusion
If you want to build a successful career in network architecture and design, your best bet would be to get a CCDE certification. It evolves your skills, certifies them, and makes you an asset to your organization. To become a network architect, you must work hard and productively with the best and most accurate resources. Thus, taking the Cisco 400-007 exam makes you a step closer to your Cisco Certified Design Expert certification.