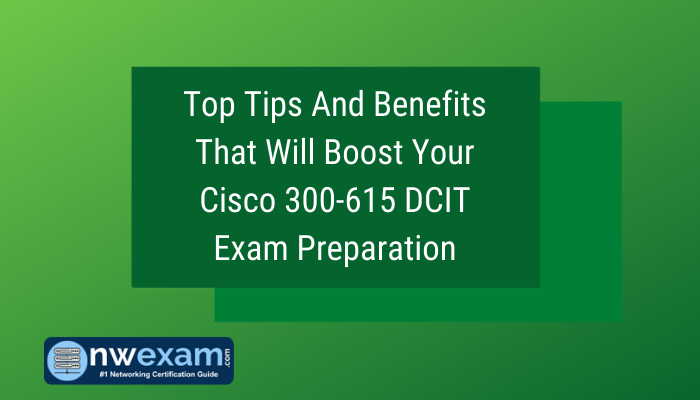 Earning CCNP Data Center certification confirms your skills with data center solutions. To obtain Cisco CCNP Data Center certification, you need to pass two exams: one that includes core data center technologies and one data center concentration exam of your preference, so you can tailor your certification to your technical area of interest. This article will focus on concentration exam: 300-615 DCIT: Troubleshooting Cisco Data Center Infrastructure.
CCNP Data Center 300-615 DCIT Exam Details
Cisco CCNP Data Center (300-615 DCIT) examination is meant to evaluate an applicant's understanding of troubleshooting a data center infrastructure comprising compute platforms, network, storage network, automation, management, and operations. This certification will help you attain great success in the future. It will help you improve methodologies and tools to point out issues that may happen in data center network architecture.
Cisco 300-615 DCIT exam consisting of 60-70 questions needs to answer in 90 minutes. The questions are of different types, such as multiple-choice, single answer, multiple-choice multiple answer & drag, and drop fill-in-the-blank & testlet. However, Cisco does not reveal exam passing scores for exams, but one needs to obtain a score of 750-850 / 1000 to pass the exam. The cost of the exam is $300, and the exam is valid for three years. The exam is taken in the English language.
CCNP Data Center 300-615 DCIT Exam Objectives:
Network

Compute platforms

Storage network

Automation

Management and operations
Cisco CCNP Data Center 300-615 DCIT Exam Preparation Tips
The Cisco 300-615 exam is tough and passing it needs a lot of thorough preparation. But with the proper focus and smart learning, passing the CCNP Data Center exam is an attainable goal. Here are some useful tips for CCNP Data Center 300-615 DCIT exam preparation.
1. Know the Cisco 300-615 DCIT Exam
There are no former requirements or prerequisites to sit for this exam. Despite that, you apparently won't be able to pass the exam without significant former skills and a few years of experience in carrying out enterprise networking solutions.
2. Choose Right Study Resources
Without proper study resources, it isn't easy to pass this exam. The networking field is ever-changing and developing, and you must always stay updated with the latest trends in the technology field. Cisco offers a training course, study guides, and practice tests to help applicants. That is one of the core reasons you should give special attention when choosing the right study resources. You can find many study resources on the Internet for Cisco 300-615 exam preparation. But you should start with the study resources provided by the Cisco official website.
3. Allay with an Online Community
Participating in an online community has always been beneficial. It helps spread more discussions, exam tips, and resources, thus help come across many perceptions. You can find similarly-driven exam-takers sharing ideas in the online community. Another way is by joining a group while exchanging updates concerning networking or obtain practical, problem-solving methods. A study group, a forum, and the like are two-way procedures where you can easily share knowledge with and obtain it from group members.
4. Take Cisco 300-615 Practice Test
Identifying your weak and strong areas is a must-do step before the day of the actual exam. You must know what type of questions will be asked on the real exam and the exam structure. To solve this problem, NWExam.com offers a practice test for Cisco 300-615 exam. The more you take a practice test on this website, the more refined your time management skills are. You will also get your result right away, so you will be aware if you are doing poorly or not.
5. Take Breaks
Rigorous studying is key to passing any Cisco certification exam, but you can't learn effectively if exhausted. You're going to grasp the exam concepts much faster if you learn at a natural speed, without overburdening yourself, so take short breaks in between your studies. Study for one hour, then take a break for10-15 minutess.
6. Relax
Don't study the day before the Cisco 300-615 DCIT exam. Use that time to relax and refresh and try not to stress yourself. One day won't make a big difference, mainly if you've studied for two to three months.
Reasons to Pass Cisco 300-615 Exam And Earn CCNP Data Center Certification
Passing Cisco 300-165 certification exam and earning CCNP Data Center certification is vital for professional growth and skill enhancement. Whether you are a fresher in data center management and want to obtain relevant certificates or want to supplement your present expertise, the following are the top reasons to consider getting a CCNP Data Center certification:
1. Excellent Skills
Lack of data center skills is one of the most vital issues facing organizations today. Only 32% of CIOs feel their organizations have the in-house skillsets required to meet their objectives, while 42% confront recruiting challenges because of a lack of desirable technical skills. Earning certification to confirm mastery of a distinct skill can support your company in fulfilling this gap and will also improve your worth to organizations searching for new talent in the data center.
2. Improved Efficiency
Not everyone is proficient in passing the CCNP Data Center 350-615 certification exam. Together with time and money, CCNP data center certification suggests that you hold the requisite skills essential to execute technical tasks that will help you manage and operate your data center once certified. Passing the CCNP 350-615 exam confirms your skills and authenticates that you are familiar with the basic ideas, technologies, and other information included in the certification.
3. Environment of the data center
Data centers are complex systems with various moving elements that vary in lockstep with the development of all sectors, technological progressions, and other factors. While professionals in design, networking, structural design, and certified data center professionals are likely to stay in high demand for the expected future, other skills and abilities are getting recognition.
Conclusion
The above tips and benefits will boost your Cisco 300-615 exam is preparation. Make sure that you get study materials from Cisco and take the practice test on NWExam.com to make your preparation an easy task.