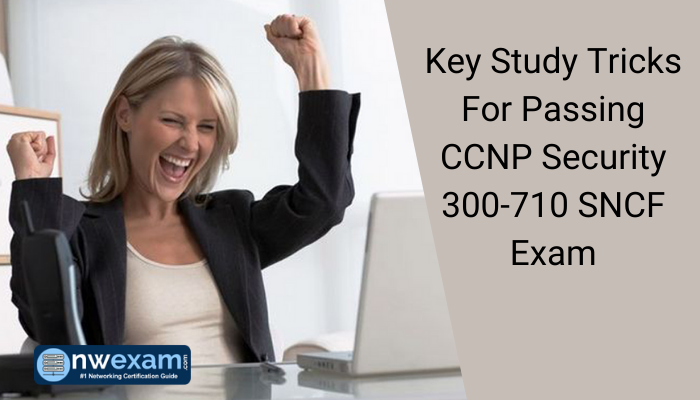 Are you aspiring to learn everything about the Cisco Firepower devices from Cisco Systems? Then think of passing Cisco 300-710 SNCF exam! The main objective of this exam is to acquire knowledge corresponding to implementing advanced Next-Generation Firewall (NGFW) and Next-Generation Intrusion Prevention System (NGIPS) features, along with file type detection, network intelligence, network-based malware detection, and deep packet inspection.
The CCNP Security 300-710 SNCF exam costs $300. The exam duration is 90 minutes comprising of 55 questions. The examination is multiple-choice. The certification is valid for three years. The exam is available in English and Japanese language.
Tips for Passing CCNP Security 300-710 SNCF Exam
Make sure that you thoughtfully go through the videos and exam objectives available on the official website of Cisco. You should also have a look at the data sheets as they will make the preparation a lot easier for you.
For those planning on take this certification exam, here are top tips for sitting for (and passing) CCNP Security 300-710 SNCF certification exam.
#1. Self-study
If you have adequate motivation to continue studying, self-study is normally pleasant. The topics covered in the exam can help you determine if you can learn them on your own. Though self-study is not a walk in the park. But, if you have confidence in yourself, persistence, and time, it is difficult.
#2. Books Are Always a Good Option
Books are the traditional way to find the basis of any technology. You may get bored by just reading theories. However, they are as essential as any actual meeting. Books lay the framework for you to build expert knowledge.
#3. Use Cisco 300-710 SNCF Practice Tests
Don't ignore the practice tests as they will help interpret your progress before you sit for the real exam. First of all, find the trusted websites where you can take online practice tests. Practice tests also aim to mimic the exam environment so you become comfy with the timing and the pressure. They are a great way to assess your readiness for the exam.
#4. Take Training courses
Along with books, Cisco 300-710 SNCF practice tests, one can also enroll in an online training course. The best course you can find for this exam are Securing Networks with Cisco Firepower Next Generation Firewall (SSNGFW) and Securing Networks with Cisco Firepower Next-Generation IPS (SSFIPS) is available on the official Cisco website. But, if you want to reinforce your skills before appearing in the exam, you may take help from many video courses available from third-party resources. But, make sure that you've thoroughly checked the rating of the course and read the comments before the purchase, as these factors recognize its quality.
#5. Be Calm and Well-Rested
This tip may be as crucial as any concerning your study plan. Many applicants fail because of physical and mental stress. Staying up late doing a last round of study may sound fascinating, but last-minute reading is normally not a good, and may even make you anxious. If you think it is essential to do a final review, do a selective revision instead. Also, do not concentrate only on weaknesses. If you have not mastered a particular topic until now, you should focus on enhancing the areas where you're good.
A great tool for revision is using summaries or glossaries or short notes made by you, which have lots of solid information. As for the physical side, try having light balanced food. If your exam is during the morning, having a healthy breakfast and drinking plenty is beneficial to make sure you are at your best. If it is during the afternoon, eat a light lunch.
#6. Create Cisco 300-710 SNCF Exam Strategy
Once you are ready for the exam, choose the appropriate time to write down the exam. Give enough time to prepare before the exam. If you think that arranging the exam will motivate you, please determine a not too close date. Also, remember to set a time when you first face the problem.
Revising learned knowledge is as vital as learning concepts. In this way, when you take the exam, the topic persists in your mind. Refresh the parts that are difficult to find. After this is done, don't be overly anxious. The proper diet and sleep are essential because it gives energy for you to prepare for the exam.
Conclusion
So all that you need now is that, to watch. Learn, and finally, Conquer the 300-710 SNCF exam! But gaining CCNP Security certification is not that much easy. You have to take a training course, learn from books and practice tests.