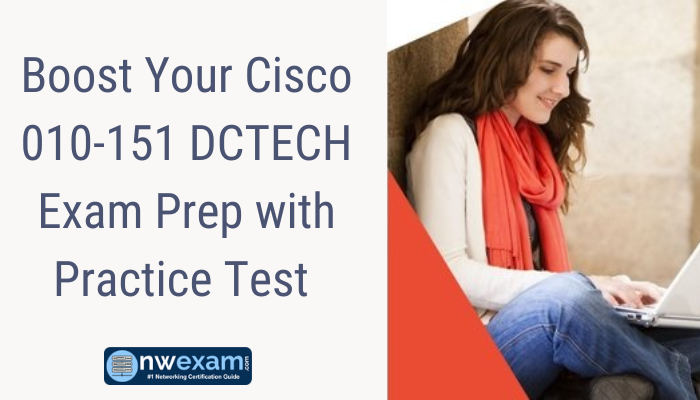 The Cisco Certified Technician Data Center (CCT Data Center) certification is aimed at technicians who possess the necessary skills to provide support and maintenance for Cisco Unified Computing Systems and servers. To acquire this certification, candidates must pass a written exam with the code 010-151 DCTECH, which focuses on supporting Cisco Data Center System Devices.
CCT Data Center 010-151 DCTECH Exam Details
The 010-151 DCTECH exam, also known as CCT Data Center, is a test that lasts for 90 minutes and includes 65 to 75 questions. This exam assesses a technician's competence in various areas, such as configuring basic Cisco NX-OS, knowledge of Cisco Data Center products, and familiarity with hardware components, focusing on the Cisco Unified Computing System (UCS). The cost of the Cisco 010-151 exam is $125.
Cisco 010-151 DCTECH Exam Objectives
Data Center Basics (17%)

Cisco Equipment and Related Hardware (25%)

Cisco UCS and Cisco NX-OS software operation (25%)

Service-Related Information (33%)
Tips to Prepare for CCT Data Center 010-151 DCTECH Exam
Below are some helpful suggestions that can assist you in passing the 010-151 DCTECH exam on your initial attempt:
1. Gather All the Necessary Information About the Exam
To begin preparing for the Cisco 010-151 DCTECH exam, it's crucial to understand the nature of the exam. You can find all the essential exam-related information, such as the exam details, curriculum coverage, expected competency areas, and exam topics, on the dedicated webpage for the Cisco 010-151 DCTECH exam on the Cisco website.
2. Create a Realistic and Effective Study Schedule
To effectively study and comprehend all the topics covered in the Cisco 010-151 syllabus, it is crucial to have a well-defined study plan. Factors such as the time available before the exam and the time allocated to each topic, whether studying independently or with a group, are essential considerations in developing a practical study guide that allows you to learn comfortably.
3. Take Up the Official Cisco Training Course
Cisco suggests and provides a specialized training program for individuals planning to take the Cisco 010-151 DCTECH exam. The course is titled "Cisco Certified Technician Supporting Cisco Data Center System Devices (DCTECH) v3.0," It is a self-paced online program structured according to the exam's syllabus. This four-module course takes approximately seven to eight hours to complete and is available 24/7 once you obtain the one-year subscription. The training program has no prerequisites, and completing it can enhance your chances of passing the exam.
4. Actively Participate in Online Communities
Preparing for the exam alone can be daunting. However, joining study groups and online forums can significantly aid in your exam preparation. These platforms offer the opportunity to connect with other candidates, experienced professionals, and industry experts who have obtained the same CCT Data Center certification. Interacting with them can prove valuable, as they often exchange helpful study tips and ideas that may boost your confidence and enhance your overall level of readiness for the exam.
5. Take Cisco 010-151 DCTECH Practice Test
Practice tests can assist you in assessing your exam preparation progress and identifying areas where you need to improve. These practice questions are modeled after past exam questions and allow learners to gauge their level of proficiency in the exam topics. The nwexam website also provides access to these valuable exam preparation tools.
Why Take Cisco 010-151 DCTECH Practice Test?
Utilizing practice tests is an effective method for getting ready for the Cisco 010-151 DCTECH exam. The following are some of how practice tests can affect your performance on the actual exam.
1. Identify Areas of Weakness in Your Knowledge
By taking a practice test, you will receive instant feedback on your performance, which can be used to assess your progress and guide your further studies. One of the significant advantages of taking a Cisco 010-151 DCTECH practice test is that it helps you identify your areas of weakness.
Identifying the specific areas that require improvement can be an excellent starting point for your study plan. Concentrating on the sections, subsections, or question types that need the most progress is an efficient approach to boost your overall score.
2. Have a Clear Idea of What to Anticipate
Another advantage of taking Cisco 010-151 DCTECH practice tests is gaining familiarity with the format, style, and level of difficulty of the actual exam. Knowing what to expect from the test can significantly help when taking the official exam.
You can also use practice tests to get accustomed to the anxiety and pressure you might face in the Cisco 010-151 DCTECH exam and prepare yourself by gaining experience and practical expectations.
3. Build Stamina and Manage Your Time
To perform well in Cisco exams, you need mental concentration and physical stamina, and it's recommended to practice sitting for extended periods and focusing your attention beforehand. Practicing can also help you manage your time wisely during the Cisco CCT exam by allocating appropriate time to each Cisco CCT exam question and avoiding getting stuck on a single question.
Conclusion
One can obtain the CCT Data Center certification by taking and passing the Cisco 010-151 DCTECH exam. This certification confirms your expertise in handling unified computing systems and Cisco servers. Moreover, the exam is an excellent opportunity for individuals aiming to start their careers as onsite support technicians or transition to the field of networking and systems. By applying the advice discussed in this article, you can increase your chances of passing the exam on your first attempt, and wishing you good luck!