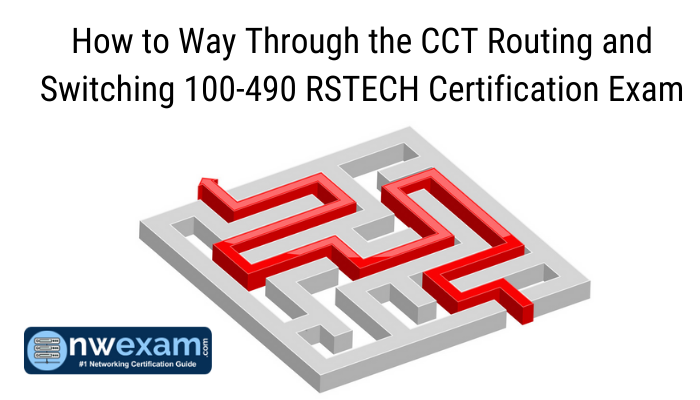 The Cisco Certified Technician Routing and Switching certification is a basic certification for professionals required to deal with cisco devices and systems. Applicants for this Cisco certification will develop the skills required for the onsite maintenance and support of Cisco routers, switches, and environments. Earning CCT Routing and Switching 100-490 RSTECH certification is recognized as the best basis for supporting other Cisco devices and systems. To earn this certification, applicants need to pass the Cisco 100-490 exam.
As a CCT, you'll be capable of implementing onsite support and maintenance for Cisco networking and systems equipment and also communicate competently with the Cisco Technical Assistance Center.
The CCT Routing and Switching certification is often regarded as the most powerful foundation for supporting different Cisco devices and systems.
The RSTECH certification addresses the understanding and skills needed to implement onsite support and maintenance for Cisco routers, switches, and operating environments.
Technicians in this profession must recognize Cisco router and switch models, restore, diagnose, understand Cisco IOS software operating modes, repair and replace critical Cisco networks; recognize commonly encountered software, and connect and service devices using the Cisco CommandLine Interface (CLI).
How to Pass Cisco CCT Routing and Switching 100-490 RSTECH Exam?
There are no cut-offs that you can take to get through the Cisco CCT 100-490 certification exam. Preparation is the crucial part that is essential for passing the exam with a good score. The study resources are available on the official Cisco website, but it is recommended to use third-party resources also. An official training course isn't enough to pass the exam. You'd have to take multiple resources so because every course has something different to offer.
This exam might stress applicants when they're studying for it. Don't be distressed; thousands of people across the globe have passed it, you surely can pass it also.
To make your preparation journey and thorough, follow the below-mentioned tips:
1) Understand the Cisco 100-490 RSTECH Exam Syllabus and Structure
You need to study a lot of topics. It is essential that you understand what this Exam entails. Take your time in going through the exam syllabus and understanding each of them. There is no reason to drive through these topics and start preparing for the exam right away.
Cisco 100-490 RSTECH exam includes the following topics:
General Networking Knowledge

Cisco Equipment and Related Hardware

Cisco IOS Software Operation

Service-Related Knowledge
Cisco 100-490 RSTECH Exam Structure:
There will be other types of questions such as drag and drop, Simlet, Sim, and Testlet.

The number of questions asked in the Exam commonly ranges between 55 and 54.

The overall time given to answer the questions is 90 minutes.

The Cisco CCT Routing and Switching exam are available in English and Japanese languages.
2) Create a Practical Study Schedule
To pass the exam, you need to cover all the objectives in detail. If you want to avoid any issues, plan your time wisely. You should start your preparation three to four months before the scheduled exam date, so this will give you enough time to study all the exam objectives. Try to follow the study plan strictly unless any emergencies have come up.
3) Use Appropriate Resources
Cisco exams are popular, and thus you can avail many study resources for its certification exams. You can get many learning options to choose from, such as training courses, study guides, online videos, Ebooks, online forums, and communities. You can obtain study resources according to your learning preference.
4) Take a Break
Along with a busy professional life and preparing for an exam can be stressful. So, you need to take a mental break to revive your brain in between your studies. Your frame of mind dramatically influences how well you study and accomplish the Exam, so giving yourself a break is important.
5) Use Cisco 100-490 Practice Test
Practice makes perfect! You know what they say; practice makes perfect! This is why you should schedule Cisco CCIE 100-490 practice test before your scheduled date. Not only is that to help you continuously revise the material you learned, but it is also going to help you in identifying the various topics where you have to work on your skills.
Moreover, with Cisco 100-490 practice test, you can get an overview of what the actual exam looks like, which will take off the surprise factor in the exam. When you are attempting the Cisco 100-490 practice test, make sure that you improve your time management skills. Cisco 100-490 practice test on NWExam.com will allow you to find your results right away, allowing you to have an idea of how well you are doing.
6) Calm the Brain the Night before the Exam
You have studied for months, you have learned all the essential concepts, and you've taken plenty of Cisco 100-490 practice tests. The day before the Exam, you should concentrate on your health and be calm and composed. The last thing you want is to not be so tired in the Exam to a point where you can't concentrate well or solve the questions correctly.
Make sure you at least get eight hours of sleep the day before the Exam, so you don't waste all the hard work you put in throughout these months.
Conclusion
The mentioned study resources help understand what you require to pass the 100-490 exam smoothly. With the right resources and the correct frame of mind, and hard work, enhancing your skills is all you need to do. Make sure no gaps are left as you draw out the skills by taking over your Cisco CCT Routing and Switching Exam! Take Cisco 100-490 practice test from NWExam.com to sharpen your skills and pass the exam with a flying score.