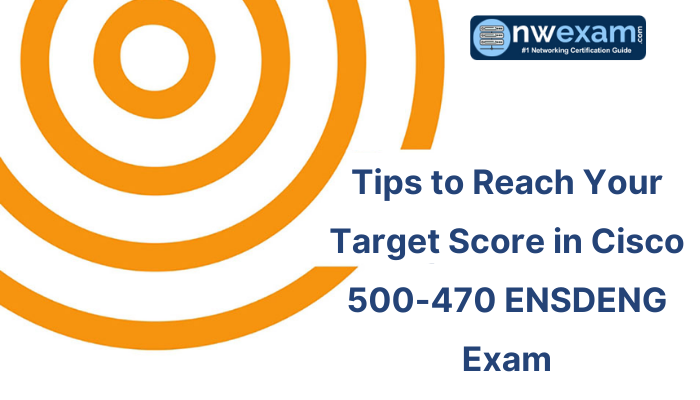 The Cisco Channel Partner Program offers a foundation for partners to establish the sales and technical skills essential to providing Cisco solutions to their end-users. With Cisco Channel Partner certifications and specializations, they acknowledge a partner's skill in deploying Cisco's advanced services and technologies. Cisco utilizes a third-party auditing process to prove a partner's technology skills, client satisfaction, business practices, pre and post-sales support, and crucial supplementary factors that help clients choose a trusted partner. Having the Cisco certifications in your resume can make you stand out from the crowd. The certificate received after passing the 500-470 ENSDENG: Cisco Enterprise Networks SDA, SDWAN and ISE Exam for System Engineers exam is essential as it is evidence of your skills and expertise.
A General Overview of the Cisco 500-470 ENSDENG Exam
This exam measures an applicant's understanding of the skills required by a Systems Engineer to understand the 4D Sales methodology; Discovery, Design, Demonstrate and Defend. The Cisco 500-470 certification exam consists of approximately 30-40 questions. The time duration for this exam is about 60 minutes, and the passing score varies from 750 to 850out of 1000.
Cisco 500-470 ENSDENG Certification Preparation Guide to Pass the Exam
Be difficult or easy; every certification exam requires a specific preparation path to be followed. So, if you want to pass the Cisco 500-470 certification exam on the first try, you need to follow the right preparation path.
Once you've decided to sit for the exam, it's time to begin the Cisco 500-470 exam preparation. So, follow this preparation guide and get ready to ace the exam!
1. Devise a Study Plan And Stick to It
A study plan is a timetable sketching out study times and learning exam syllabus topics. A study plan is a powerful tool to help you with the right management to attain success. Keep in mind your work life and personal commitments while devising the study plan. Besides your standard study, you are likely to have other responsibilities like extracurricular exercises, work, and social responsibility. Other responsibilities ought to be minimized, and time should be assigned to study. Studying according to the study plan helps you learn the topics within time.
2. Obtain Appropriate Study Resources
Training courses and study guides are basic, so assure you have them all. Explore the internet to avail the best learning material for Cisco 500-470 exam. It's better if you look out for books and study guides that give you a distinct understanding of the exam concepts.
3. Attend Recommended Training
It is helpful to take up the recommended training offered by Cisco for ENSDENG exam. Attend this training to evaluate your skills and to have an in-depth understanding of the exam concepts.
5. Join Online Forums and Communities
Online forums and communities help solve doubts you have concerning the Cisco 500-470 ENSDENG exam. When you have completed the recommended training, it is the perfect time to join online communities and forums. One most significant advantage of this is you can meet like-minded people and build your network.
Participating in a study group or community help you have various point of view as in the entire group, every individual conveys something different. This method allows you to widen your approach and understand topics deeply.
6. Evaluate Your Preparation with Cisco 500-470 ENSDENG Practice Test
Practice plays a vital role and is very influential in passing the Cisco ENSDENG exam. When you are done learning all the syllabus topics, you should begin performing practice tests. The practice tests will help you become familiar with the real exam structure and thus will prepare you to take and pass the 500-470 ENSDENG certification exam. NWExam.com offers a best-in-industry practice exam to help you get ready to ace the 500-470 ENSDENG exam on the first try.
7. Stay Focused to Accomplish Your Goals
The most important point is to stay focused throughout the preparation journey at the end of all this. Keep a goal for yourself and work hard to accomplish it. Keep some time assigned for prep every day and use the weekends more efficiently.
8. Calm Your Nerves the Night Before the Exam
Relaxing will help you endure with your brain skills. You will require a fresh and energetic mind while acing the 500-470 ENSDENG exam. This exam can be stressful, so you should try to get a good night's sleep before the exam. This will help you keep your mind active, and you will enter the exam hall with a fresh mind. Many times, applicants sit for the exam with complete preparation but answer Cisco500-470 ENSDENG exam questions wrong because of the too much stress in their brains.
Final Thoughts
Cisco 500-470 ENSDENG certification exam can be passed on the first attempt with good scores if you have the right preparation resources and learning approach. Apart from the resources listed in this article, there are lots of other bizarre resources that you can avail of for exam preparation. An applicant can easily prepare for the Cisco 500-470 ENSDENG certification with multiple resources at hand.