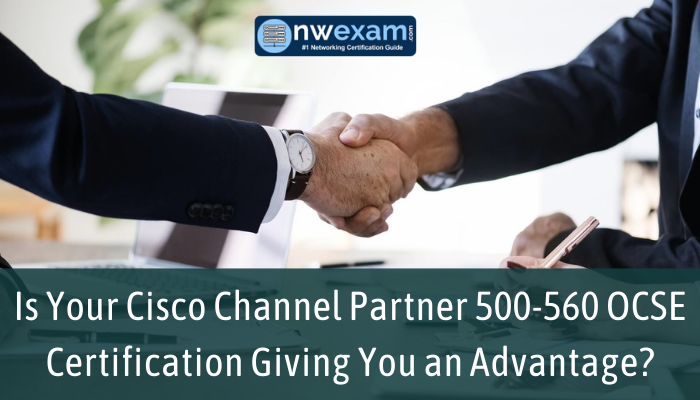 Cisco Channel partners are essential in marketing, positioning, and dealing with products and services. With partners contributing significantly to profitability, your business ought to conduct channel partner training and standardized certification programs. Well-planned certifications like Cisco Networking - On-Premise and Cloud Solutions (500-560 OCSE) offer a point of difference, motivation, and an additional opportunity for promotion for your partners.
This exam tests a candidate's knowledge of the skills needed by an engineer to understand the necessary information to support the express specialization in networking with business customers. This exam covers Switching, Routing, Wireless, Cloud, and Security solutions for engagements with smaller business customers.
What Is Cisco 500-560 OCSE Exam?
The Cisco 500-560 OCSE exam consists of 45 - 55 questions that need to be answered within 60 minutes. Cisco 500-560 exam cost is $300. All the Cisco 500-560 questions are distributed in the below five topics.
Cisco 500-560 OCSE Exam Topics:
Switching Overview and Features (15%)

Routing Overview and Features (15%)

Wireless Overview and Features (25%)

Meraki Overview and Products (35%)

Security Overview and Features (10%)
Cisco 500-560 OCSE Exam Preparation – Step By Step Guide
After getting familiar with the exam, comes the preparation, which is a vital part of any exam. An exam-taker must follow a set preparation pattern and some techniques to score well in the exam. Here you will find some common tips that the applicants use to study for the Cisco 500-560 OCSE exam.
1. Gather The Appropriate Study Material
The first step is to obtain the appropriate study material. Study materials from the official Cisco website are the most significant resources you will require to get a flying score in the exam. You can get the recommended course "Cisco Networking: On-Premise and Cloud Solutions" to thoroughly prepare for the exam. You can also look for the third-party resources that provide Cisco 500-560 study guides, videos, books, and practice tests.
2. Create A Study Plan
Once you have obtained the appropriate study material, look at the exam topics you need to study and then create a study plan for yourself. Always keep in mind that you cannot pass the Cisco 500-560 exam if you do not have a good study plan. In your study plan, incorporate the time you will assign to the exam preparation and the type of study you will be carrying out. Begin preparing as early as possible if you do not understand the exam topic.
3. Choose Learning Method
Another thing that you ought to do is to choose a learning method. The learning method can depend on the time you can dedicate to the Cisco 500-560 OCSE exam preparation, your budget, etc. The primary learning methods are self-study, instructor-led classes, and online videos. The best kind of learning is self-study, where you can select your own study time and pick the study material from which you want to learn. In the instructor-led training course, you will get support from the instructors who will explain everything about Cisco 500-560 exam concepts. You can sit for the exam if you do not understand the subject. For the applicants who have prior knowledge of the subject but need some guidelines, the online courses are the best alternatives to select from.
4. Attempt Cisco 500-560 OCSE Practice Test
Cisco 500-560 OCSE practice tests are crucial for your preparation. Make sure to attempt the practice tests regularly once you have learned all the exam topics. These practice tests will help you improve your speed and will also help you in evaluating how much you ought to study and work on your weak areas.
5. Schedule Your Cisco 500-560 OCSE Exam
Schedule your Cisco 500-560 exam only when you are confident about your preparation. If you are skeptical about your preparation, take some more time and then schedule the exam. Try your best to follow the tips on passing the Cisco Networking - On-Premise and Cloud Solutions 500-560 OCSE certification exam on the first try.
Benefits of Passing Cisco 500-560 OCSE Exam
Upon passing the Cisco 500-560 OCSE exam and earning the relevant cisco channel partner certification, you will experience the following business benefits:
Upsurge Revenue

Decrease Cost of Sales

Delivery of Information

Higher profitability

Greater partner productivity

Promote more business to, with, and through channel partners

Advance mindshare of channel partners for selling business solutions
Summary
Earning any Cisco certification is undoubtedly one of the best backings you can make in your career. Think about good preparation resources every time you think about the Cisco 500-560 OCSE exam and take your career to a new level by cracking this exam. Stay away from the resources that are not reliable and updated. Going for such sites is signing up for failure. Use the official Cisco website and the NWExam.com website for Cisco 500-560 OCSE practice test, and you will succeed.