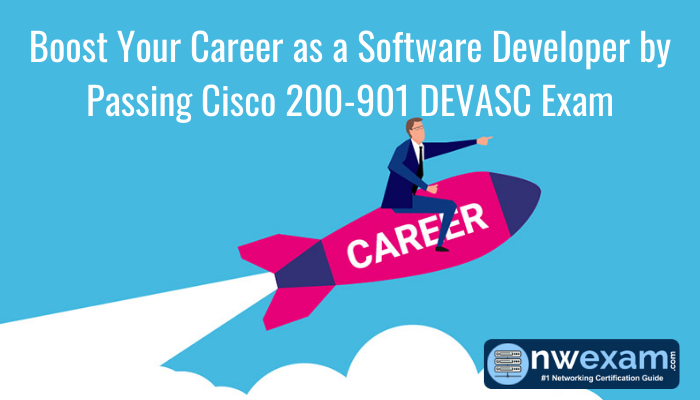 If you want to obtain the Cisco Certified DevNet Associate certification, you have to pass the Cisco 200-901 DEVASC exam. The exam evaluates your skill in software development and designing. They involve the use and familiarity with APIs, the development and platforms of Cisco, and the security and application development and automation and infrastructure. The Cisco DevNet Associate (200-901) provides a fundamental understanding. The more Network operations and software development are becoming closer, the growing significance of both increases. If the operations team receives a relevant understanding of the software development system, the outcome becomes better.
Important Details About 200-901 DEVASC Exam
Developing Applications and Automating Workflows using Cisco Platforms exam time is 120 minutes. During this time, the applicants will have to answer 90-110 questions, and that is why you require to make sure that you manage your time correctly. Cisco does not define the form in which the questions will be asked. So, you should be ready for anything.
Cisco certification exams usually include various types of questions; for instance, they can be fill-in-the-blank, multiple-choice, and even simulation questions. The number of questions is not defined, and that is why you will require to manage your time accordingly. We do know the topics that are going to be part of the Cisco 200-901 DEVASC exam. The syllabus topics are mentioned below:
Network Fundamentals

Infrastructure and Automation

Application Deployment and Security

Cisco Platforms and Development

Understanding and Using APIs

Software Development and Design
Target Audience
As the facts show, the professionals who have studied properly with DevNet partners happen to be extremely popular when it comes to the leading Industries. When you are through this training, your marketability in the industries as a network professional will increase as well as the best routing and switching knowledge.
Cisco 200-901 DEVASC Exam Preparation
You require to think about the Cisco 200-901 DEVASC exam like any other certification exam. Without a doubt, it might be a little tough, but this doesn't make it impossible. All you need to do is prepare for Cisco 200-901 DEVASC appropriately.
Each Cisco 200-901 exam topic makes a definite percentage of the exam. If you don't study properly for even one of them, you will not attempt this section. Before starting training, you will first need to find trustworthy study materials. You may come across different websites, but some are not as trustworthy as others. That is why it is better to check the authenticity of websites.
The best way to start Cisco DEVASC exam preparation is to get enrolled in a training course "Developing Applications and Automating Workflows using Cisco Platforms (DEVASC)" offered by Cisco. You can also find study guides for the thorough preparation for this Cisco exam.
Once you have completed learning all the syllabus topics, start taking Cisco 200-901 DEVASC practice test along with revision. With the help of practice tests, you can gauge your preparation level and how much knowledge you have soaked up. The result of the practice test will help you identify your weak areas, and you can start studying those topics.
Benefits of Passing Cisco DevNet Associate 200-901 DEVASC Exam
1. Cisco 200-901 DEVASC Certification Steer Your Career Advancement
Once you pass the Cisco DEVASC exam, you will open the door of opportunities for yourself. Thus, Cisco DevNet Associate certification will boost your career and pave a path towards lucrative career opportunities. But, you have to be zealous for career progression and acquire relevant knowledge to excel in this competitive job market. As an outcome, this will take you on a journey to follow a career path that will lead you to higher-level Cisco certifications. You need to start and push by earning the Cisco DevNet Associate certification first.
2. Obtain Exclusive Skills
Cisco certification brings exclusive skills and knowledge with it. Likewise, the Cisco Certifications offer you an opportunity to instill your expertise and accomplish tasks more successfully.
3. Attractive PayScale
You get professional benefits by passing the Cisco 200-901 DEVASC exam, heavy incentives, and an attractive salary package. It will enhance confidence and better your lifestyle as an individual in the long term. Actually, you keep rising when you earn great certifications such as the DevNet Associate, and annual compensation for this achievement must be proper. Thus, ZipRecruiter claims that Cisco certified professionals receive on average about $79k per year, which is a significant amount for the mid-tier.
Job Profiles You can get by Passing Cisco DevNet Associate 200-901 DEVASC Certification:
To excel in the job market, proper skills and expertise are necessary. The following posts are crucial here.
Junior application developer

Junior DevOps Engineer

Junior Cloud Developer

Junior Software Engineer

Test Development Engineer

Test Development Engineer

Field reliability engineer

Junior Automation Engineer
At the End
Organizations today are always looking for employees who are on the verge of working on their skills and flourishing in professional life. The ideal way to do this is through an IT credential, and if you are interested in networking, then the Cisco certifications are the best fit. Cisco 200-901 DEVASC is definitely a new exam, but it is unquestionably valuable. If you don't already have a Cisco certificate, you should think about this exam. Passing it will make your life simpler and magnify your value as an IT professional.
These are some of the main things you should know about the Cisco 200-901 certification exam. If you want to pass the exam with a flying score, the best way is to treat it like any other and prepare with great dedication. Work hard and cover all of the exam objectives. You don't need to remember every word you see; instead, understand the concepts, and you will be ready to ace the exam.