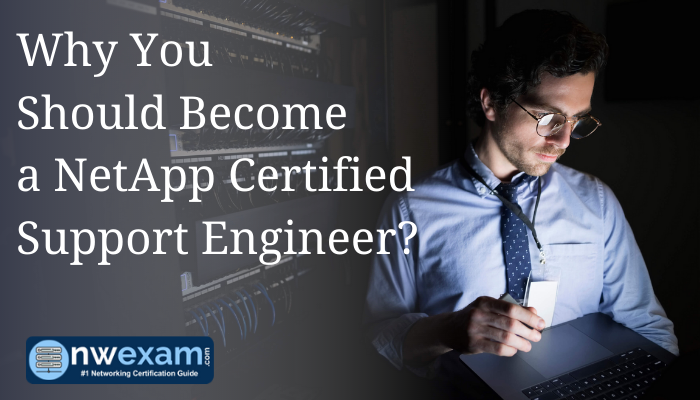 As the organizations expand and grow as time passes, they need skilled support engineers to buy or upgrade a system. If you hold experience in the field and want to prove your skills, NetApp NS0-194 certification can help you authenticate your skills.
Why You Should Become a NetApp Certified Support Engineer?
Demand for a technical support engineer will going to remain as long as organizations are developing. To become NetApp Certified Support Engineer, you should have at least 6 to 12 months of experience with NetApp solutions and technology, comprising general troubleshooting and root cause isolation, on-site and remote support, node configuration, documentation, hardware replacement, and software and firmware updates.
NetApp NS0-194 certification will help you boost your career as a network analyst, network controller, or an IT project manager.
Having this certification confirms you have proven skills. The NetApp certification validates you can update on-site and remote NetApp data storage systems running ONTAP operating system. You will be qualified to do so in NFS and Windows (CIFS) multiprotocol settings.
What's the Outlook for NetApp Certified Support Engineers?
The NetApp Certified Support Engineer is accountable for taking an offer application and technical support to the end-users. They have to answer and resolve the support inquiries and service tickets. It is a part of their job to classify, analyze, and solve any issues in computer software, hardware, services, and applications. The support engineer should offer pro-reactive and constructive support to business units and analyse critical issues.
This is a field that will remain to grow for the future, as technology becomes ever more advanced, and organizations demand qualified professionals to support it. The U.S. Bureau of Labor Statistics forecasts that the field will expand by at least 12% by 2024, more rapidly than average for all jobs.
If you have powerful tech skills and a desire to help organizations to solve problems, this can be an excellent career path for you. As a NetApp Certified Support Engineer (NCSE), you'll never run out of problems, and it's a path that will keep you properly on the leading edge.
When you pass the NetApp Certified Support Engineer NS0-194 exam successfully, you will be awarded the NCSE logo, badge, and certificate. So, don't waste your time and pass the NS0-194 exam right now!
A Brief Overview of NetApp NS0-194 Exam
The NS0-194 exam confirms that you have the skills required to become a NetApp Certified Support Engineer. It consisting of 60 questions and 90 minutes to complete. The exam is available in the English language only. To obtain the certification, you need to score achieve a score of 63%.
Ns0-194 Exam Comprises Of The Following Topics:
ONTAP OS

Troubleshooting NetApp Hardware and Software

NetApp Hardware

NetApp Cloud Data Services

Data Protection

Active IQ
How to Prepare for Your NS0-194 Exam?
NS0-194 exam is a bit complicated, and you may have to spend a number of weeks preparing for it. Your hands-on experience will also help you crack the exam with a good score. You have to go through the topics thoroughly to understand the exam material appropriately. So, what's the best way to prepare for the NS0-194 NCSE exam? The tips given below will take your preparation journey in a systematic and right path. Make sure you take your exam study sincerely.
NetApp NS0-194 Exam Preparation Tips
1. Ask for Help, If You Have Doubts
There are many things you wouldn't understand if you are appearing for the NetApp certification exam for the first time. Don't worry if you come across such a situation; the internet has all the answers.
2. Obtain the Best Study Material
You will find plenty of study resources online, which to go for is your choice. But make sure the resources you obtain should have at least a 4 out of 5-star customer rating.
3. Participate Actively in Relevant Forums
NetApp upgrades its exam periodically. To ensure you don't overlook any latest changes, get yourself enrolled in a relevant forum or community. There you will come to know any big to small updates, and it's the best way to stay updated.
4. NetApp NS0-194 Exam is a Quick One
The NetApp NS0-194 exam expects you to answer 60 questions in 90 odd minutes. Constant practice is needed to do well in the actual exam. Even if you are an experienced candidate, being able to put answers together when it matters is a tough situation.
5. Schedule NS0-194 Practice Tests
Take NS0-194 practice tests well in advance of the actual exam date. Give yourself a time limit, and evaluate your studies. There is always a chance to work on weak topics, and the rest of the days should be befitting.
6. Avoid Braindumps
Avoid braindumps at all costs. If don't know what a brain dump is, it is a document commonly offered by a third party that pretends to include all the NetApp NS0-194 questions and answers to help you pass the exam easily. As a matter of fact, these do not help you achieve certification, but they do only help you pass an exam. If passing an exam for certification is your track, be prepared to be required to apply the knowledge you actually cheated on in an interview, or even your regular job. It's not an appropriate plan for interviews or career development.
7. Stay Calm
Many candidates get nervous at the time of the exam. So, try not to worry, have confidence in yourself, and choose the answer with a conscious mind.
To Conclude
If you are dedicated, and an aspired professional, passionate to become NetApp Certified Support Engineer (NCSE), then the above tips will surely help you accomplish that goal. The NetApp NS0-194 certification helps professionals to certify and demonstrate their skill-sets and expertise in many ways.