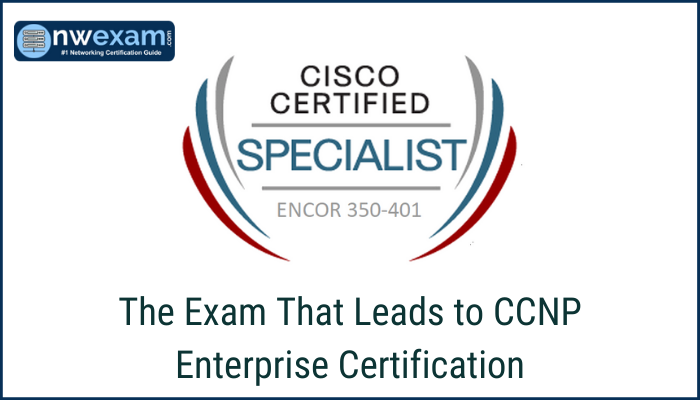 Cisco is always looking for means to assure its training and certification program suffices the contemporary requirements of the IT market. Cisco has included the most advanced changes happening in the field and the latest technology. It has been enforced by the fact that today's job roles demand entirely new skills. The changes have also led to the consolidation of several certifications into a single certification. This article analyzes the Cisco 350-401 ENCOR exam and why you need to take it. This article covers essential things you should know about this valuable exam.
Essential Details About Cisco 350-401 ENCOR Exam
Anyone thinking about their future careers to understanding more about this vital Cisco exam, known as the 'Implementing Cisco Enterprise Network Core Technologies' exam. 350-401 exam is one of the exams created to replace some of the old ones that applicants took to receive their various certifications. Here are essential details you should know about this exam:
No Official Prerequisites for CCNP Enterprise Certification Exams
Cisco has withdrawn prerequisites for associate- and professional-level certifications. The only thing expected of you is to have a thorough understanding of the topics covered in the exam and be able to execute the relevant technical tasks.
Cisco 350-401 ENCOR Exam Leads to Various Cisco Enterprise Certifications
The Cisco 350-401 exam is one of two exams needed to obtain Cisco's new Enterprise certifications. Cisco 350-401 is a core exam for the CCNP certification. Since you must pass two exams to obtain this certification, the 2nd one you have to select from the available enterprise concentration exams. These are the exams to choose from for the CCNP Enterprise:
Cisco 300-410 ENARSI

Cisco 300-415 ENSDWI

Cisco 300-420 ENSLD

Cisco 300-425 ENWLSD

Cisco 300-430 ENWLSI

Cisco 300-435 ENAUTO
Skills Measured
Cisco 350-401 exam comprises 90-110 questions which candidates have to finish in 120 minutes. This exam expects you to master the implementation of essential enterprise networking technologies. Cisco 350-401 exam includes the following topics:
Architecture (15%)

Virtualization (10%)

Infrastructure (30%)

Network Assurance (10%)

Security (20%)

Automation (15%)
Cisco 350-401 ENCOR Exam Preparation
Preparing for the exam imparts you the confidence to face it. To ensure that you can take the exam without any difficulty, you must equip well with the right tools.
You should enroll in an online instructor-led Implementing Cisco Enterprise Network Core Technologies training course. In the meantime, you can study with the previous CCNP R&S certification preparation tools. There are various things that the vendor supports you with.
You can only determine how sincere you were throughout exam preparation by passing a good score, so don't miss any preparation options. Prepare with training videos, join the Cisco study group, or learn with the CCNP and CCIE Enterprise Core ENCOR 350-401 Official Cert Guide. Moreover, trace your progress and see what you've learned with the practical learning labs.
Preparation with Cisco 350-401 ENCOR Practice Test
Take as many Cisco 350-401 ENCOR practice tests as possible before an actual exam. By doing so, you achieve a set of handy skills for use on actual exam day. In this manner, you will avoid spending valuable time identifying how each component functions during the real exam. They also give you insight into the wait you'll encounter at the exam and equip you with skills to answer different types of questions and manage your time wisely.
It is vital that you do not remember answers to questions you practice. You are better off learning the core concepts of answering the questions than remembering the answers. In most instances, the questions you remember do not show up in your exam. This is because Cisco, and other certification vendors, have many questions in their database, and the chances of a particular question coming out are pretty low. Rather than remembering the questions, you should take the practice test to identify your weak areas and work on them.
Guaranteed Ways to Enhance Your Networking Career with Cisco 350-401 ENCOR Exam
This exam is also known as ENCOR and is concerned with the core technologies targeting the enterprise. This means it assesses your ability in this area. Here are the ways the Cisco 350-401 ENCOR exam will strengthen your networking career:
1. You Obtain Critical Enterprise-Based Networking Skills
It's prominent that the SDN (Software-Defined Network) market is rapidly growing. This is because it provides adaptability and compliance — Cisco rules in networking as well as wireless technologies. Cisco 350-401 ENCOR is based on obtaining skills to administer core technologies that are directed at enterprise networks. This signifies that when you improve your skillset, your confidence levels boost since you can now carry out more complicated tasks. This raises your job opportunities that mean a lot to your career!
2. Cisco 350-401 ENCOR Qualifies You to Fill Contemporary Skill Gaps
The IT industry is obsessed with a lot of loopholes that concern skills. This signifies that organizations are spotting it challenging to fill specific job positions. Networking is one of the areas that have skill gaps, and someone has to fulfill it. By passing the Cisco 350-401 ENCOR exam, you're preparing yourself to help fill the gaps.
3. Brilliant Job Opportunities
With an exceptional skill set, you'll be placing yourself up for brilliant job opportunities. CCNP Enterprise ensures that you own skills in areas such as IPv4, IPv6, virtualization, security, automation, infrastructure, and more. With a CCNP Enterprise certificate, you'll work as a network engineer, enterprise network engineer, wireless network engineer, and many more.
4. Pay Raises and Promotion
Professionals and employees with renowned certifications are commonly given supervisory positions. This places them in a better position to receive promotions and higher salaries. The ENCOR exam grants you better opportunities for finding a job and being offered a pay package that pays you well for your investment. As Payscale.com reveals, here are average salaries for various networking professionals per year:
Enterprise network engineer: $71,497

Network engineer: $73,976
Conclusion
The Cisco 350-401 ENCOR exam enables you to enter the job market with specific skills. As things are turning out now, the world requires a new approach to technology. This approach involves acquiring new skills and filling the new job roles that keep coming up every other day. When you're among the first people to receive a new, most sought-after skill, you get lucky during job employment with your new CCNP Enterprise certification.