The business environment is confronted with challenges concerning quick detection of cybersecurity gaps and the ability to respond efficiently to security problems. The professionals working in security operations centers are continuously monitoring the security systems of their organization to secure their organizations through prompt detection of cyber threats and mitigation.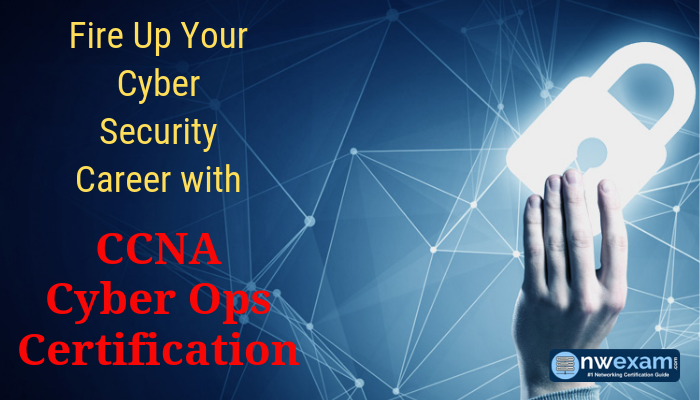 Technology is growing these days rapidly, and the need for IT experts and professionals is still very high. According to data, in the coming years, cybersecurity will be one of the top 20 IT jobs that will be demand. One of the IT leaders that are acknowledged globally for qualifying IT experts in cybersecurity is Cisco.
The Cisco CCNA Cyber Ops certification is intended to qualify the individuals with the skills and understanding expected for the associate-level Cisco CCNA Cyber Ops analysts to work efficiently through the security operations centers.
An Overview of CCNA Cyber Ops Certification
Most organizations have to identify constant cybersecurity breaches and counter adequately to these security incidents. For that, they require qualified employees.
A team of professionals in Security Operations Centers (SOCs) is always monitoring multiple security systems, cybersecurity threats, and defend organizations from any security threats. If you want to excel in your career in IT, especially in cybersecurity, your way is to get the CCNA Cyber Ops certification. For that, you require to pass two exams:
You are not required to have any prerequisite to sit for these two exams. The CCNA Cyber Ops certification is an essential step that you will need in earning the necessary skills to work as one of the team members of SOC. There is a high demand to cope up with security gaps, and the CCNA Cyber Ops certification equips one with the expected skills, as well as allows you to move forward in your cybersecurity career. With this certification, you will be exposed to various jobs like:
Cybersecurity Technician

Security Analyst

IP Network Engineer

IT Security Engineer

Network Security Architect

Sr. Network Security Engineer
Benefits of Becoming CCNA Cyber Ops Certified
CCNA Cyber Ops certification will qualify applicants to start a career working with associate-level cybersecurity analysts within security operations centers presented by Cisco to its customers. They will learn how to identify and deal with security threats employing the latest technology, as such jobs demand the understanding of fundamental cybersecurity and principles.
It evaluates individuals on the skills required to monitor IT security systems, identifying cyber-attacks, accumulating and analyzing evidence, correlating information, and correlating responses to cyber incidents.
Below are reasons why you should become CCNA Cyber Ops certified:
1. Career standards
Life is full of steps and measures. People often begin their career as interns in the IT field. Certifications such as CCNA Cyber Ops are significant because they take us to the levels of qualified Cisco professionals. Cisco certified professionals are recognized to be competent in their area of expertise; these professionals can solve challenging tasks, and in a short period.
2. Skills Endorsement
Earning yourself a relevant certification is a way to move forward in your career. This is because it acts as a potent tool to confirm that you own a specific set of skills and knowledge. Certified professionals appreciated more at the workplace as compared to IT generalists.
3. CCNA Cyber Ops Certification Makes You More Marketable
Earning CCNA Cyber Ops certification is an ideal way to establish your reputation as an IT professional and boost your salary. With appropriate certification, you will be able to excel in any job interview that you will attend.
4. Confirms your Initiative
The real world of information technology is demanding, and life is busy. Making time to acquire a credential tells a lot about your commitment, work ethic, and dedication to your career. Every company will like to hire you because certification is a kind of mark that you are an ambitious person who can set the goals and achieve them.
5. Employer Confidence
Hiring managers would not just guess or believe that you have the skills they require. CCNA Cyber Ops certification will make them have confidence that they have employed the right applicant who can execute his/her work with the ultimate expertise.
6. Advanced Knowledge
7. CCNA Cyber Ops Certifications can increase your earning potential
It is not a secret or a lie that specific credentials can drastically increase your basic salary. Cisco certifications are often known to take its professionals to greener pastures. Remember, CCNA Cyber Ops certified professional is considered a valuable asset in your organization. Therefore, your management will pay you splendidly to engage you because you are a valuable employee.
8. Industry Recognition
Cisco is globally distinguished for its significant efforts in the networking technology field. Putting a Cisco certification in your resume is a great way to draw promising clients. You will have an opportunity of using it across the globe because it is accepted worldwide.
9. Continued Professional Growth
After a certain period of about three years, one will have to recertify their certification. This means that you will have an opportunity to comprehend the technologies used in cybersecurity which haven't been yet invented during the time you became certified. Therefore, you will continually acquire knowledge and remain updated in the industry.
10. Guarantees other opportunities
Apart from getting hired quickly, certifications open a door of many possibilities. Professionals can represent their organization in conferences and seminars that are correlative to cybersecurity.
CCNA Cyber Ops is proved to be one of the most relevant certifications for IT professionals. This article has already explained few of the reasons that should make you earn it as soon as possible.