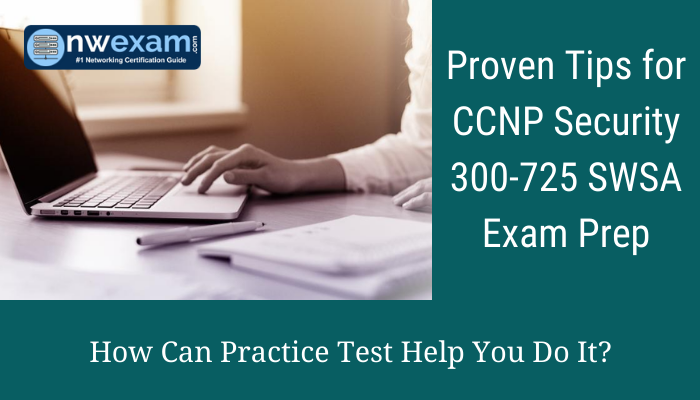 CCNP Security certification qualifies you for today's professional-level job positions in security technologies. One of the industry's most sought-after certifications, CCNP Security certification confirms the basic knowledge you require while offering the flexibility to select a focus area. This article will focus on CCNP Security Concentration exam 300-725 SWSA: Securing the Web with Cisco Web Security Appliance. This exam measures your knowledge of the Cisco web security appliance. The Cisco 300-725 SWSA certification exam is a vital way to boost career within the CCNP Security field. If you aim at web security, and you can take the certification.
CCNP Security – 300-725 SWSA Exam Details
CCNP Security Concentration Exam 300-725 SWSA exam – Securing the Web with Cisco Web Security Appliance lasts 90 minutes consisting of 55-65 questions. This Cisco exam is associated with the CCNP Security and Cisco Certified Specialist – Web Content Security certifications, which evaluates the understanding of Cisco Web Security Appliance, decryption policies, acceptable use control settings, including proxy services, authentication, differentiated traffic access policies and identification policies, malware defense and data security and data loss prevention.
Topics Included In the Cisco 300-725 SWSA Exam
Following are the topics included in the 300-725 SWSA Exam
Cisco WSA Features

Configuration

Proxy Services

Authentication

Decryption Policies to Control HTTPS Traffic

Differentiated Traffic Access Policies and Identification Profiles

Acceptable Use Control

Malware Defense

Reporting and Tracking Web Transactions
Target Audience
Cisco integrators, Network managers

Server administrator, Field engineers

Network designers and administrators

Datacenter engineers

Consulting systems experts

Technical solutions architects

Network and system engineers
How to Prepare for Cisco 300-725 SWSA Exam?
Here are tactical, practical, and proven tips that will help you pass the Cisco exam with flying score.
1. Know What's on the Cisco 300-725 SWSA Exam to Plan Your Preparation
It's vital to know which topics are coverd in the exam syllabus and among those areas, which are your strong points and will take more study and practice to master.
2. Make a Realistic Study Plan
Creating a realistic and practical study plan is vital for Cisco 300-725 exam preparation. Define clear and definite goals for your thorough preparation so that you know when you've accomplished them. Manage your time sensibly, being sure to decide how much time you can assign for exam preparation each day. Finally, be sure you're learning from the resources that are going to help you best. The exam can be difficult, but with a practical study plan in place, you can and will flourish.
3. Obtain the Relevant Study Resources
Your prior knowledge and experience in the field will influence the study resources you choose. But no matter how much experience you hold, you need to learn from at least three to four resources. You can enroll in an online training course, buy study guides, online videos and practice test.
4. Take Cisco 300-725 SWSA Practice Test
One of the best ways to boost performance in exam is by taking Cisco 300-725 SWSA practice test. They will make you familiar witht he exam structure and help you figure out topics that may need a little more preparation. Cisco 300-725 practice test will shed light on what you perceive well and what you should review more ahead of exam time. Taking practice test improves your time management skills and accuracy.
5. Actively Participate in an Online Study Groups and Communities
Online study groups and communities can greatly help you prepare for Cisco SWSA exam. Being a member of such communities or study groups, you can ask your doubts and also help others solve thier queries. You can also come to know about valuable resources and tips to pass the exam smoothly.
6. Relax
Before any exam, you must get a good night's sleep. Numerous researches prove that lack of sleep leads to poor results in exam. If your body and mind is tired, your memory will be blurred. The best way is to have an eight hours' sleep.
Benefits of Cisco 300-725 SWSA Practice Tests
Understand the Cisco 300-725 SWSA exam structure

Real-time exam experience

Practice Makes You Better

Focus on your improvement areas

Boost your self-confidence
Conclusion
These are some of the core tips that you need to know and follow if you take a Cisco300-725 SWSA certification exam. The CCNP Security certification can be very beneficial for your career, and that is why you should give your best to Cisco SWSA exam preparation.