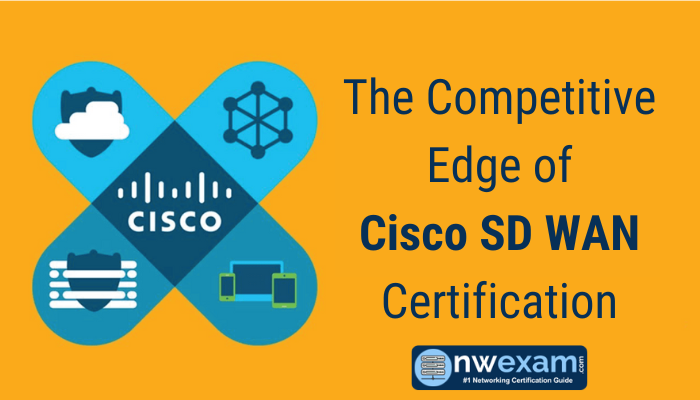 The question of why network experts should pursue the Cisco SD-WAN certification (300-415 ENSDWI) has become more significant in today's context. Discover all the essential information about the Cisco SD-WAN Certification in this article.
Modern enterprises are adopting Cisco SD-WAN (previously known as Viptela) technology to enhance business efficiency and flexibility and lower IT expenses. Cisco has introduced the 300-415 ENSDWI (Implementing Cisco SD-WAN Solutions) exam as part of its focused assessments to attain a professional-level certification. By achieving this specialized Cisco certification, candidates confirm their competence in delivering Cisco SD-WAN solutions to enterprises. This article will delve into the Cisco SD-WAN Certification, its potential in the near future, the expenses involved in obtaining the certification, and will address the most commonly raised inquiries related to it.
What is SD-WAN?
Software-Defined Wide Area Network (SD-WAN) represents an expanded iteration of SDN, streamlining the administration of wide-area networks. This enables businesses and data centers to apply policies and adjust configurations while maintaining cost-effectiveness swiftly.
Today, businesses are transitioning from MPLS to SD-WAN solutions for their network needs, aiming to construct more efficient wide-area networks by utilizing cost-effective, readily accessible Internet connections. Don't delay any further! Acquire the expertise of a networking professional capable of enhancing application performance for enterprises and providing users with top-notch experiences.
How to Achieve a Cisco SD WAN Certification?
To achieve the Cisco SD-WAN Certification, successful completion of the 300-415 ENSDWI certification is mandatory, commonly referred to as the Cisco SD-WAN Certification.
Prerequisites for Taking Cisco SD WAN Certification Exam
Any individual possessing an understanding of,
Routing protocol operation, interior and exterior.

Enterprise WAN design.

Transport Layer Security (TLS) and IP Security (IPsec).
Can take Cisco SD-WAN Certification (300-415 ENSDWI) exam.
About Cisco 300-415 ENSDWI Exam
The exam with the code name 300-415 ENSDWI is the Implementing Cisco SD-WAN Solutions assessment. Candidates will be provided with a 90-minute timeframe to complete approximately 55-65 questions, which may come in various formats. These formats encompass drag and drop, single-answer multiple-choice, multiple-answer multiple choice, and fill-in-the-blank questions. This certification examination is available in English and Japanese, and its cost is $300, excluding applicable taxes. Upon payment of this fee, you can schedule the exam through the Pearson VUE platform. The exam can be taken online with proctoring or at a nearby testing center.
Regarding the exam framework, the structure of the Cisco 300-415 ENSDWI exam revolves around the following domains:
Architecture (20%)

Controller Deployment (15%)

Router Deployment (20%)

Policies (20%)

Security and Quality of Service (15%)

Management and Operations (10%)
The CCNP Enterprise certification will be valid for three years. And to get the complete the overview of the exam, Click Here.
Tips to Prepare and Pass Cisco 300-415 ENSDWI Exam
Every examination is tailored to its specific objectives, resulting in potential feelings of unease when anticipating an upcoming assessment. However, armed with essential strategies and methods to employ during your exam preparation, apprehension is unnecessary.
Go through these tips and make sure you comprehend and put them into practice. Doing so will give you a significant service that will lead to favorable results in your examination. Thus, what effective strategies can you implement as you prepare for and sit for your Cisco CCNP Enterprise 300-415 ENSDWI Exam? Here is the rundown:
1. Dedicate sufficient time to Cisco 300-415 Exam Prep
Before committing to the examination, ensure that there exists a sufficient span to address its subjects. This will provide you with generous time to delve deeply into the nuances of the subjects if necessary. Commencing late increases the likelihood of hastening your review process. This haste could result in an overwhelming influx of information within a brief period, potentially causing the forfeiture of your studied material. Such an outcome would undoubtedly be disheartening. Initiate your preparation to smoothly navigate through the necessary stages without imposing undue haste upon yourself.
2. Keep the Exam Topics Readily Accessible
Before you begin your revision, you must know the topics you're set to try on. The Cisco website offers you the details of Cisco 300-415 topics and ways you can use to cover them. You need to check out the tested areas so that you can obtain relevant tools for study.
3. Make Use of Suitable Study Resources
Multiple study materials for exams have been previously validated and proven by past test takers. This implies that the techniques proposed here for your study are within your grasp. It also assures that you can confidently navigate the exam by appropriately employing these exam study materials and techniques. Cisco offers a range of recommended study resources, encompassing training courses and practical hands-on labs.
4. Take Cisco 300-415 ENSDWI Practice Test
If you'd like to get the assurance of performing well in your test, ensure to practice numerous times with practice tests. NWExam.com is a reliable platform with practice tests for all your exam prep needs.
The practice tests available on the NWExam website offer a valuable chance to assess your comprehension of various subjects outlined in the exam curriculum. By consistently utilizing these tests, you can pinpoint areas of weakness that need extra focus. Furthermore, these practice assessments come with immediate result, aiding in your grasp of the reasons behind correct and incorrect answers.
5. Make Sure to Get Sufficient Rest
Throughout the Cisco 300-415 exam preparation, prioritize sufficient daily sleep. Equally crucial is obtaining ample rest the evening before your test. This practice is vital in maintaining your alertness during the exam duration, ultimately enhancing your likelihood of excelling in the assessment.
Opportunities with Cisco SD WAN Certification
As businesses increasingly adopt cloud technologies and embrace software-as-a-service (SaaS) models, the conventional wide area network (WAN) is no longer viable. Streamlining, cost reduction, enhanced bandwidth efficiency, and seamless connection to the cloud provided by SD-WAN have become the preferred solutions. For instance, companies seek adept experts who can modernize their networks in alignment with present market trends.
Therefore, these rapidly expanding sections within the network infrastructure market can enable network experts to step into captivating job prospects and elevated career paths.
Furthermore, acquiring the Cisco SD-WAN certification can provide you with several incredible advantages, such as,
Individuals achieve a worldwide certification referred to as the Cisco Certified Specialist - Enterprise SD-WAN Implementation Certification.

After passing the Cisco 300-415 ENSDWI exam, you can take the 350-401 ENCOR exam and become a Cisco Certified Network Professional (CCNP) in the Enterprise pathway.

Add your certification badges to your social media profiles, drawing recruitment managers' attention who might offer attractive employment opportunities with favorable compensation packages to join their organizations.
Potential Job Profiles After Cisco SD-WAN Certification
The Cisco SD-WAN certification is tailored to your needs if you hold any of the following job positions. If you currently serve as a Network Engineer and seek SD-WAN opportunities, this training can propel your job prospects toward subsequent roles.
System administrators

System integrator

Solutions designers

Network administrators

Enterprise network system installers
Conclusion
The Cisco SD-WAN certification holds immense significance in the swiftly evolving networking landscape. As businesses increasingly adopt digital transformation and cloud-centric services, the need for robust and effective software-defined wide-area networks has surged. Cisco SD-WAN certification equips networking experts with the competencies to conceive, implement, and manage these cutting-edge networks adeptly.
Furthermore, heed the advice provided here as you engage in your Cisco CCNP 300-415 studies. It's acknowledged that attaining the Cisco SD-WAN certification is challenging. However, conquering the exam can be pretty straightforward, armed with the appropriate preparatory resources. Dedicate ample time to practice using dependable and up-to-date practice tests from NWExam.com, engage with training courses for learning, and acquire pertinent hands-on proficiencies. Prioritize the attainment of this certification by thoroughly preparing for the upcoming assessment. Best of luck as you ready yourself to contribute solutions in the perpetually evolving realm of IT!