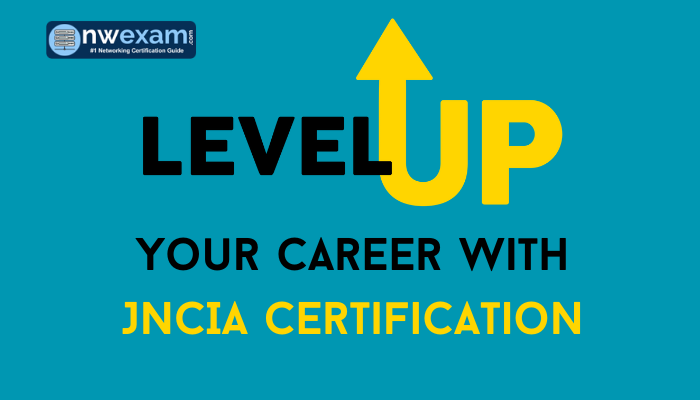 Juniper is an industry leader in networking equipment, including firewalls, routers, and switches. Passing the Juniper certification exams proves your knowledge and skills in supporting their equipment and operating system. The JNCIA certification verifies your basic understanding of Internet technology and related platform configuration and troubleshooting skills. For some tracks, passing the JNCIA exam is a requirement for attempting the JNCIS-level written exams.
The JNCIA-Junos certification is valid for two years. Recertification is achieved by passing the JN0-104 exam.
Benefits Brought by JNCIA Certification
Obtaining a JNCIA (Juniper Networks Certified Associate) certification can offer a range of benefits that are particularly valuable in networking. Let's delve deeper into how this certification can contribute to better job prospects, improved chances of securing a well-paying job, and recognition within the networking industry.
1. JNCIA Certification Betters Job Prospects
Earning a JNCIA certification significantly enhances your job prospects in networking. Juniper Networks is a renowned and respected player in the networking industry, and its certifications are widely recognized by employers worldwide. With a JNCIA certification on your resume, you demonstrate to potential employers that you possess a solid networking knowledge and skills foundation. This makes you a more attractive candidate for a wide range of networking roles, from network administrator to support engineer. Employers often prioritize certified candidates because they can contribute effectively to the organization's network infrastructure from day one.
2. Enhanced Salary Package Opportunities
The JNCIA certification can open doors to more lucrative career opportunities in the networking field. Companies often offer higher salaries to candidates with credentials because they see it as validating your expertise. With the knowledge and skills gained through JNCIA certification, you become a valuable asset to organizations seeking to maintain and optimize their network infrastructure. Employers are willing to invest in certified professionals who can help ensure the reliability and security of their networks, which translates into a better chance of negotiating a competitive salary package.
3. Recognition in the Networking Industry
Achieving JNCIA certification also brings recognition within the networking industry itself. Networking professionals worldwide know the rigorous training and examination process required to earn this certification. As a JNCIA-certified individual, you join a community of skilled professionals who have proven their competence in Juniper Networks technologies. This recognition can increase networking opportunities, professional networking events, and access to valuable industry resources. It can also pave the way for further career advancement as you gain experience and pursue higher-level certifications within the Juniper Networks certification track.
Preparing for the JN0-104 Exam
Preparing for the JN0-104 exam requires dedication and a structured approach. Here's how to get started:
Recommended Study Resources
To excel in the exam, you'll need suitable study materials. Consider investing in:
Official Juniper Study Guides: These guides are tailored to the exam objectives and provide in-depth coverage of the topics.

Online Courses: Various online platforms offer courses designed specifically for the JN0-104 exam.
Creating a Study Plan
A well-structured study plan is crucial. Allocate specific time slots for studying each topic and stick to your schedule diligently.
Master Networking Fundamentals
Start with the basics. Understand networking concepts like IP addressing, subnets, and protocols.

Understanding Junos OS Fundamentals

Junos OS is the heart of Juniper networks. Learn its fundamentals, including configuration and management.

Exploring Routing Essentials

Routing is a core networking aspect: study routing protocols, algorithms, and routing table management.

Learning Switching Fundamentals

Switching is equally essential. Dive into topics like VLANs, Spanning Tree Protocol, and Ethernet.

Security Fundamentals

Security is a top priority in networking. Familiarize yourself with firewall policies, security zones, and VPNs.

Troubleshooting and Maintenance

Learn how to identify and resolve common networking issues. Troubleshooting skills are essential for the exam.
Take JN0-104 Practice Test
Take practice exams and sample questions on nwexam website to gauge your progress and identify weak areas. When you engage in extensive practice with exam questions, you become accustomed to the types of questions commonly encountered in the actual exam. Additionally, you acquire the skill of crafting responses tailored to these questions. This form of practice also serves as an effective method for assessing your knowledge foundation, pinpointing your strengths and weaknesses, enabling you to determine where to concentrate your efforts and time.
Tips for JNCIA Certification Exam Day
Get a Good Night's Sleep: Ensure you are well-rested the night before the exam.

Read JN0-104 Exam Questions Carefully: Take your time to read and understand each question before answering.

Review Your Answers: Review your answers before submitting the exam if time permits.
Conclusion
Earning your JNCIA certification by passing the JN0-104 exam can be a significant milestone in your networking career. It opens doors to exciting job opportunities and demonstrates your expertise in Juniper networking technologies. So, prepare diligently and stay focused, and success will be within your reach.
Now that you have a clear roadmap to obtaining your JNCIA certification, it's time to embark on this rewarding journey. Remember, preparation and dedication are your keys to success. Good luck!