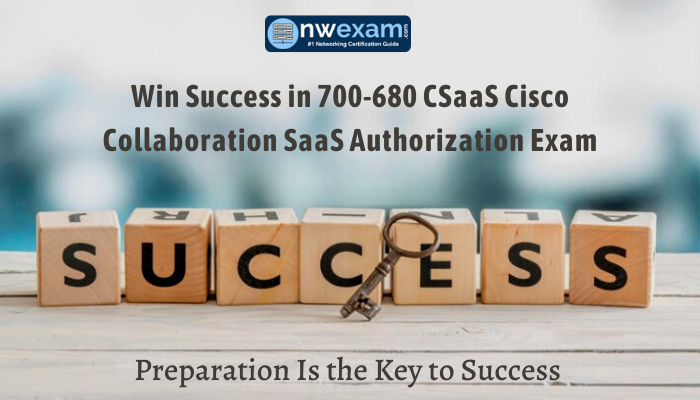 The core purpose of the Cisco Collaboration SaaS (Software-as-a-Service) Specialization Program is to create programs with formal requirements for confirmation and identification of our Cisco channel partners and to evolve the global market opportunity for cutting-edge and rising technology solutions through qualified Cisco channel partners. The Cisco Collaboration SaaS Specialization Program has two roles. The roles are 1 x Account Manager Role (AM) and 1 x Presales Engineer Role (SE). The required exam to pass to be eligible for these roles is 700-680 CSaaS: Cisco Collaboration SaaS Authorization Exam.
Overview of Cisco Collaboration SaaS Authorization 700-680 CSaaS Exam
The Cisco Collaboration SaaS Authorization is a 30 minutes exam containing 35 to 45 Multiple-Choice and Multiple-Select Questions. The candidate should understand Ordering, Smartaccounts, Webex, Flex Plans, Control Hub, Security, Developing Webex, Callings, Meetings, Teams, Devices, and Edge.
Cisco 700-680 CSaaS Exam Topics
Webex Market Overview (5%)

Webex Meetings, Webex Teams, Webex Devices, and Webex Edge (30%)

Webex Calling (5%)

Webex Control Hub, Webex security, compliance, and Webex for developers (30%)

Collaboration Flex Plan (20%)

Overview of Ordering, Smartaccounts, and Webex Try and Buy (10%)
Tips for Cisco 700-680 CSaaS Exam Preparation
You must take your preparation sincerely. Many exam-takers do not pass the exam on their first try, at times, because of a lack of appropriate preparation. Depending on the situation or your preference, a variety of the techniques listed below will help you acquire the essential knowledge and skills for succeeding in the Cisco Collaboration SaaS Authorization Exam:
1. Create a Study Plan
Many online platforms offer exam-takers the template to chart out a study plan. If you cannot make one for yourself, you should look for online assistance. Your study plan should incorporate every topic of the exam syllabus within the study time limit. You should begin preparations with the easy topics and steadily move to the more challenging ones, which will slowly ease your preparation journey.
2. Take a Recommended Training Course
You should enroll in the recommended training course "Cisco SaaS Authorization Training" for exam preparation. This course will strengthen your knowledge and expertise in the topic areas of the Cisco 700-680 CSaaS exam. Cisco Partners can approach Cisco SalesConnect for the availability of a variety of training materials to help them prepare for this Cisco exam.
3. Take Cisco 700-680 CSaaS Practice Test
Practice tests are the only way to gauge your preparation level. You should devote some time to taking them to help you acquire proficiency in the real certification exam. You should take up the practice test offered by the nwexam website. Performing practice tests on this website will go a long way to prepare you and improve your odds of success in the Cisco Collaboration SaaS Authorization Exam.
4. Become an Active Member of an Online Community
Cisco's learning website also sponsors a community forum for its certification exam. The conversations in this forum may unveil helpful exam tips that may help you build your way of exam preparation. This is also the best platform for networking and discovering new opportunities.
Is Cisco 700-680 Certification Exam Worth the Time And Effort?
This exam is primarily created for Account Managers and Presales engineers who want to effectively prove their knowledge of Cisco's Collaboration SaaS solutions to trade these cloud-based services. So, why should you consider spending time and money on this Cisco exam? Let's explore:
1. Proof of Your Skills in SaaS Solutions
Cisco Collaboration SaaS Authorization Exam 700-680 CSaaS proves your skills on various topics. If you read over the exam objectives thoroughly, you will find out that it helps you get a distinct overview of Webex Meeting solutions. Moreover, this exam authenticates your knowledge of how Webex Meetings, Webex Devices, Webex Edge, and Webex Teams work. When you prepare for the Cisco 700-680 exam, you will also get mastery in Webex for developers and Webex security and compliance. Lastly, this exam is the right path to decide if you want to get expertise in the Collaboration Flex Plan and get a complete knowledge of Webex Try and Buy, SmartAccounts, and Ordering features.
2. Passing Cisco Exam Keeps You On Top of the Industry Trends
Organizations across the world are in the procedure of transitioning toward the Software as a Service infrastructure. Thus, they look closely at Cisco and its solutions that assist them in promoting collaboration and enhancing performance. Cisco is a leader in providing Collaboration and SaaS tools for hybrid as well as on-premises environments. So, by passing the Cisco CSaaS 700-680 exam, you will enhance your knowledge in this field and acquire an international certification that distinguishes you from other applicants. Also, you prestigious a popular certification to your CV that promotes you for some of the most sought-after jobs at present.
3. Boost Self-Confidence
Not all applicants who register for the Cisco 700-680 exam manage to get through on the first attempt. So, if you can pass it on the first try, you will become part of an elite group of individuals who have crammed knowledge of Cisco tools and can execute challenging tasks. When your self-confidence level extends to the utmost level, it will become better for you to access the dream jobs and negotiate for salary with hiring managers.
Conclusion
Passing the 700-680 CSaaS exam is certainly worth the effort. It helps you stay updated with the most advanced trends and takes you closer to achieving an internationally acknowledged certification. Moreover, throughout the preparation process for this exam, you will attain more confidence in your potential to master new skills and acquire the essential expertise that will stimulate you to become a valuable team member for organizations interested in transitioning to SaaS solutions.