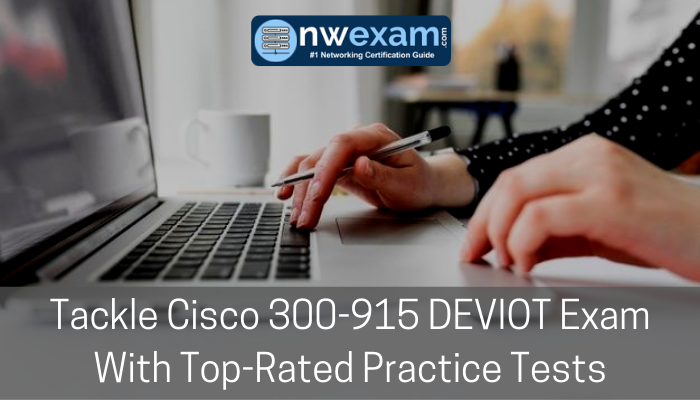 What is Cisco 300-915 DEVIOT Exam?
Cisco 300-915 DEVIOT exam is associated with the Cisco Certified DevNet Professional and Cisco Certified DevNet Specialist – IoT certifications. This exam evaluates the applicant's understanding and skills of IoT application development pertaining to the Cisco IoT edge compute and network architecture. Moreover, this also comprises IoT Data Visualization, Cisco IOx and Cisco EFM, and security procedures. In this, applicants will master the following skills:
Utilizing network programmability and automation to simplify applications lessen data size and intricacy and strengthens security protocols.

Strengthening knowledge and experience in increasing MQ Telemetry Transport (MQTT) protocol for lower power usage, faster data transmission, and more swiftness in device usage.
For Cisco 300-915 DEVIOT exam, applicants will get 90 minutes to finish the exam. The exam consists of 55-65 questions of different types such as Multiple-Choice Single Answer, Drop Fill-in-the-Blank, Multiple-Choice Multiple Answer & Drag & Testlet. Yet, Cisco does not reveal the exact passing scores for exams because exam questions and passing scores are subject to change without notice. This exam is taken in the English language, and the cost of the exam is $300. This exam is valid for three years.
Cisco 300-915 DEVIOT Exam Preparation
There are several preparation options for exam takers to sharpen their skills and acquire solid knowledge before sitting for the Cisco 300-915 exam. They incorporate:
1. Training Course
Cisco provides a training course for its certification exams. Thus, exam 300-915 DEVIOT exam aspirants can enroll in the "Developing Solutions Using Cisco IoT and Edge Platforms (DEVIOT) v1.0" training course to have a significant boost in their exam preparation. Cisco's official training course provides exam takers a chance to have a one-on-one interaction with their instructors and experts.
2. Online Study Groups
Studying together improves knowledge, particularly when it comes to topics that are challenging for you. Exam takers can find coworkers or friends taking the Cisco DEVIOT exam alongside them and plan their time to study jointly. Applicants can also join the Cisco DEVIOT 300-915 exam community on its official website and learn from their counterparts and experts.
3. Cisco 300-915 DEVIOT Practice Tests
Performing practice tests are among the favored ways for applicants to prepare for their exams, and this is because they provide a quick and effective way of enhancing one's understanding and skills. Now, let's know the significance of practice tests.
Significance of Cisco 300-915 DEVIOT Practice Test
It's a proven fact that attempting a sufficient amount of 300-915 DEVIOT practice tests before an actual exam is the best way to get good results. It helps improve your concentration and qualifies you with the most crucial skill before taking the exam. The use of exam dumps significantly for IT certification exams has grown in popularity, mainly because it helps exam takers work on two crucial exam aspects: exam anxiety and time management.
To make your preparation productive, you better use the practice tests from the most trusted resources, such as NWExam.com. It provides a large number of practice questions written by seasoned professionals.
By repeatedly taking Cisco 300-915 DEVIOT practice tests on NWExam.com website, you will boost your confidence and thus lower anxiety, thus enhancing your time management skills, determining your weak areas, and working upon them. Answering Cisco DEVIOT exam questions, you also acquire skills to deal with different question types and find a method that suits you best for this Cisco exam preparation.
Why Should You Pass Cisco 300-915 DEVIOT Exam and Become Cisco Certified?
1. Brilliant Career Opportunities
Cisco is a globally recognized organization as the pioneer for networking and switching products. Achieving any Cisco certification improves your possibilities of getting hired.
2. To Become First Choice for Promotion
When the administration considers candidates for promotions, they first look at their certification to assess the ones among them who are more qualified and skilled. Those who have more experience with relevant certifications are perfect fir for promotion.
3. Higher Salary
By passing Cisco 300-915 DEVIOT exam, you become a specialist in that area. With Cisco certification added to your resume, you qualify for a higher salary. This gets you closer to accomplishing your financial goals.
4. Acquire Distinct Skills and Knowledge
When studying for the Cisco DEVIOT certification exam, you grasp a lot of knowledge and expertise. This makes your updates with the most advanced technologies and also boosts your IT career.
Conclusion
Cisco 300-915 DEVIOT exam is the correct step towards a successful career. It gives you the confidence required to carry out your given responsibilities. Earning the Cisco DevNet Specialist certification is a journey that starts from passing the essential exam. Any certification from Cisco confirms your skills and makes you more appreciable among your peers. So, start preparing for Cisco 300-915 DEVIOT exam now!!