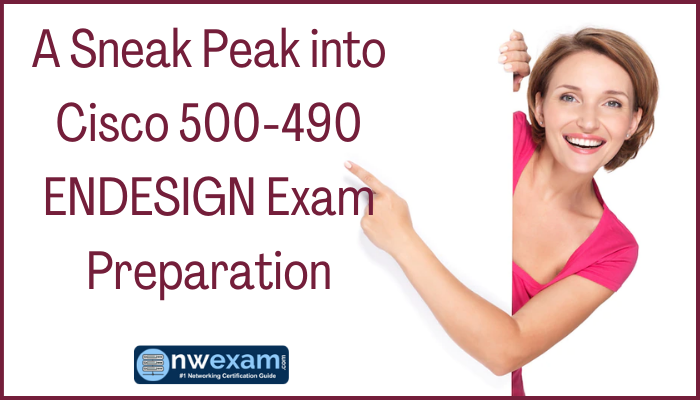 If you want to be acknowledged for your skills in deploying solutions based on Cisco's advanced technologies and services, you should consider that some components figure out your achievement. One's skills across certain technologies play an essential role. However, the Designing Cisco Enterprise Networks - 500-490 ENDESIGN certification holds a lot of importance in one's career. This Cisco Channel Partner Program offers a framework for partners to build the sales, technical, and Cisco Lifecycle Services skills needed to provide Cisco solutions to end customers.
About Cisco 500-490 ENDESIGN Exam
The Designing for Cisco Enterprise Networks (500-490 ENDESIGN) exam measures an applicant's understanding of the skills required by a Field Engineer to perceive the 4D Sales methodology; Design, Discovery, Demonstrate, and Defend.
Cisco 500-490 ENDESIGN Objectives
SD-Access Discovery (6%)

SD-Access Design (12%)

SDA Demonstration (8%)

SDA Defend (8%)

SD-WAN: Discover (8%)

SD-WAN: Design (12%)

SD-WAN: Demonstration (12%)

ISE: Discover (6%)

ISE: Design (12%)

ISE: Demonstration (6%)

ISE: Defend (12%)
Proven Tips to Follow for Success in Cisco 500-490 ENDESIGN Exam
Tip #1: Create A Practical and Realistic Study Plan
To start your Cisco 500-490 exam preparation journey, create a realistic and practical study plan that you can follow. Keep your professional and personal life responsibilities to have a more realistic and applicable study plan. Preparing for such a Cisco exam is difficult because most exam takers are already seasoned professionals in their field. So, it's recommended that you perceive what will turn out when you include your study sessions into the everyday timetable.
Tip #2: Register at Right Time
Cisco 500-490 ENDESIGN exam demands at least two months of preparation. So, review your study plan and make sure you have enough time to prepare for the exam.
This is vital for someone who is studying on their own. Applicants enjoy having their organizations set and control the training and exam registration timetable. You can register for the 500-490 ENDESIGN exam PEARSON VUE platform.
Tip #3: Make Use of Study Resources Provided by Cisco
Many exam takers admire how Cisco provides study materials for its exams, particularly for Cisco Channel Partner certification exams. To begin with, you can visit the official webpage that offers you all the essential details of the Cisco 500-490 exam. Then, you can take up recommended training - Cisco SalesConnect. There are plenty of Cisco Press titles that may be available for the Cisco ENDESIGN exam, and these titles can be bought via Cisco Press.
Tip #4: Watch Related Videos
If you're not that into reading study guides or books, online videos would be the next best learning option. Various professionals in the field upload numerous tutorial videos, and you can watch them get more advanced knowledge of the concepts studied. Apart from that, you can also discover videos done by people who have passed the exam. Those videos share their exam experience and how they efficiently passed their exams or what mistakes they made.
Tip #5: Join Community and Forum
There are communities and forums where you can share ideas and learn from other exam-takers. Browse to discover the community that talks about your learning requirements. Joining the online community also updates any recent changes happening in the field, and you can also learn from other members' experiences.
Tip #6: Cisco 500-490 ENDESIGN Practice Tests
Taking 500-490 ENDESIGN practice tests is essential for exam preparation. They help you measure your comprehension of the Cisco 500-490 exam syllabus and equip you with exam-taking skills.
Practice tests provide the same environment as an actual examination. Attempting plenty of 500-490 ENDESIGN practice tests discloses applicants to the real examination environment, and it helps exam takers experience the same pressure they may feel while writing an actual examination.
Tip #7: Relax & Do Not Fret
Studying for a Cisco exam can be overwhelming, and concentrating on other things. However, you must stay calm. Do not put yourself under extreme pressure. If you have a busy professional life, outstretch your study plan thinly to give you time to do your work and still have time to unwind. If it suggests spending two to three months to prepare, then do it.
Conclusion
Cisco exams have been meant to prove the skills you require to execute at your workplace. After passing the 500-490 ENDESIGN exam, you'll be able to carry out the tasks fast and efficiently. The tips described above will help you prepare for the exam and relish the Advanced Enterprise Networks Architecture Specialization certification benefits.