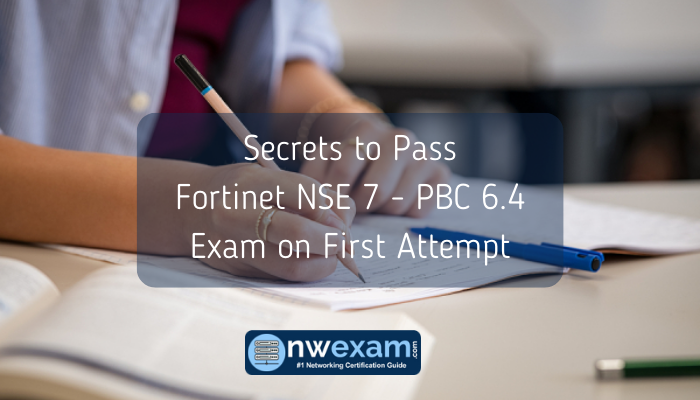 There's no denying that security plays a huge part in the world of digital business. Due to this, it's vital to give yourself as many certifications as possible to help sharpen your security skills. Numerous organizations and clients will be looking at what can be done to safeguard their networks, which is why you ought to look at what it takes to achieve Fortinet NSE Certification. This post will focus on the Fortinet NSE 7 - PBC 6.4 certification.
All the Essential Information About Fortinet NSE 7 - PBC 6.4 Certification
The Fortinet Network Security Architect certification recognizes your cutting-edge skills in managing, deploying, and troubleshooting Fortinet security solutions. This certification is best suited for network and security professionals immersed in the advanced administration and support of security infrastructures utilizing Fortinet solutions.
The Fortinet NSE 7—Public Cloud Security 6.4 exam is one of the NSE 7 Network Security Architect programs and acknowledges the thriving applicant's skills and expertise with Fortinet solutions in public cloud network environments.
The Fortinet NSE 7 - Public Cloud Security 6.4 evaluates a practical understanding of the integration and administration of Fortinet public cloud security solutions and comprises design scenarios, configuration extracts, and troubleshooting captures.
Fortinet NSE 7 - PBC 6.4 Exam Details
Fortinet NSE 7: PBC 6.4 exam will come with 30 multiple-choice questions that need to be answered in 60 minutes. The exam cost is the US $400.
The syllabus for this exam is divided into four main topics, which are further split into subtopics. The four main topics include:
Fortinet Solution for Amazon Web Services (AWS)

Fortinet Solution for Microsoft Azure

Fortinet Solution for Google Cloud Platform (GCP)

FortiCASB and FortiCWP
Convenient Tips to Prepare for Fortinet NSE 7 - PBC 6.4 Exam
Simply learning the syllabus will not aid you in passing the Fortinet NSE 7 - PBC 6.4 exam, as Fortinet expects a lot more than that. If you aspire to pass the exam on the first attempt, you must do many smart studies. By this, we mean the preparation journey that includes all the basics in a very productive manner. Here's how you can begin preparing yourself:
1. Become Familiar with the Fortinet NSE 7 - PBC 6.4 exam objectives
This is something vital that many exam-takers overlook. The exam objectives give you an overview of what you can expect in the actual exam.
The Official Fortinet website helps you understand the exam objectives. You have to be really attentive while reading over the syllabus topics. This will help you perceive how you should start your preparation for the exam.
2. Recognize Your Goals
Recognizing your goals will help you get a clear overview of where you stand and what you want to achieve. So write down your goals and list of tasks you need to accomplish.
3. Devise a Study Plan and Stick to It
The intention of a study plan is to organize yourself and ensure that you study competently with the least waste of time and resources. To create a study plan, you first have to consider your everyday activities and decide which periods you can give off to prepare for the Fortinet NSE 7 - PBC 6.4 exam. Then you can assign those time slots to carry out the tasks you have listed when noting down your goals. Doing this assures you study all the exam topics at a good pace without cramming in the end.
4. Award Yourself
Exam preparation is boring and tiresome for everyone. There has to be something to encourage you and push you to complete your studies. Awarding yourself after accomplishing a goal is the perfect way to do it. Once you finish one topic, you can give yourself something you like (like a piece of cake, or an episode of your favorite show, for example).
5. Don't Get Exhausted
Exhaustion is something that many exam-takers do. They think that they have studied everything, but in fact, they haven't grasped all the topics. When your mind is tired and exhausted, no matter how much you try to learn, none of it will stay in your brain. So take enough rest and partake in other activities whenever possible.
6. Perform Fortinet NSE 7 - PBC 6.4 Practice Test
If you wish to enhance your exam-taking skills, a practice test is the best tool. You can get reliable practice tests for this Fortinet certification exam on the nwexam website to assess your skills. With practice tests, you can get familiar with the types of exam questions, learn how to answer them in a given time, and as a whole, become acquainted with the exam environment.
7. Join Online Communities and Forums
Online communities and forums are the best platforms to be in communicate with other professionals who are already taken the exam or studying for Fortinet NSE 7 Public Cloud Security certification just like you. These communities provide the best platform for interacting with other professionals, and they can share their experiences and learn from them. They can also post your doubts related to Fortinet NSE 7 - PBC 6.4 certification exam, and it can be cleared by other professionals who already have passed the exam.
Conclusion
Gaining a Fortinet certification by passing Fortinet NSE 7 - PBC 6.4 exam is an investment in a career, though this is quite a difficult task. But if you study according to a realistic study plan and the best resources at hand. In that case, you can easily pass the Fortinet NSE 7 - Public Cloud Security 6.4 exam to bring yourself one step closer to becoming Fortinet certified. Fortinet NSE 7 is a breeze with practice tests from nwexam at your side!