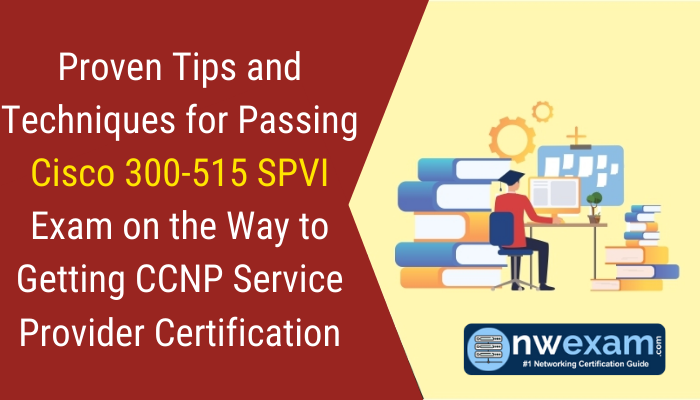 The Cisco 300-515 SPVI: Implementing Cisco Service Provider VPN Services exam is a concentration series of CCNP Service Provider certification. This exam focus on emerging and industry-specific topics such as advanced routing, VPN services, and automation.
The Key Details about Cisco 300-515 SPVI Exam:
The necessary details before preparing for your Cisco 300-515 exams are a basic concern. The exam is comprised of 55-65 questions that need to be answered in 90 minutes. The exam is available in the English language. The Cisco 300-515 SPVI exam includes four topics as the general rules for the certificate exam readiness:
VPN Architecture

Layer 2 VPNs

Layer 3 VPNs

IPv6 VPNs
Top Preparation Tips for Cisco 300-515 SPVI Exam
If you have decided to sit for the CCNP Service Provider 300-515 SPVI exam, you have to define a practical and realistic study schedule that will ease your exam preparation. Be sure you follow every tip mentioned below, and it will help you earn the CCNP Service Provider certification! Let's get started now.
1. Familiarize with Cisco 300-515 SPVI Exam Objectives
This should be your first step before you even attempt to do anything during your prep. Ensure that you have the Cisco 300-515 exam objectives with you throughout the entire preparation because they act as the ultimate guide. They will also help you in studying because you will know what you are expected to cover. As an outcome, you will not lose track of your entire preparation period.
2. Take Instructor-Led Video Course
The right way to acquire the skills and knowledge on any exam is by a good training course. One of the best options for applicants is taking instructor-led video course for Cisco SPVI exam available on Cisco official website. Training courses will give you an advanced understanding of the concepts because qualified instructors deliver them. For lab sessions, you can get an opportunity to understand every step into actuality in your lab. Hence, your preparation will be as stimulating as it is in the video courses.
3. Use Cisco 300-515 SPVI Practice Test
Once you have obtained the essential skills and knowledge, it is time to gauge your preparation level. To solve this purpose, Cisco 300-515 SPVI practice tests from the NWExam website are reliable and trusted sources. This is because they evaluate all the main concepts of each test that you are expected to ace. Moreover, practice tests on this site familiarize you with the main exam setup being set similarly to the actual exam. As a result, you will be confident because you have already checked out a perfect tool that simulates the real exam questions.
4. Become a Member of Relevant Community or Study Group
It is vital to actively participate in a discussion group as it helps you expand your knowledge and skills with your group members. A discussion group is an excellent means for filling your knowledge gaps with fellow peers for Cisco exam preparation. Furthermore, you can ask your doubts and share tips and other study resources that help in exam preparation.
Why Is Passing Cisco 300-515 SPVI Exam Important to Your Career?
Here are some reasons to pass the Cisco 300-515 SPVI exam:
1. Improved Knowledge and Skills
Cisco CCNP Service Provider 300-515 SPVI exam preparation demands thorough commitment and a lot of effort. In the process of studying for the Cisco 300-515 SPVI exam, you'll get knowledge and skills that will help you to solve real-life work-related issues. Thus, you'll become a trustworthy and valuable employee.
2. Worldwide Opportunities
Every business today is densely dependant on networks for their internal and external store of data, transfer of information, contacting suppliers and clients, research, and everyday operational performance of the business. It becomes evident that a problem in their VPN system means a surefire disaster. And if you, a CCNP Cisco CCNP Service Provider, could solve that problem, you become a valuable asset for a company. This means you are in great demand and makes it more likely to accept your job applications overseas.
3. Validation
Industry surveys time after time point that is hiring managers, besides experience, prefer certified candidates. What is the reason? The problem with experience is that it works in a grey area only because it is sometimes tough to present it precisely to hiring managers, who might require you to take your word for it. And the Cisco CCNP Service Provider certification can flourish to eradicate all the doubts as it is evidence of your competency.
Conclusion
There is nothing more vital than updating your skills and knowledge with Cisco 300-515 SPVI certification exam leading to the CCNP Service Provider certification. They efficiently give you an insight into the advanced world of networking by equipping you with the most sought-after skills.
Use the tips shared in this article to pass your certification exam with a flying score, using the Cisco 300-515 SPVI practice test on the NWExam website.