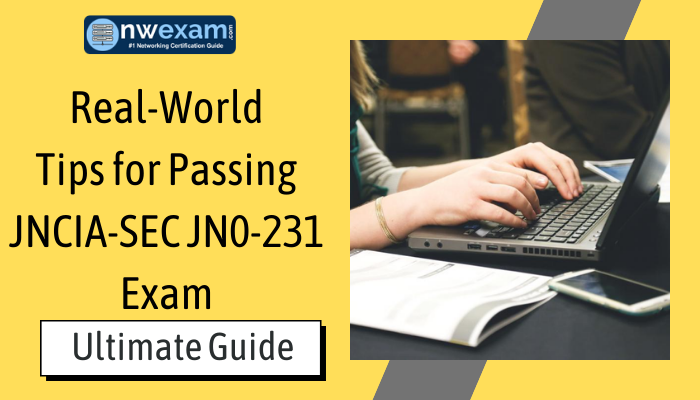 Nobody should criticize the estimation of a robust network security implementation. Professionals in the Juniper Junos Security Certification track demonstrate their ability to comprehend many concepts and practices specified with security. This article will focus on Juniper Networks Certified Associate Security (JNCIA-SEC JN0-231) certification.
All About JNCIA-SEC JN0-231 Certification
The JNCIA-SEC certification is created for entry-level IT professionals involved in a security career with Juniper platforms. The Juniper Security path allows you to comprehensively understand security technology on the whole and Junos OS software for SRX Series devices. The JN0-231 exam confirms your knowledge of security technologies and corresponding platform configuration and troubleshooting skills.
The JNCIA-SEC JN0-231 exam comprises 65 multiple-choice questions, which need to be answered within 90 minutes at $200. All the questions are distributed in the eight topics, which are listed below:
SRX Series Devices

Junos Security Objects

Security policies

Juniper Advanced Threat Protection

Network Address Translation

IPsec

Unified Threat Management

Monitoring/Reporting and Troubleshooting
Juniper JN0-231 JNCIA-SEC Exam Tips
To make your preparation procedure more straightforward, here is a list of study materials that will save you time, effort, and energy! Let's get started!
1. Visit Juniper Official Webpage
The first step in preparation for the JN0-231 JNCIA-SEC exam is to visit the official Juniper website. The official website is excellent for obtaining all the essential information about the exam, learning resources, and registration details. The official website also provides detailed information on the topics covered in the exam, helping you create a practical and accomplishable study plan.
2. Create Study Schedule
Preparing your study schedule is a very significant part. Chart out your study plan keeping in mind all other commitments. Try to organize the topics into ones that need more practice and ones that seem easy to you.
3. Get Familiar with Juniper Study Resources
Juniper provides a variety of exam preparation resources to help in your exam preparation journey. With these, you will extend your knowledge of juniper security concepts.
4. Participate in Online Communities
A lively discussion is always worthwhile, no matter where it takes place. The possibilities of finding a solution rise considerably when many people become involved in a problem. For this reason, online communities and forums have become more thorough. This will not help you explain your doubts, but it will also help to acquire additional knowledge related to the JN0-231 JNCIA-SEC exam.
5. Evaluate Yourself with JN0-231 JNCIA-SEC Practice Test
The last step of your Juniper JNCIA-SEC exam preparations is for you to measure your learning. Here comes the significance of practice tests. Performing JN0-231 JNCIA-SEC practice tests help you determine your weaker areas and upholds your preparations under check. JNCIA-SEC practice tests on NWExam.com provide you with the actual exam experience, and you learn to manage the time. Working upon your weaker areas will make you confident about your preparation level. Also, performing practice tests and exceeding yourself in each subsequent test will strengthen your confidence. So start practicing now.
Benefits of Passing Juniper JN0-231 JNCIA-SEC Certification Exam
Here are nine main benefits of passing the Juniper JN0-231 JNCIA-SEC Certification Exam:
1) Higher Salary
With a Juniper JNCIA Security certification, obtaining an attractive salary becomes more of an existence rather than a dream. With the increase in knowledge, you will be qualified for better-paying jobs, and new career opportunities will be opened for you. You will have more responsibilities and independence that come with a better job.
2) Brilliant Career Opportunities
With JNCIA-SEC certification, you will be reaping many career prospects for years since network security is quickly becoming an integral part of all organizations, regardless of size. Many organizations are investing in network security, guaranteeing there will always be a job for you wherever you go.
3) Boost Your Resume
Nothing can make your resume shine as much as a Juniper certification can. It is one of the most sought-after network security certifications in the market. It gives you a distinct advantage over your competitors and makes future employers more likely to employ you over someone without a certification. It is also requisite for those positions with a Juniper JNCIA Security certification value.
Conclusion
Getting certification from an internationally recognized vendor is a matter of great satisfaction. When you become a Juniper certified professional, it is an accomplishment of a high standard. The Juniper JN0-231 exam is one of the most coveted exams among all IT professionals, and passing it will be a notable achievement in your career. And now, you know how to carry out your preparation to get through the exam smoothly. Make most of the official resources available and take the JN0-231 JNCIA-SEC practice test from the NWExam.com website to crack this exam on the first attempt. Begin your preparation journey with reliable resources, and be sure of your knowledge!