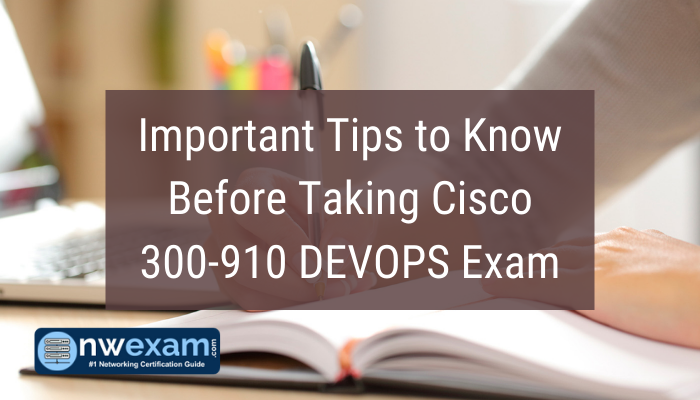 As software and the network expand more and become even more interconnected, Cisco Certified DevNet Specialist 300-910 DEVOPS certifications enable you to prove your software development skills in fundamental, developing focus areas. The DevNet Specialist certification concentrates on any particular technical skills, and you can select your field of interest for which you want to become certified. The areas comprise Security, Enterprise solutions, Cisco Collaboration, and many others.
Cisco 300-910 DEVOPS Exam Details
Becoming familiar with the Cisco 300-910 DEVOPS exam details is necessary before starting preparations. Cisco 300-910 exam comprises around 55-65 questions, which needs to be finished in 90 minutes.
The exam questions type is multiple-choice and multi-response questions. The exam is available in the English language only, and the Cisco DEVOPS certification cost is $300.
Exam Name: Implementing DevOps Solutions and Practices using Cisco Platforms

Exam Code: 300-910 DEVOPS

Exam Duration: 90 mins

Exam Format: Multiple Choice and Multi-Response Questions

Exam Type: DevNet

Number of Questions: 60 Questions

Exam Fee: $300

Exam Language: English

Register: Pearson VUE
Steps You Should Follow for Cisco 300-910 DEVOPS Exam Preparation
If you can put in a little effort and time, you can find sufficient Cisco 300-910 exam study resources on the Internet. Anyway, it is vital to check the credibility of each of these resources if you intend to consider any of these resources as a preparation guide for the Cisco DEVOPS certification exam you wish to appear. Here we have compiled a list of study resources and tips that can help to boost your Cisco 300-910 exam preparation processes without spending much cost or effort. So, let's start.
1. Visit the Cisco 300-910 DEVOPS Exam Official Website
Whatever other options you may consider for Cisco DEVOPS certification exam preparation, Cisco official website is the best platform to start with. This is not just because this platform provides ample learning resources appropriate for any Cisco 300-910 exam preparation. You can find essential details about the Cisco DEVOPS exam, prerequisites, registration options, and much more on the official website. Moreover, you can access the training course, study guides, and practice tests. So, it is good to visit the official webpage.
2. Engage in an Online Training Course
Cisco offers a training course ''Implementing DevOps Solutions and Practices Using Cisco Platforms (DEVOPS) v1.0'' to prepare Cisco 300-910 DEVOPS exam thoroughly. When you take up Cisco's official training course, you meet with other exam takers, which is suitable for your learning. You can talk with them and get an amazing opportunity to move with great resources.
3. Take 300-910 DEVOPS Practice Test
Practice tests will help you gauge the preparation level for Cisco 300-910 exam. But, be sure to avail these materials from reliable websites such as NWExam.com. By answering practice questions, you will identify your weak areas and improve them, and they are the most practical way to know if you are grasping the concepts you have been learning.
4. Participate in Online Communities & Study Groups
If you face any questions or doubts about the Cisco DEVOPS certification exam, online forums and communities are the best platforms to solve doubts. Here, you can meet people who have prior experience taking such an exam from Cisco. They can solve many of your questions about exam structure, preparation tips, retaking, exam registration, and many more.
Benefits of Earning Cisco DevNet Specialist Certification By Passing Cisco 300-910 DEVOPS Exam
Cisco certification confirms your competency. They can fetch many benefits such as:
Proof of Skills
Cisco DEVOPS certification exam confirms your skills in software development areas. Your hiring manager or any person it may affect will know that you have the essential skills. And being a Cisco certification, there's a higher trust in everyone's mind.
Recognition
Having a Cisco 300-910 DEVOPS certification provides you with adequate recognition. Among many people with various qualifications, one who has a certification from renowned vendor Cisco manages to stand out. This is because it is a well-known fact that Cisco DevNet Specialist certification is up to a very high rank and not so easy to achieve.
Excellent Career Prospects
Passing Cisco 300-910 exam indicates you are passionate about doing something more than the fundamentals. Hence, you are eligible for more jobs that demand the skills you gained by becoming certified. And you can also perceive that through passing Cisco 300-910 exam, you can opt for prestigious jobs.
Big Paycheque
Being a Cisco DEVOPS certified professional confirms that you are the first preference in the company for getting a promotion, as you attain added skills which in turn makes you competent of performing more than what is needed of you at your present position. Promotion is directly associated with excellent perks and a big paycheque. The average salary of a Cisco DevNet Specialist is about $108k per year.
Passing Cisco 300-910 DEVOPS Exam Increases Job Security
The IT field is incredibly dynamic. And if you require to keep your job, you need to hold the most relevant skills by staying updated on the most recent developments in the sector you work. Cisco DEVOPS certification will help you do that. Becoming Cisco certified means that you've updated your skills and will carry on with being a worthy asset to your organization.
Personal Fulfillment
Passing Cisco 300-910 DEVOPS exam fetches personal fulfillment to the candidate. Learning new things and executing the task efficiently on your own make a person proud of themselves and motivate them to grow in their career.
Conclusion
Passing Cisco 300-910 DEVOPS exam is the best way to boost your career. It brings you many benefits and makes you a very valuable asset. To prepare for the exam, work hard and use the best study resources mentioned in this article.