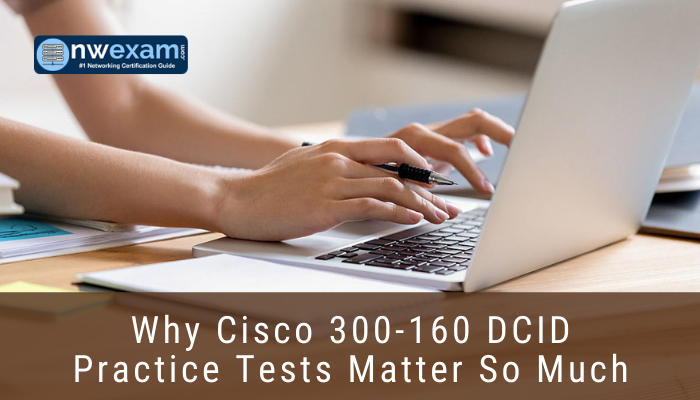 What is Cisco 300-610 DCID Certification Exam?
CCNP Data Center certification program prepares you for current professional-level job positions in data center technologies. Cisco 300-160 DCID is one of the concentration exam options available for earning CCNP Data Center certification. DCID 300-610: Designing Cisco Data Center Infrastructure is a 90-minute exam that comprises 55-65 questions.
Cisco 300-160 DCID Exam Objectives
The Designing Cisco Data Center Infrastructure (300-610 DCID) exam verifies that the applicant has comprehensive knowledge and has mastered the skills in the following concepts:
Network Design

Compute Design

Storage Network Design

Automation Design
Prerequisites
There are no official prerequisites for CCNP Data Center, but you should understand the exam syllabus topics before taking the exam.
CCNP applicants often have three to five years of experience implementing data center solutions.
Preparation Tips & Tricks for Cisco 300-610 DCID Exam
Anyone intending to pass the Cisco 300-610 exam and obtain the CCNP Data Center certification to enhance the possibilities of getting a better position in the IT industry are recommended to follow these simple steps:
1. Take the Official Training Course
If you want to pass the Cisco 300-610 DCID exam on your first attempt, you should take an official training course. It includes almost all the exam topics in a detailed and comprehensive manner. By taking up the official training course, you will learn about a different feature linked to the certification exam. Moreover, it will provide you with some general guidelines to follow while preparing for the Cisco certification exam.
2. Obtain Relevant Cisco 300-610 Book
Look for the right Cisco 300-610 book that covers all the exam topics in detail, and make sure that you study every exam topic thoroughly. You can read through each topic until you understand the essential concepts.
3. Take Cisco 300-610 DCID Practice Test
Once you have complete studying all the Cisco 300-610 DCID exam topics, you should start taking online Cisco 300-610 DCID practice tests. This is the best means to perceive how well-prepared you are. Cisco 300-610 practice tests from nwexam.com will also help you manage your limited time so that you can finish the actual exam on time.
Why Take Cisco 300-610 DCID Practice Test?
1. Provides a Complete Understanding of the Cisco 300-610 DCID Exam
Giving a practice test helps in understanding the exam thoroughly. An applicant who has prepared for the Cisco 300-610 exam can quickly identify the essential concepts and question types once they take the online practice test. The candidates can further work on the areas they feel needs improvement. Every year lakhs of students or toppers tell their preparation strategies in interviews, giving mock tests top their list. Therefore, any applicant who needs a solid understanding of the Cisco 300-610 DCID exam and is willing to enhance their performance should give a practice test on nwexam.com.
2. Strengthens the Confidence
Giving practice tests, scoring well, answering Cisco 300-610 exam questions that you find acquainted, and discovering that you are trained well for the exam - all these factors boost the applicants' confidence. By providing the exam takers extra motivation and happiness, Cisco 300-610 practice tests also make the applicants feel confident and relaxed. Practice tests also work as the best revision tool that will pay off, and good scores will push the candidates to work even hard.
3. Helps Deal With Anxiety
Many students get anxious a few days before the actual exam day. They feel underprepared or think they won't give their best in the exam. But appearing for mock tests and scoring good results calms them down. The applicants feel less stressed and anxious, and they tend to concentrate more on studying well rather than worrying about the results, etc. Being mentally prepared and comfy is essential for the applicants to perform well.
4. Gives More Explicitness
Giving an actual exam requires a lot of things, good time management, proper preparation approach, clever answering strategies, speed, accuracy, and so on. An applicant may hold the proper answering technique but might not be too good with time management or conversely. To avoid such mistakes while acing the actual CCNP Data Center 300-610 DCID exam, applicants must give a practice test to gauge their performance. Indicating where the exam takers stand will help them score well.
5. Cisco 300-610 DCID Practice Test Helps You Evaluate Your Progress
Appearing for a mock test helps a candidate in tracking their progress. For example, if a person attempts a practice test and finds some Cisco 300-610 exam questions difficult, they can work on the associated concept. And they will take the next practice test, they will notice whether they have improved or not, which will save them from making that mistake in the actual exam. Giving practice tests is the best way to gauge your progress and make improvements wherever needed.
Conclusion
Though the Cisco 300-610 DCID exam is not too difficult to pass, applicants can fail if they do not prepare thoroughly. You must organize your preparation timetable and follow it. With proper preparation and practice test from the nwexam website, you will surely pass the certification exam on your first attempt!