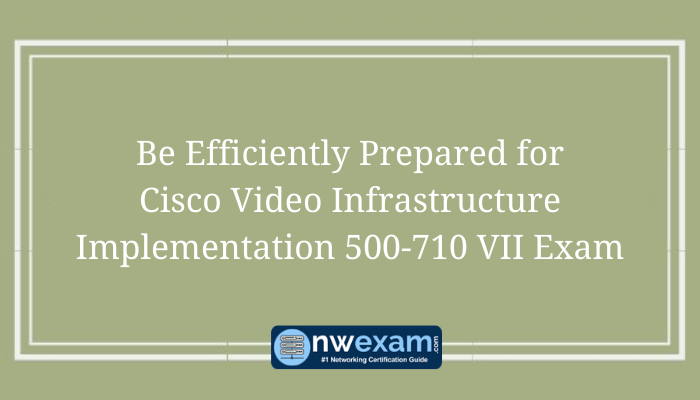 Channel partner certification promotes a partner program to be about beyond just sales and marketing. Cisco channel partner certification can help you grow your business and stand out from your rivals. Here we are going to discuss the 500-710 VII - Cisco Video Infrastructure Implementation certification.
Some Basic Information About Cisco 500-710 VII Exam
Cisco 500-710 exam comprises a total number of 65-75 questions.

The applicants are given 60 minutes to answer all questions.

The exam question types are Multiple-Choice Single Answer, Multiple-Choice Multiple Answer & Drag and Drop.

To pass the Cisco 500-710 VII exam, the applicants have to score 750-850 / 1000.
Cisco Video Infrastructure Implementation 500-710 VII exam includes the following topics:
Advanced Cisco Expressway Features (38%)

Advanced Cisco Meeting Server Features (15%)

Cisco Collaboration Meeting Room Solutions with Cisco TelePresence Server (13%)

Cisco TelePresence Management Suite Solution (19%)

Cisco Cloud Solutions (15%)
This exam measures an applicant's knowledge of the skills required by a field engineer to install and support a Cisco Video Collaboration Solution.
Cisco Video Infrastructure Implementation 500-710 VII Exam Preparation
The Cisco 500-710 exam is just like any other Cisco exam, and you will have to prepare yourself adequately to pass it with the flying score. In the first place, you need to understand that you have to begin your preparation immediately, and you should start a few months before the exam to have ample time to have expertise over all the concepts. Remember that if you pass the Cisco Video Infrastructure Implementation exam, it can do wonders for you, so work hard and try to pass the exam on the first attempt.
Creating a study plan for the exam preparation is an important part of the exam preparation journey as there are quite a few topics that you need to study, and you have to give each topic the sufficient time that it needs. If you have created a study plan, be sure to follow it without fail, or else it won't be extremely worthy.
There are several online communities where people from all over the world come together to talk about this Cisco exam, relevant technology, and products. Find out about such communities and interact with other exam takers there. All these people can turn out to be a precious asset because they can give you information about other study resources that you can use to prepare for the exam.
You should also take up a recommended training course to understand the exam objectives in detail. It will explain to you the Cisco 500-710 VII topics in detail and the skills you need to master. Use this training to your benefit and stay close to it because its information can help you pass the exam on the first try.
Attempting practice tests boost your exam preparation, and never ignore that. If you want to take up Cisco 500-710 VII practice tests, NWExam.com is the best website. Here you can find a large number of practice questions to enhance your exam-taking skills.
But don't memorize any of these practice questions. Utilize Cisco 500-710 questions for practice only, and don't think you will be facing the same questions in your actual exam. Do not attempt Cisco 500-710 VII practice tests before a week of the actual exam. Doing this will deprive you of assessing yourself in time, and you will miss out on vital improvements.
Benefits of Passing Cisco Video Infrastructure Implementation (VII) Exam
Whenever an individual chooses to participate in any additional activity, one wants to have knowledge of the benefits. The same is true for the Cisco 500-710 VII exam, yet, the benefits can significantly impact your career. This test's most significant advantage is that you will receive the Cisco certification upon passing it. In this way, you will have something to show to prove your skills, and organizations value such people. Earning Cisco Video Infrastructure Implementation (VII) certificate indicates that Cisco itself will certify all of the skills you have acquired, and that is a big deal.
Passing Cisco 500-710 VII can be a real confidence booster. This is because other certifications demand an applicant to work hard to pass the relevant exams. By taking Cisco 500-710 exam and earning the certificate, you can get a lot of confidence and experience, which will help you in the future.
Conclusion
There you have it. Now you know everything about the Cisco 500-710 VII exam. Make a point of achieving it for excellent career growth. To pass the test, enhance your exam preparation by using practice tests provided by nwexam.com and recommended training. Wish you success!