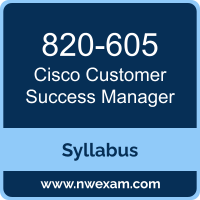 A great way to start the Cisco Customer Success Manager Specialist (CSM) preparation is to begin by properly appreciating the role that syllabus and study guide play in the Cisco 820-605 certification exam. This study guide is an instrument to get you on the same page with Cisco and understand the nature of the Cisco Customer Success Manager exam.
Our team of experts has composed this Cisco 820-605 exam preparation guide to provide the overview about Cisco Customer Success Manager exam, study material, sample questions, practice exam and ways to interpret the exam objectives to help you assess your readiness for the Cisco CSM exam by identifying prerequisite areas of knowledge. We recommend you to refer the simulation questions and practice test listed in this guide to determine what type of questions will be asked and the level of difficulty that could be tested in the Cisco Customer Success Manager certification exam.
Cisco 820-605 Exam Overview:
Cisco 820-605 Exam Topics:
Section

Weight

Objectives

Customer Success Industry

15%

- Explain the key drivers creating the need for Customer Success
- Define customer success (expected and unexpected value)
- Explain the customer lifecycle journey
- Compare customer success, customer support and sales
- Explain the value proposition for customer success

- Explain different IT purchasing and consumption models

Software licensing

Service subscriptions

Enterprise agreements

CapEx vs OpEx

- Identify the key metrics for customer success

Leading indicators

Lagging indicators

- Explain the financial implication of the following metrics

Churn

Expand

Renewal (MRR, ATR, LTV, ACV)

- Describe customer engagement models based on customer segmentation

High touch

Virtual touch

Digital touch

- Describe the objectives of the Customer Success Manager

Success Plan Creation

25%

- Identify the product or solution purchased
- Identify key stakeholder roles
- Validate the desired business outcome based on information obtained from key stakeholders
- Identify critical success factors to connect to business outcomes
- Analyze the account baseline to identify gaps

- Analyze a customer health score

Product Usage

Product Quality

Customer Sentiment

Customer Financials

- Describe the common elements of a customer success plan
- Explain the purpose of targeted use cases
- Identify the individuals and responsibilities within a RACI
- Explain how outcomes, Key Performance Indicators (KPI) and metrics contribute to customer value achievement

Barrier Management

25%

- Identify types of customer barriers

Business

Operational

Technical

Corporate Culture

- Describe sources used to identify customer barriers

Tools (telemetry, consumption data)

Process

People

- Identify customer barriers

Observation

Conversation

Data

- Identify actions that impact time to value for common customer barriers

Stalled or prolonged implementation

Loss of a project sponsor

Lack of product features

Product quality or performance issues

Product is not the right fit for the customer

Customer Success Management

20%

- Explain the elements of customer onboarding

Deployment planning

Priority success focus

Timeline to value

Feature matrix utilization

- Explain the purpose of essential customer management activities

Customer and industry observations

Customer conversations and interactions

Account data and scoreboard review

Capturing moments of success

Success Plan review

- Explain communication needs of stakeholders

Customer Executive

Account Manager

Customer User

Services

Business Unit

- Describe the Quarterly Success Review process
- Identify outcomes from a Quarterly Success Review
- Identify opportunities for customers to act as advocates

Expand Opportunities and Renewal

15%

- Describe types of expand opportunities

Additional features

New use cases

Additional User groups

New solutions

Change management services

- Identify potential expansion opportunities across the customer lifecycle from a customer success plan
- Create an adoption campaign to identify expand opportunities
- Update customer success plan with expand opportunities
- Explain the elements of a renewal risk analysis
- Create mitigation plans that address risk factors
Cisco CSM Exam Description:
The Cisco Customer Success Manager v2.0 (CSM 820-605) is a 120-minute exam associated with the Customer Success Manager Certification. This exam tests a candidate's knowledge and skills to develop and integrate solutions, identify adoption barriers and actions to remove them, implement adoption frameworks and interpret customer usage data while leading customers to renewals and cultivating new sales opportunities through the entire customer lifecycle.