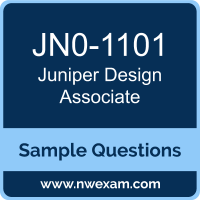 Before you write the Juniper JNCDA (JN0-1101) certification exam, you may have certain doubts in your mind regarding the pattern of the test, the types of questions asked in it, the difficulty level of the questions and time required to complete the questions. These Juniper Networks Certified Design Associate (JNCDA) sample questions and demo exam help you in removing these doubts and prepare you to take the test.
The best approach to pass your Juniper JN0-1101 exam is to challenge and improve your knowledge. To test your learning and identify improvement areas with actual exam format, we suggest you practice with Premium Juniper JN0-1101 Certification Practice Exam. The practice test is one of the most important elements of your Juniper Design Associate (JNCDA) exam study strategy to discover your strengths and weaknesses, to improve your time management skills and to get an idea of the score you can expect.
Juniper JN0-1101 (JNCDA) Sample Questions:
01. In a Virtual Chassis Fabric, which two platforms are supported?
a) EX Series
b) MX Series
c) SRX Series
d) QFX Series
02. Which application would be used to manage Juniper EX Series switches?
a) Network Director
b) Security Director
c) Log Manager
d) Services Activation Director
03. What describes customer business requirements?
a) vision of future growth
b) complexity of the existing network
c) size of the facility
d) functionality of each module within a design
04. What are two valid reasons to enable route summarization?
a) to benefit from a hierarchical IP addressing plan
b) to enable the use of more than one routing protocol
c) to reduce routing overhead
d) to reduce the coexistence of BGP with IGPs
05. Network Director is an example of which type of network management application?
a) on-box
b) out-of-band
c) centralized
d) op script
06. VLANs provide separation of which type of domain?
a) collision domains
b) multicast domains
c) broadcast domains
d) routing domains
07. Which three critical design blocks or functional areas benefit from HA design solutions?
a) data center
b) campus
c) WAN
d) home office
e) collocation
08. In an SRX Series environment, what would you use to manage your network's firewall policy?
a) Virtual Director
b) Security Director
c) Network Director
d) Services Activation Director
09. What are two primary characteristics of the core tier in a network design?
a) performance
b) inspection
c) reliability
d) manipulation
10. What would be used to understand the types of applications on the network and how often those applications are used?
a) logical topology
b) trust and untrust zones
c) traffic flow analysis
d) routing policies
Solutions:
Question: 01

Answer: a, d

Question: 02

Answer: a

Question: 03

Answer: a

Question: 04

Answer: a, c

Question: 05

Answer: c

Question: 06

Answer: c

Question: 07

Answer: a, b, c

Question: 08

Answer: b

Question: 09

Answer: a, c

Question: 10

Answer: c
Note: If you find any error in these Juniper Design Associate (JNCDA) sample questions, you can update us by write an email on feedback@nwexam.com.