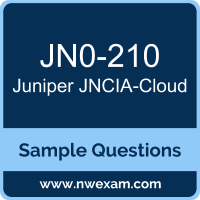 Before you write the Juniper JNCIA Cloud (JN0-210) certification exam, you may have certain doubts in your mind regarding the pattern of the test, the types of questions asked in it, the difficulty level of the questions and time required to complete the questions. These Juniper Networks Certified Associate Cloud (JNCIA-Cloud) sample questions and demo exam help you in removing these doubts and prepare you to take the test.
The best approach to pass your Juniper JN0-210 exam is to challenge and improve your knowledge. To test your learning and identify improvement areas with actual exam format, we suggest you practice with Premium Juniper JN0-210 Certification Practice Exam. The practice test is one of the most important elements of your Juniper Cloud Associate (JNCIA-Cloud) exam study strategy to discover your strengths and weaknesses, to improve your time management skills and to get an idea of the score you can expect.
Juniper JN0-210 (JNCIA-Cloud) Sample Questions:
01. Which method does WANDL use to collect live network information?
a) FTP
b) SOAP
c) TFTP
d) SNMP
02. The vMX Series provides which two benefits?
a) The vMX Series uses containerization technology for rapid service enablement.
b) The vMX Series uses carrier-grade routing optimized for the x86 environment.
c) The vMX Series requires a license for production environments.
d) The vMX Series uses a Trio ASIC.
03. Which protocol is used to transport monitoring data in Juniper's open and extensible data model?
a) TCP
b) SNMP
c) SOAP
d) UDP
04. What are two components of the Juniper Networks SDSN solution?
a) manual secure policy control
b) dynamic VPN connections
c) enforcement everywhere on the network
d) centralized management
05. From where does AppFormix gather performance metrics in a network?
a) from an agent on a host or system
b) from a NETCONF connection
c) from RPM probes sent across the network
d) from statistics NFVs instantiated in the data path
06. Which CSO component enables customers to manage sites and services for their organizations?
a) Administration Portal
b) Customer Portal
c) Designer Tools
d) Service and Infrastructure Monitor
07. According to Juniper Networks, what is the recommended external routing protocol for the underlay network?
a) EGP
b) IS-IS
c) BGP
d) OSPF
08. Which type of service would allow you to provision five servers with Windows Server 2016 installed?
a) IaaS
b) PaaS
c) SaaS
d) FWaaS
09. In which two scenarios is Contrail used?
a) private cloud networking
b) network hardware lifecycle management
c) Network Functions Virtualization
d) policy-based routing
10. What are two roles of sandboxing in Sky ATP?
a) to test the operation of security rules
b) to validate the operation of third-party components
c) to analyze the behavior of potential security threats
d) to store infected files for further analysis
Solutions:
Question: 01

Answer: d

Question: 02

Answer: b, c

Question: 03

Answer: d

Question: 04

Answer: c, d

Question: 05

Answer: a

Question: 06

Answer: b

Question: 07

Answer: c

Question: 08

Answer: b

Question: 09

Answer: a, c

Question: 10

Answer: c, d
Note: If you find any error in these Juniper Cloud Associate (JNCIA-Cloud) sample questions, you can update us by write an email on feedback@nwexam.com.