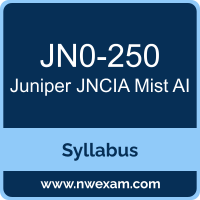 A great way to start the Juniper Networks Certified Associate Mist AI (JNCIA-MistAI) preparation is to begin by properly appreciating the role that syllabus and study guide play in the Juniper JN0-250 certification exam. This study guide is an instrument to get you on the same page with Juniper and understand the nature of the Juniper JNCIA Mist AI exam.
Our team of experts has composed this Juniper JN0-250 exam preparation guide to provide the overview about Juniper Mist AI, Associate exam, study material, sample questions, practice exam and ways to interpret the exam objectives to help you assess your readiness for the Juniper JNCIA-MistAI exam by identifying prerequisite areas of knowledge. We recommend you to refer the simulation questions and practice test listed in this guide to determine what type of questions will be asked and the level of difficulty that could be tested in the Juniper JNCIA Mist AI certification exam.
Juniper JN0-250 Exam Overview:
Juniper JN0-250 Exam Topics:
Section

Objectives

General WLAN Concepts

- Identify general concepts about WLANs

Wi-Fi channels and frequencies

Channel reuse

Signal Strength

Contention and Interference

Client capabilities

MIMO concepts

Modulation types and techniques

Wi-Fi Standards

- Identify concepts of Wi-Fi standards

IEEE 802.11

Wi-Fi Alliance

Security and authentication

Physical Layer

WLAN Lifecycle

- Identify the concepts or components of WLAN lifecycles

Define

Design considerations

Diagnose

Deployment migration strategies

Mist AI Components

- Identify the components or functionality of MistAI

Cloud

Subscriptions

Mist Edge

Location services (e.g., directional antenna)

Access points

Mist AI Configuration

- Identify the concepts or functionality of Mist AI configurations

Organizations

Sites

Templates

Policies

WLANs

WLAN Monitoring

- Identify the concepts or operation of WLAN monitoring

Location Services (e.g., directional antenna)

Service level expectations (SLE)

Automation

Insights

Marvis
Juniper JNCIA-MistAI Exam Description:
The Mist AI track enables you to demonstrate a thorough understanding of WLAN technology in general and the Mist AI features and functionality. JNCIA-MistAI, the associate-level certification in this track, is designed for Wireless LAN networking professionals with introductory knowledge of wireless networking using the Mist AI. The written exam for the certification verifies your basic understanding of WLAN and Mist AI technology, features, and functionality.