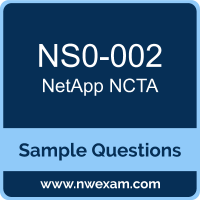 Before you write the NetApp NCTA (NS0-002) certification exam, you may have certain doubts in your mind regarding the pattern of the test, the types of questions asked in it, the difficulty level of the questions and time required to complete the questions. These NetApp Certified Technology Associate sample questions and demo exam help you in removing these doubts and prepare you to take the test.
The best approach to pass your NetApp NS0-002 exam is to challenge and improve your knowledge. To test your learning and identify improvement areas with actual exam format, we suggest you practice with Premium NetApp NS0-002 Certification Practice Exam. The practice test is one of the most important elements of your NetApp Technology Associate exam study strategy to discover your strengths and weaknesses, to improve your time management skills and to get an idea of the score you can expect.
NetApp NS0-002 (Technology Associate) Sample Questions:
01. What are two main components of an iSCSI SAN?
a) iSCSI switch
b) iSCSI target
c) iSCSI router
d) iSCSI initiator
02. Which NetApp application is based on AutoSupport information from your NetApp systems and provides predictive and proactive insights to improve availability, efficiency, and performance?
a) OnCommand Unified Manager
b) OnCommand Insight
c) Cloud Insights
d) Active IQ
03. What are two public cloud providers?
a) Microsoft Azure
b) Commvault
c) Veeam
d) Amazon Web Services
04. You have set up your new FAS system and you want to manage your storage from a GUI interface. Which OnCommand tool is bundled with ONTAP that will satisfy this request?
a) OnCommand Cloud Manager
b) OnCommand Insight
c) OnCommand System Manager
d) OnCommand Unified Manager
05. What is the process in which an AFF node takes over the storage of its partner?
a) Interconnect
b) giveback
c) failover
d) cluster
06. An IoT company is building a mobile device. The development team wants to move data collected with the mobile devices to a file share hosted on AWS that would be used as the ingestion source for a machine learning pipeline. They have decided to host the file share using Cloud Volumes ONTAP.
Which software would you add to the mobile device to facilitate this task?
a) StorageGRID
b) ONTAP Select
c) SANtricity
d) Element
07. What would be used as a centralized location to access and manage all NetApp Cloud Data Services?
a) Cloud Insights
b) OnCommand System Manager
c) Cloud Central
d) OnCommand Cloud Manager
08. Which NetApp utility is used to determine the officially supported configurations of NetApp and non-NetApp products?
a) Active IQ
b) NetApp Kubernetes Service (NKS)
c) Interoperability Matrix Tool (IMT)
d) SnapCenter
09. Your company has expanded to a new building with its own VLAN. A network router has been implemented connecting the new building into the corporate network. You are accessing company data located in another building on a different VLAN.
Which task would be performed by the router in this scenario?
a) The router performs packet encryption.
b) The router determines the full path to a destination network.
c) The router rewrites the IP addresses of IP packets.
d) The router determines the next hop to a destination network.
10. Which replication technology is managed using OnCommand Cloud Manager?
a) SnapMirror
b) SaaS Backup
c) FabricPool
d) NetApp Data Availability Service
Solutions:
Question: 01

Answer: b, d

Question: 02

Answer: d

Question: 03

Answer: a, d

Question: 04

Answer: c

Question: 05

Answer: c

Question: 06

Answer: b

Question: 07

Answer: c

Question: 08

Answer: c

Question: 09

Answer: d

Question: 10

Answer: a
Note: If you find any error in these NetApp Technology Associate sample questions, you can update us by write an email on feedback@nwexam.com.