Data management is surely one of the most competitive tasks that IT professionals carry out and use to generate data-driven, multipurpose solutions for the organization. This makes the NetApp certifications as extremely sought-after, specifically by cloud storage and data management professionals in the business. And when we talk about data storage and protection, the cloud contributes plenty of benefits. According to research, it has been forecast that both public and private cloud storage market will increase from $13.57 billion in 2014 to $56.57 billion in 2019.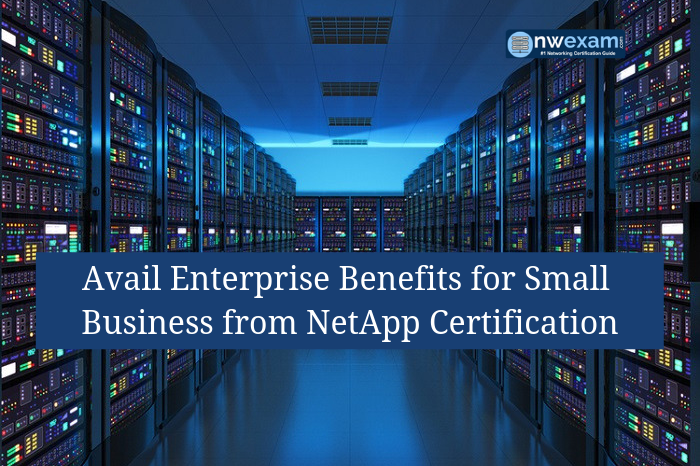 In another case, another survey by Gartner stated that 62% of small and mid-sized businesses have already merged the cloud technology in their methods and applications. While 33% plan on utilizing technology, or at least consider how best it could be valuable to their businesses. This brings us to the recognition of how a quality IT expertise, obtained from top NetApp certification, is beneficial for small businesses in 2019 and beyond.
1. Unlimited Storage
Another benefit that goes without stating for all startups and administrators. Most cloud services provide free, or economical, unlimited storage. Apparently, the excellent thing your startup could benefit from. Right from the opening stage, you'll start collecting paramount data and documents that require a reliable, focused location of storage. There are infinite free cloud storage services that do not cost single money. Even if you have subscribed to as a confined plan, the storage space will be more than sufficient than a physical device and much more reliable and flexible to access.
2. Effective and Easier Disaster Recovery
In standard terms, cloud storage is the best form of backup and recovery. If a business is more leaning to retain a physical structure due to the unavailability of the internet, then it is absolutely fine. However, the data is still needed to have a backup in the cloud. Let's not fall under the perception that the cloud is a replacement of the physical storage. But the aim is to keep a copy of your original data to evade any future, needless circumstances such as natural disasters. This is why every business is advisable to have a conventional disaster recovery plan (DRP). In such cases, a cloud storage facility saves the business from following complicated DRPs.
However, startups should determine which storage plan, whether an online backup or cloud storage, is appropriate for their business. Any expert cloud storage service provider can guide your business on which storage plan can meet your needs.
3. Better Collaboration and Work-life Balance
Informative, advantageous NetApp certifications not only avail companies and data storage and management professionals on the job but also speculate in their work-life balance as well. In other words, your IT department can work from a distance as long as they have an internet connection. Through cloud storage and computing, employees and teams collaborate on various projects in a much better, assuring way. Moreover, manage other tasks alongside including following instructions from managers, obtaining essential updates in real-time, and approaching and working on collective applications and documents. According to a survey by Frost & Sullivan, businesses that invested in cloud storage and collaboration technologies recorded a tremendous 400% ROI.
Consequently, it is safe to say that with this level of adaptability allowed, employees can take up their productivity game while balancing their work life at the same time. Research has affirmed that 42% of working professionals are ready to receive a 6% pay cut if they are given the freedom to work or commute from home. Projects that demand great collaboration among employees and other organizations require large amounts of data sets and robust collaboration skills. In such projects, sharing data over email is not adequate, but cloud storage is a much quicker and compelling alternative.
4. The simple combination with confined storage
If your data is placed off-site, does that mean that you won't be able to obtain all the information easily? No, you'll access the data as if it's stored on your device. Whether you're going through the payroll means or managing the clients' details, all the information is at your disposal. Authentic cloud storage comes in the form of a folder just like any other folder in our desktop systems. And it's as easy as copying the data from your folder to the cloud folder while creating the same for accessing.
5. An Economical move
Many small businesses accept they aren't able to hire a cloud service as they are not in a state for extra spending. Agreeably, cloud storage will come with a specific cost, but it still is a far more economical alternative as compared to its physical replication. Cloud receives magnificent scalability. While buying an additional cloud space is actually affordable against the buying of physical storage or hardware. Moreover, you no longer have to emphasize the maintenance aspect, since there is no physical presence. Cloud storage services comprise the security system in their packages to secure your data from misuse, theft, or any other illegal access.
Conclusion
Because most small businesses are already in the quest for survival, let alone grow in a competing global market. Therefore, it has become necessary for data storage and management professionals to acquire top NetApp certifications and benefit their organizations with the reasons described above. Students and professionals can earn some associate to expert level data management NetApp certifications to sharpen their skills and experience. Additionally, learn how to manage a bulk of data and migrate data assets for greater organizational potency.