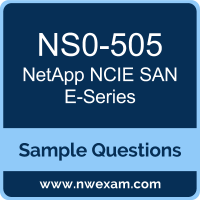 Before you write the NetApp NCIE SAN E-Series (NS0-505) certification exam, you may have certain doubts in your mind regarding the pattern of the test, the types of questions asked in it, the difficulty level of the questions and time required to complete the questions. These NetApp Certified Implementation Engineer - SAN E-Series (NCIE-SAN) sample questions and demo exam help you in removing these doubts and prepare you to take the test.
The best approach to pass your NetApp NS0-505 exam is to challenge and improve your knowledge. To test your learning and identify improvement areas with actual exam format, we suggest you practice with Premium NetApp NS0-505 Certification Practice Exam. The practice test is one of the most important elements of your NetApp SAN E-Series Specialist (NCIE-SAN) exam study strategy to discover your strengths and weaknesses, to improve your time management skills and to get an idea of the score you can expect.
NetApp NS0-505 (NCIE-SAN) Sample Questions:
01. What is the SANtricity Client?
a) A host I/O performance modeling interface
b) A GUI or CLI run on a host server used for storage system management
c) Inter-process communication that supports computer program subordinates
d) An OS-dependent collection of utilities for servers attached to SANtricity-managed storage systems
e) A host server process that enables storage system management with the storage data path
02. Schedules for AutoSupport's periodic collection of data can be changed in the ________.
a) NVSRAM
b) Major Event Log
c) Enterprise Management Window
d) Array Management Window
03. In the AMW, which tab provides access to Ethernet management port configuration and premium feature enablement?
a) Storage & Copy Services
b) Host Mappings
c) Configuration
d) Hardware
e) Setup
04. What is the first step when replacing a FRU component on a running storage system?
a) Disconnect the cables from the management ports.
b) Power down the array before changing the part.
c) Remove the part and check SANtricity for continuing errors.
d) Use SANtricity to view the target component and place the component off-line or in service mode before removing the part.
05. For SAN zoning of E-Series systems, what type of relationship between host ports and storage system ports is a common industry practice?
a) two-to-two
b) one-to-one
c) many-to-one
d) many-to-many
06. When you power off a storage system, which component should be powered off first?
a) All disk shelves
b) The controller shelf
c) The SANtricity client
d) The configuration database
07. What would be the minimum configuration required to support a drawer-protected 20-drive DDP?
a) An E5460 with one DE6600 Expansion Chassis, containing a total of 120, 3TB NL-SAS drives.
b) An E2624 with four DE5600 Expansion Chassis, containing a total of 6, 1.6TB SSD and 96, 3T NL-SAS drives.
c) An E2712 with one DE6600 Expansion Chassis, containing a total of 72, 3TB NL-SAS drives.
d) An E5424 with one DE5600 Expansion Chassis, containing a total of 48, 900GB SAS drives.
08. In the storage manager client, what are host groups?
a) A set of I/O hosts with access to the same set of volumes.
b) Two or more servers that host localcache.
c) Two or more disk devices joined together
d) A custom group of virtual machine hosts
e) Volumes linked to update at the same time
09. Which component of an E-Series storage system should always be upgraded first?
a) ESM firmware
b) Controller firmware
c) Controller NVSRAM
d) SANtricity management client
10. What four resources have information to determine space and power & cooling requirements for E-Series storage systems?
a) Hardware cabling guide
b) Install Guide
c) Hardware Universe
d) E-Series System Data Sheets
e) E-Series Power & Cooling Calculator
f) Site Prep Guide
Solutions:
Question: 01

Answer: d

Question: 02

Answer: c

Question: 03

Answer: e

Question: 04

Answer: d

Question: 05

Answer: b

Question: 06

Answer: b

Question: 07

Answer: a

Question: 08

Answer: d

Question: 09

Answer: b

Question: 10

Answer: b, d, e, f
Note: If you find any error in these NetApp SAN E-Series Specialist (NCIE-SAN) sample questions, you can update us by write an email on feedback@nwexam.com.