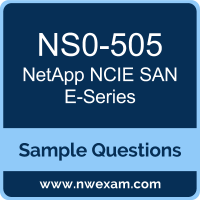 Before you write the NetApp NCIE SAN E-Series (NS0-505) certification exam, you may have certain doubts in your mind regarding the pattern of the test, the types of questions asked in it, the difficulty level of the questions and time required to complete the questions. These NetApp Certified Implementation Engineer - SAN E-Series (NCIE-SAN) sample questions and demo exam help you in removing these doubts and prepare you to take the test.
The best approach to pass your NetApp NS0-505 exam is to challenge and improve your knowledge. To test your learning and identify improvement areas with actual exam format, we suggest you practice with Premium NetApp NS0-505 Certification Practice Exam. The practice test is one of the most important elements of your NetApp SAN E-Series Specialist (NCIE-SAN) exam study strategy to discover your strengths and weaknesses, to improve your time management skills and to get an idea of the score you can expect.
NetApp NS0-505 (NCIE-SAN) Sample Questions:
01. A NetApp recommended best practice is to cable disk shelves to a controller shelf using the top-down-bottom-up method. Why?
a) It protects against power outages.
b) It protects against shelf failure.
c) It protects against disk failure.
d) It protects against drawer failure.
02. Which E-Series controller supports 56-Gbps infiniBand HICs?
a) DE6600
b) E2700
c) E5600
d) DE5600
03. When you power off a storage system, which component should be powered off first?
a) All disk shelves
b) The controller shelf
c) The SANtricity client
d) The configuration database
04. For SAN zoning of E-Series systems, what type of relationship between host ports and storage system ports is a common industry practice?
a) two-to-two
b) many-to-many
c) many-to-one
d) one-to-one
05. Which SANtricity installation package contains the graphical user interface that configures a storage system?
a) SMclient
b) SMagent
c) SMcli
d) SMutils
06. What does a lit blue SAA LED indicate?
a) Power is turned on to the component.
b) The component is functioning normally.
c) The component has failed.
d) It is safe to remove the component.
07. Which expansion shelf and E-Series model pairing is correct?
a) DE5600 and E2724
b) DE5600 and E5612
c) DE5600 and E2712
d) DE5600 and E5660
08. How many paths provide optimal redundancy from a host through a switched topology to a storage system?
a) 8
b) 16
c) 4
d) 2
09. Which statement most accurately describes the benefits of ALUA?
a) It causes an immediate ownership change of a volume whenever I/O uses an alternate path to the storage system.
b) It ensures that controller ownership for a volume will not change.
c) It sets the storage system to an active-active LUN access model.
d) It eliminates the need for zoning of the SAN fabric in a duplex controller configuration.
10. In-band communication occurs between which entities?
a) The management host and the Ethernet management ports
b) The ESM and the I/O host
c) One of the data I/O host's Ethernet port 1 and the expansion shelves
d) One of the data I/O hosts and the controllers
Solutions:
Question: 01

Answer: b

Question: 02

Answer: c

Question: 03

Answer: b

Question: 04

Answer: d

Question: 05

Answer: a

Question: 06

Answer: d

Question: 07

Answer: a

Question: 08

Answer: c

Question: 09

Answer: c

Question: 10

Answer: d
Note: If you find any error in these NetApp SAN E-Series Specialist (NCIE-SAN) sample questions, you can update us by write an email on feedback@nwexam.com.