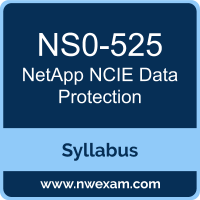 A great way to start the NetApp Certified Implementation Engineer - Data Protection (NCIE-DP) preparation is to begin by properly appreciating the role that syllabus and study guide play in the NetApp NS0-525 certification exam. This study guide is an instrument to get you on the same page with NetApp and understand the nature of the NetApp NCIE Data Protection exam.
Our team of experts has composed this NetApp NS0-525 exam preparation guide to provide the overview about NetApp Data Protection Specialist exam, study material, sample questions, practice exam and ways to interpret the exam objectives to help you assess your readiness for the NetApp NCIE-DP exam by identifying prerequisite areas of knowledge. We recommend you to refer the simulation questions and practice test listed in this guide to determine what type of questions will be asked and the level of difficulty that could be tested in the NetApp NCIE Data Protection certification exam.
NetApp NS0-525 Exam Overview:
NetApp NS0-525 Exam Topics:
Section

Objectives

ONTAP Replication Technology

- Describe how ONTAP replication technology works within a NetApp Data Fabric including Snapshot copies and SnapMirror replication
- Describe how high-availability configurations operate within an ONTAP Cluster
- Describe how a MetroCluster configuration can ensure business continuity
- Identify the difference between synchronous and asynchronous replication for applications and VM

Planning ONTAP Data Protection Implementation

- Identify ONTAP data protection solutions in traditional on-premise configurations, private clouds, hybrid cloud, and storage tiering environments
- Demonstrate how to apply ONTAP guidelines and use tools: sizing guidelines, Interoperability Matrix Tool, RPO calculator, Savings Calculator, Hardware Universe
- Describe the implementation steps for application- and virtualization-specific workloads, including Snapshot retention policies
- Distinguish between a consistent file system and an application-consistent backup
- Demonstrate how to develop a course of action to recover customer ONTAP data after a disaster
- Identify how to implement security related to ONTAP data protection: NetApp Volume Encryption, NetApp Security Encryption, SnapLock, key management
- Describe how to plan for ONTAP data protection in the Data Fabric

Configuring Data Protection Software

- Describe how to configure ONTAP Snapshots, SnapMirror policies, SnapMirror for SVMs, and MetroCluster using the command-line interface and System Manager
- Identify which tool to use to set up ONTAP-based storage and schedule policies

Operating Data Protection Deployments

- Demonstrate how to back up or restore NAS, SAN, VM, object and application data using ONTAP
- Demonstrate how to locate and protect unprotected ONTAP volumes using Active IQ Unified Manager
- Describe how to use WorkFlow Automator (WFA) products to orchestrate failover and failback for application servers
- Describe how to use SnapCenter as an external backup application
- Describe how to verify that backup and replication jobs are up-to-date
- Demonstrate how to validate that an ONTAP backup is successfully restored

Best Practices

- Describe strategies for implementing ONTAP data protection products in the data fabric using SnapMirror, MetroCluster, Unified Data Replication (UDP), network compression, Cloud Backup
- Describe how to calculate transfer time based on the customer's available bandwidth and latency distance for ONTAP data protection products
- Describe storage efficiency for ONTAP data protection
- Describe automation policies for managing volume capacity
- Describe monitoring or reporting techniques for ONTAP data protection solutions
NetApp NCIE-DP Exam Description:
The NS0-525 exam includes 60 test questions, with an allotted time of 1-1/2 hours to complete. In countries where English is not the native language, candidates for whom English is not their first language will be granted a 30-minute extension to the allotted examination completion time.