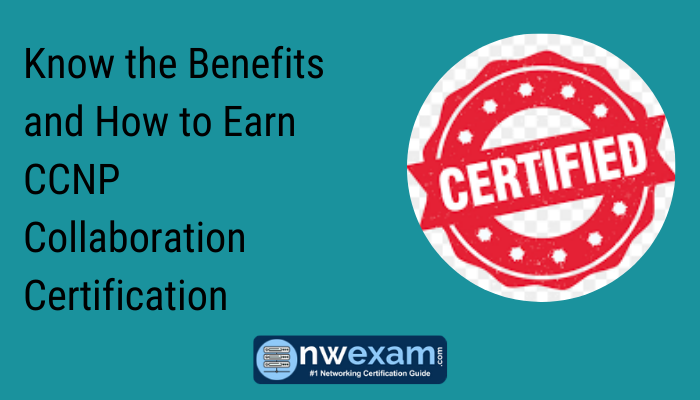 CCNP Collaboration certification program qualifies you for today's professional-level job roles in collaboration technologies. One of the industry's most prestigious certifications, CCNP confirms the core knowledge you need while giving the flexibility to choose a focus area. To achieve CCNP Collaboration certification, you pass two exams: one that covers core collaboration technologies and one collaboration concentration exam of your choice, so you can tailor your certificate to your technical field of interest.
CCNP Collaboration Core Exam:
CCNP Collaboration Concentration Exams (choose one):
Prerequisites
There are no official prerequisites for CCNP Collaboration, but you should get a solid grasp of the exam objectives before sitting for the exam.

CCNP aspirants usually also have three to five years of experience implementing collaboration solutions.
Benefits of CCNP Collaboration Certification
CCNP Collaboration certifications add to the skills of individuals along with their professional degrees. Professionals spend their time and money to earn certification because of the benefits it fetches. Let's check out the benefits associated with this Cisco certification.
1. CCNP Collaboration Certification Enhances Learning
The journey to achieve CCNP Collaboration certification helps to enhance your knowledge about important technologies and understand the core concepts. It carries off up-to-date information and skills in the field of IT. Cisco certifications, along with your years of experience, sharpen your skills and introduce you to the most advanced developments and technical advances in the IT field.
2. Recognition
After becoming CCNP collaboration certified, you are designated and acknowledged as a certified IT professional. You can list certification on a CV when applying for a vacant job in the Cisco networking domain. Cisco certification in your resume increases the chances of hiring for you.
3. Solid Stepping Stone for Career Building
In career building, Cisco certification has always played an important role, opening more opportunities for you. It increases your progress momentum in your organization. So, it is recommended, do not overlook the certifications.
4. Higher Salaries
All the professionals improving their knowledge and expertise along with working get an excellent and quicker promotion. The certifications can make your perks and increments multiply that of your colleagues. This certification is accepted internationally and has a good position in organizational structures. On the hiring stage, the certified people are assigned good salary packages.
5. Prestige in Your Team
Holding Cisco certification improves your prestige among your hiring managers and colleagues. It earns recognition and respect for you. This value assigns you a leading position in your organization and makes new ways of advancing your career in the IT industry.
6. Global Acceptance
Various countries around the globe accept Cisco certification. Cisco certified networking professionals are in a better position for demanding high payouts for their services than those who do not have CCNP Collaboration certificates. At present, a large number of jobs for CCNP certified people are available in the IT industry. And a CCNP Collaboration certificate is a foundation for obtaining a job.
CCNP Collaboration Certification Exam Preparation
Preparing for the CCNP Collaboration exam is not as easy a task as you think; though, if you keep a few simple things in your mind, you can make things a lot easier. First of all, be sure that you gather relevant study resources. There are many sources that you can find to get the best study material. Still, it is better to stick to the study guides that Cisco provides. In addition to the study guide, you can opt for other sources to ensure that you do not ignore anything.
Practice tests can also help you to get an insight into what you'll meet at the exam. You also can communicate with candidates planning to opt for the exam or those who have already passed it.
Solve a lot of practice exams as they can help you analyze your situation. By taking practice tests, you can make out your mistakes and see what you are good at and what requires a little more work.
Benefits of Taking Practice Tests for CCNP Collaboration Certification Exam
1. CCNP Collaboration Practice Test Make Revision Fun
You only work with questions and answers, which is less cumbersome than reading notes. Also, it is an outstanding opportunity to get familiar with the exam environment.
2. Practice Tests Are a Quick Method of Revision
NWExam.com offers updated and authentic questions and answers for Cisco certification exams. So, you can also explore the syllabus topics of the associated exam, find out your weak points, and work on them.
3. Give You the Feel of an Exam
Practice tests on NWExam.com mimic the actual CCNP Collaboration certification exam; therefore, using them will alter your mind to exam mood, sharpen your time management skills, making you more exam-ready.
Conclusion
CCNP Collaboration certifications are a vital part of your IT profession. You require to always have a solid base in your area of expertise to excel in the certification exam. Passing the exam with a practice test on NWExam.com is an ideal way to update your IT skills and expertise. Make a step now and become the next expert.